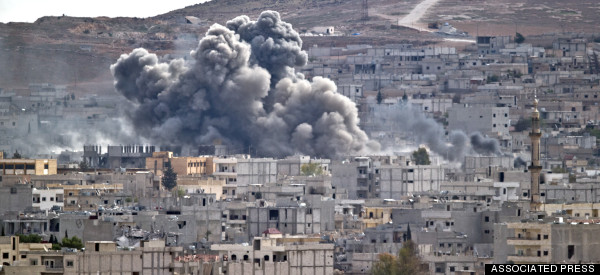 TOP STORIES
AIRSTRIKES AREN'T DETERRING FLOW OF FOREIGN FIGHTERS TO SYRIA "More than 1,000 foreign fighters are streaming into Syria each month, a rate that has so far been unchanged by airstrikes against the Islamic State and efforts by other countries to stem the flow of departures, according to U.S. intelligence and counterterrorism officials." Here's a map of where the fighters are coming from. And Syrian rebels continue to seek U.S. assistance. [WaPo]
HUFFPOST POLLSTER: 67% CHANCE GOP TAKES SENATE And a 12.2% chance Greg Orman will determine the Senate majority. [HuffPost]
FROM GAZA TO JERUSALEM "Israel is careening into a new crisis on the heels of the Gaza war—an escalation of violence in East Jerusalem unseen in more than a decade that could pit U.S. allies against each other over Jewish settlements and holy sites. On Thursday, Israel completely shut one of Islam's holiest sites in the Old City for the first time in 14 years. The last time authorities barred all entry to the site known to Jews as the Temple Mount and to Muslims as Haram al-Sharif, or Noble Sanctuary, was at the start of a Palestinian uprising in 2000. A spokesman for Palestinian Authority President Mahmoud Abbas called the closure a 'declaration of war' on Arabs and Muslims." [WSJ]
'A COLD WAR TRADITION' "Taken together, [the hacking of White House computers and flights in NATO airspace] represent the old and the updated techniques of Cold War signal-sending. In the Soviet era, both sides probed each other's defenses, hoping to learn something from the reaction those tests of will created. In 2014, cyber is the new weapon, one that can be used with less restraint, and because its creators believe they cannot be traced and can create a bit of havoc without prompting a response." [NYT]
NATIONAL GUARD HEADED TO HAWAII TOWN BEING ENGULFED BY LAVA No, this is not a horror movie script. [AP]
MEDICARE PAYS FOR DRUGS AFTER PATIENTS ARE DECEASED They're working on fixing that one. [AP]
MILITARY MEMBERS WARNED OF 'LONE-WOLF' ISIS THREATS Service members have been asked to be wary of what they post on social media and to be ever-vigilant as they are now "legitimate targets." [USA Today]
43 STUDENTS STILL MISSING IN MEXICO "After a student protest in Iguala, Mexico, last month, dozens of young men were seen being hauled off into police vans. Then, they vanished. One month later, 43 students from the Ayotzinapa rural teachers college are still missing and presumed dead. Instead of finding the students, authorities investigating the events of Sept. 26 have instead found other horrors: a string of mass graves, police working for drug cartels and government officials at the helm of a dark underworld." [HuffPost]
ALLEGED PENNSYLVANIA COP KILLER APPREHENDED "Eric Frein, the man wanted for allegedly killing a Pennsylvania state trooper before going on the lam for 48 days, is in police custody." [HuffPost]
WHAT'S BREWING

TIM COOK'S ANNOUNCEMENT 'RESONATES' "Tim Cook's declaration on Thursday that 'I'm proud to be gay' made him the first publicly gay chief executive of a Fortune 500 company. But Mr. Cook isn't just any chief executive. And Apple isn't any company. It's one of the most profitable companies in the Fortune 500 and ranks No. 1 on the magazine's annual ranking of the most admired companies. As Lloyd Blankfein, the chief executive of Goldman Sachs, put it, 'He's chief executive of the Fortune One. Something has consequences because of who does it, and this is Tim Cook and Apple. This will resonate powerfully.'"[NYT]
NIKE'S LATEST LEBRON, CLEVELAND AD Might be the best sports ad of all time. [YouTube]
LAST-MINUTE HALLOWEEN COSTUME IDEAS Because no one is ever THAT on top of things. [HuffPost]
NO UNDERWEAR YOGA PANTS "Lingerie company Dear Kate's new no-underwear yoga pants make a lot of promises: No panty lines. No bunching. No riding up. No camel toe. No stressing about comfort. And they'll make your butt look great. If they can deliver all that, the new pants, which have a thick, absorbent lining around the crotch, may be able to shove their way into the busy market for yoga gear." [HuffPost]
WILL BABY 13 BE A GIRL? Couple who has 12 sons is expecting. [HuffPost]
HUNGER GAMES ON TRACK FOR $130 MILLION DOLLAR OPENING Girl on fire, indeed. [Variety]
ARRESTED DEVELOPMENT SEASON FOUR TO BE RE-RELEASED IN ORDER Just remember there's always money in the banana stand. [Vanity Fair]
FIRST LIVE PETER PAN PROMO Three word summary: Allison Williams flying. [Vulture]
ON THE BLOG
HOW TO EAT HALLOWEEN CANDY 'MINDFULLY' "You often are thinking about the next piece of candy before finishing the one you have. To slow down and enjoy each piece of candy as you are eating it, eat with your non-dominate hand." [HuffPost]
BEFORE YOU GO
~ Starbucks could deliver?!?
~ Brittany Maynard, the 29-year-old who captivated the country with her decision to end her life on Nov. 1, has decided to postpone.
~ Jessica Biel pregnancy rumors are growing...
~ The origin of the word "ping."
~ Here's what candidates are REALLY thinking during the midterm debates.
~ Seth Rogen is upping his dramatic credentials.
~ Taylor Swift is worth a lot of moolah.
~ Hodor in a Christmas sweater.
~ Did you know meat has seasons?
~ Barack Obama does not make Michael Jordan's dream golf team.
Send tips/quips/quotes/stories/photos/events/scoops to Lauren Weber at lauren.weber@huffingtonpost.com. Follow us on Twitter @LaurenWeberHP. And like what you're reading? Sign up here to get The Morning Email delivered to you.