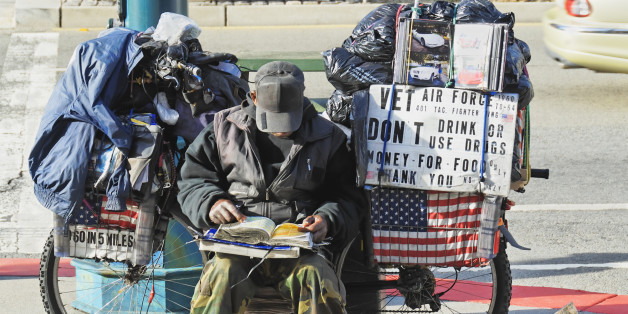 The number of veterans living on the streets is on the decline -- a welcome update considering that the Department of Veterans Affairs' deadline to end vet homelessness is fast approaching.
On a single night in January, 49,993 veterans were homeless, marking a 33 percent drop since 2010, according to a U.S. Department of Housing and Urban Development (HUD) report released on Thursday. The results were tallied by HUD's annual "point-in-time" count, which partners with local agencies and volunteers across the country to manually enumerate the number of people experiencing homelessness on a single night.
The Obama Administration and the VA have remained steadfast in their commitment to end vet homelessness by 2015.

The success so far has been largely attributed to the close collaboration between the VA and HUD and their supportive housing program, called HUD-VASH. Since 2008, the program has doled out more than 59,000 rental vouchers and an estimated 45,000 formerly homeless veterans currently live in homes of their own thanks to the initiative, according to HUD.
The concept of "housing first" -- giving homeless people shelter and then dealing with their economic and medical issues after -- has long been heralded by experts in the industry.
Two U.S. cities have already demonstrated that applying that approach can get every veteran off the streets.
Last December, Phoenix became the first city to end vet homelessness, and Salt Lake City followed suit a month later.
The lofty 2015 goal got some additional muscle when Michelle Obama announced the Mayors Challenge to End Veteran Homelessness last June.
The program urges mayors and other state and local leaders across the country to maximize every resource to put an end to the issue.
As of September, 225 mayors, including Chicago's Mayor Rahm Emanuel had taken the pledge.
And more continue to join.
Last month, Austin became the latest U.S. city to get on board.
"As a veteran myself, and as an American, I believe we owe a debt to those brave men and women, frankly a debt that can never be repaid," Mayor Lee Leffingwell said during the announcement, according KVUE News.
But some advocates remain skeptical as to whether the 2015 deadline is, in fact, feasible.
"Just because the VA says it's over, doesn't mean it is," Steve Peck, president of the U.S. Veterans Initiative, told Military.com in April. "We're still seeing plenty of need."
Still, the government remains committed to its deadline, expanding its efforts and reminding the country why the issue remains front and center.
"[Veteran homelessness is] a stain on the soul of this nation," Michelle Obama said in July at a homelessness conference, according to the Associated Press. "[The] idea that anyone who has worn our country's uniform spends their nights sleeping on the ground should horrify us."
BEFORE YOU GO
PHOTO GALLERY
Honoring our veterans