We hope you didn't get too worn out by Halloween because there is a massive queer party on Monday night in Brooklyn that you don't want to miss.
Hot Fruit, the brainchild of promoter and DJ David Sokolowski, will turn two years old on Monday -- and he's curated a massive line-up of performers to help him celebrate the occasion. Hot Fruit is a queer performance art and dance party that began the night before the 2012 Obama/Romney elections and has continued to grow over the course of the past two years.
Housed at beloved Brooklyn dive bar Metropolitan, the two-year anniversary of Hot Fruit will feature performances by Cakes da Killa, Boy Wolf, Manifestany Squirtz, Boy Georgia, Charlene, Hamm Samwich and Will Sheridan. The Huffington Post chatted with Sokolowski this week about the evolution of Hot Fruit, what attendees can expect at this party and the future of the party as a whole.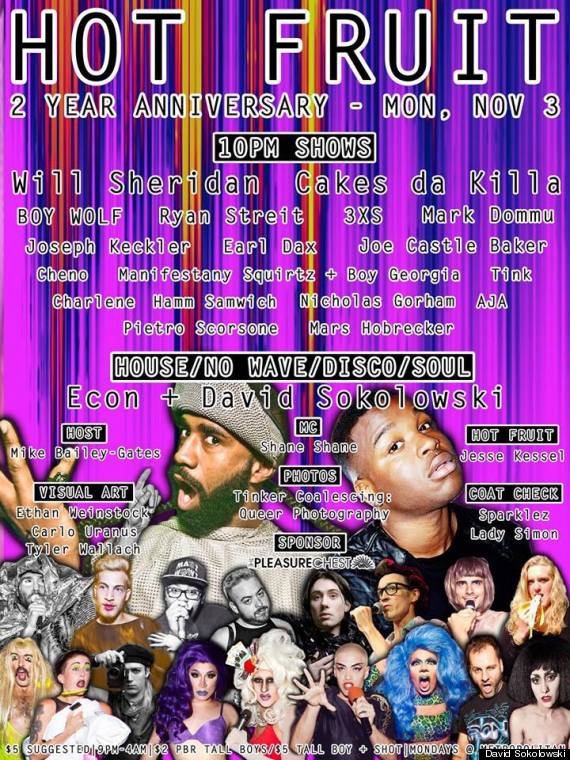 The Huffington Post: What was your vision for Hot Fruit when it first started? How has it evolved?
David Sokolowski: I really just wanted a party that never played mainstream pop. I came into Metropolitan every Monday drinking the $1 PBRs, playing Grace Jones, Talking Heads & Roxy Music on the jukebox. Then some random queen would pay double to boop my choice and play a Britney or Gaga song that we'd already been listening to for months. Starting Hot Fruit was about making something available that didn't already exist.
The first party we ever had was called "Electile Dysfunction," the night before the Romney/Obama election. It was a political parody that involved a lot of fucking, blood, backstabbing and good music. In the end it was about actualizing my own anxiety and rage from what I expected in the election. The closing scene was me and a few friends dressed as Mitt, Ann, Michelle and Barack singing "Road to Nowhere" by Talking Heads.
As far as the evolution... musically, we focus much more on the classic house music, but still throw in a bunch of disco and no wave. And the performances are always getting better. Many of the performers continue to come back and showcase their work at Hot Fruit. It's really great to see everyone developing.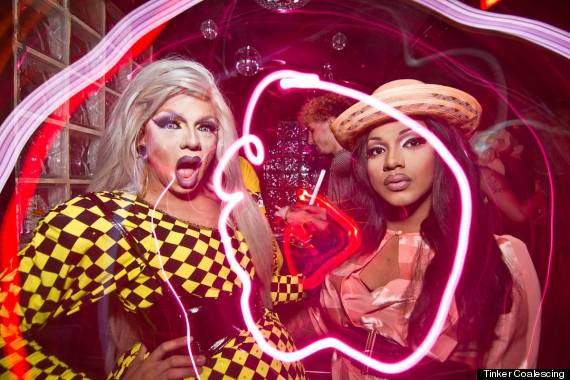 You showcase a wide spectrum of performance through Hot Fruit -- how do you curate your events?
We started out primarily featuring drag. Many queens in Brooklyn were just beginning around that time, or at least a lot of people were experimenting with it -- so it seemed like an easy choice. Then the crowd started to get kind of bored with seeing just drag at every gay party they went to. So we adapted! There are so many talented people in the crowd at Hot Fruit, so moving beyond just lip-synching has been pretty easy. Really, it's about giving an opportunity for people get push their boundaries. For the two year anniversary we'll be featuring hip-hop, electronic, experimental, theater, comedy, cabaret, dance, slam poetry, opera and more!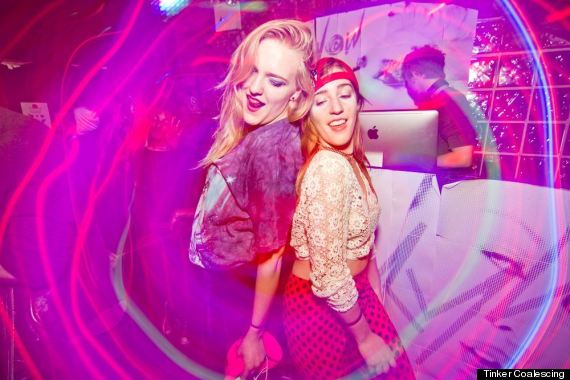 Why is it important to you to elevate queer performance through an event like Hot Fruit?
There are very few public and legal venues that allow for such an eclectic group of people to get together for shows on such a regular basis. I'm very pleased with the relationship I've grown to have with Metropolitan, and with the people who frequent it. As a young queer that came to New York searching for a community and developing my own identity, I used performance and nightlife as a social key to unlocking my own mind. Hot Fruit is one of the places where we can share ourselves with each other -- in more ways than one.
What do you see as the future of this party?
I have no idea. I'm just very happy that people are still excited about a weekly Monday night party at a dive bar after two years.
It's been really great to continue working with such a talented and dedicated group of people. As long as the amazing family of visual artists, photographers, DJs, bartenders and folks at Metropolitan who make Hot Fruit what it is keep working together, we'll continue to make space for the weirdos who love it.
Check out some photos from the past few years of Hot Fruit below courtesy of Tinker Coalescing. The two year anniversary of this queer performance art and dance party will take place this Monday, Nov. 3, from 10 p.m. - 4 a.m. at Metropolitan Bar in Brooklyn.