As final polls roll in, the contest to control the U.S. Senate continues to lean to the Republicans, but by very close margins in key states. Voters say it's still about the economy. And it's not 'unskewing' to question pollster methods. This is a special edition of HuffPollster for Saturday, November 1, 2014.
FRIDAY'S SENATE POLLS - Friday brought a flurry of final polls in key U.S. Senate battlegrounds, including new Internet polls from YouGov in the five closest states and new live interviewer telephone surveys from CNN and Fox News. The new data largely confirms previous polling, suggesting the possibility of photo finishes in Iowa, Kansas, Georgia, Colorado and North Carolina -- states what whose contests will collectively determine which party controls the Senate.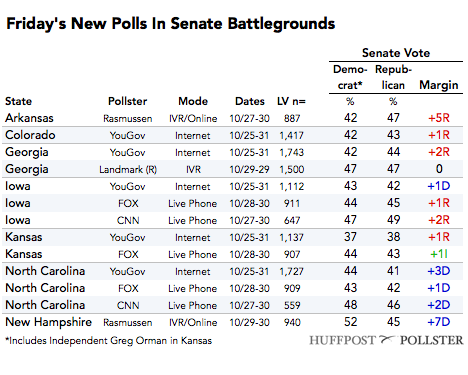 Iowa Senate - Three polls released Friday find the margin between Joni Ernst (R) and Bruce Braley (D) remaining at 2 points or less, with only slight movement within the past month. CNN, which had Braley up by 1 in September, now has Ernst ahead by 2. Fox, which had the race tied last month, now has Ernst up by 1. And YouGov, which had the race tied in its final poll for the New York Times and CBS, now has Braley up by 1 point. The Pollster model gives Ernst a margin of just under 2 points, and a 57 percent chance of winning. [Iowa chart]
Kansas Senate - Two surveys show a slightly narrowing race between Greg Orman (i) and Sen. Pat Roberts (R-Ks.), though in different directions. Fox, which previously had Orman up by 4, now gives him a 1 point edge; YouGov, which had Roberts up by 4, now has him ahead by 1. The Pollster model finds the two candidates about as close to tied as possible, with just 0.2 separating them; each has an equally likely chance of winning. [Kansas chart]
Georgia Senate - YouGov finds David Perdue (R) leading Michelle Nunn (D) by 2 points, while a final poll from the GOP firm Landmark, previously one of the pollster with the best results for Nunn, now has the two tied. The Pollster model gives Perdue just under a 3-point margin over Nunn, with a 63 percent of finishing ahead on Tuesday, but a 54 percent chance of a runoff. [Georgia chart]
North Carolina Senate - New CNN, Fox, and YouGov polls all give Sen. Kay Hagan (D-N.C.) a small edge over Thom Tillis (R), with margins of 2, 1 and 3 points respectively. While Tillis led by 5 in a Vox Populi (R) survey last week, he's led in only one non-partisan poll since October. The Pollster model gives Hagan about a 1-point edge, and a 55 percent chance of victory. [North Carolina chart]
National outlook - The Pollster Senate forecast continues to lean to the Republicans, based on their narrow margins in states that would add up to a 53-seat majority. The model rates the probability of a Republican majority at 69 percent, as of this writing. The one-in -three chance that Democrats could hang on to a majority, however, rests on the very close margins still evident in Iowa, Colorado, Kansas and Georgia. [HuffPost Senate Forecast]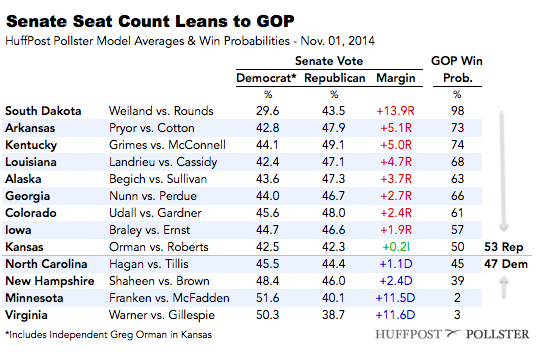 CBS/TIMES/YOUGOV POLLS ALL 435 HOUSE DISTRICTS - Anthony Salvanto and Doug Rivers: "The House Battleground Tracker estimates find Republicans...will most likely add to [their] majority, gaining six more seats and possibly as many as 12. The Tracker collected interviews in every one of the 435 House districts. These were used to model the probability of a Democratic or Republican victory in each district. The distribution of outcomes in our seat-by-seat House simulations suggest that the upper bound is most likely 246 Republican seats (plus 12), whereas the lower bound would be a loss of three seats to the Democrats (still leaving the GOP with a solid majority). This overall estimate is based on seat-by-seat estimates, not on a generic national ballot. We collected samples in all 435 House districts and collected larger samples in the most competitive districts, as identified by CBS News and the New York Times heading into the fall campaign, to give better estimates for the most competitive races. We then have estimates for nearly all races." [CBS News, YouGov Estimates for all 435 U.S. House Districts]
IT'S STILL ABOUT THE ECONOMY - HuffPollster: "For all the talk about ISIS and Ebola, and all the political firestorms over the Affordable Care Act, most voters this year remain focused on the economy. In a new HuffPost/YouGov poll of likely voters, 56 percent named the economy as one of the two issues most important to them. Health care, named by 35 percent, was a clear but relatively distant second choice, followed by immigration, "how things work in Washington" and foreign policy/terrorism. Three more topics -- social/women's issues, the environment and gun policies -- barely broke into the double digits....While both groups overwhelmingly named the economy as a top issue, the Republican voters picked immigration and foreign policy as the second and third most important issues, with health care in fourth place. The Democratic voters, in contrast, rated health care nearly as important as the economy, with how things work in Washington, social issues and the environment following behind....Asked which two topics GOP candidates had discussed the most, voters again named the economy and health care. Very few thought that Republicans had spent much time on the environment, gun policies or social issues...The Democratic Party, in contrast, was seen as focusing on social/women's issues: 43 percent of voters said that topic was among the Democrats' top concerns. Just 26 percent named the economy, and 23 percent identified health care." [HuffPost]
QUESTIONING POLLS vs. 'UNSKEWING' - Nate Cohn: "I wrote an article this week headlined 'Why Polls Tend to Undercount Democrats.' Reaction was fierce. A number of readers compared the article's argument to the 'unskewed' polls phenomenon before the 2012 presidential election, when many commentators argued, mainly based on their instinct about the likely composition of the electorate, that the polls were missing Republican-leaning voters. Other than the observation that the polls might be off, the similarities end there....When is it a good idea to question the polls? When there are good reasons to believe that the polls are missing or screening out certain kinds of voters. Research suggests that polls need to do the following things to produce a representative sample: call enough cellphones; sample voters with out-of-state area codes; weight to recent population parameters and hit your targets; weight by population density or appropriate geographic areas; conduct interviews in Spanish; call back nonrespondents over multiple nights of interviews. We could go on. If you believe that these are best practices, then you should also believe that a majority of the polls out there have Republican-leaning samples, even after weighting, because many or most of the polls aren't embracing some or all of these practices. Or put differently: If you think I'm unskewing the polls, then you must also believe that the top pollsters are unskewing as well." [NYTimes]
SUPPORT FOR BACKGROUND CHECKS STABLE, BUT GUN POLICY ON FEW VOTERS' MINDS - HuffPollster, with Sabrina Siddiqui: "A week after another school shooting, support for gun background checks remains widespread among voters, a new HuffPost/YouGov poll has found. But while nearly half of Americans would like to see stricter gun laws, few see it as a major campaign issue despite a concerted effort by pro-gun control groups in this year's midterm elections. Forty-nine percent of likely voters said gun laws in the United States should be more strict -- a result similar to those of a poll in April, but down from 60 percent in polls conducted after the 2012 elementary school massacre in Newtown, Connecticut. Just 20 percent of respondents in the most recent poll said laws should be less strict, while 28 percent said they shouldn't be changed….Just a third of voters recalled seeing an advertisement mentioning guns. Nine percent said they've seen only ads in favor of gun control, while 7 percent saw only ads opposing it. Only 17 percent recalled seeing ads from both sides." [HuffPost]
-Gallup: 47 percent of Americans now favor stricter laws "covering the sale of guns," down from 58 percent just after the school shooting in Newtown, Connecticut. [Gallup]
538: 'EVEN POLLSTERS DON'T KNOW ALL THE DETAILS OF HOW THEIR POLLS ARE MADE'- Carl Bialik: "Our third poll of pollsters ahead of Tuesday's national election focused on the nuts and bolts of polling: who does it, how they do it, and how the raw data they collect is converted into the numbers they release showing which candidate is leading, and by how much. And once again, more than two dozen of the most prolific pollsters in our database took time to provide answers...asked about parts of their operations that many pollsters don't know well because they outsource the work. For instance, we asked how pollsters handle surveys taken by online panels. Outside vendors often conduct these, so some respondents didn't know the turnover rate among panel members or how many polls they can take each month. The use of contractors came up again when we asked pollsters about the people who conduct telephone polls using live interviewers. Six pollsters said they couldn't answer questions about the ages, gender, pay and training of their interviewers because they outsource the work. A few checked with their contractors and got back to us." [FiveThirtyEight]
HUFFPOLLSTER VIA EMAIL! - You can receive this daily update every weekday morning via email! Just click here, enter your email address, and and click "sign up." That's all there is to it (and you can unsubscribe anytime).
SATURDAY'S 'OUTLIERS' - Links to the best of news at the intersection of polling, politics and political data:
-Non-voters are younger, more racially and ethnically diverse, less affluent and less educated than than likely voters. [Pew Research]
-Margie Omero sees tragedy in Brittany Maynard's story, but not controversy -- public opinion consistently favors the right of the terminally ill to decide when and how they die. [HuffPost]
-Republicans Glen Bolger and Neil Newhouse warn that winning the Senate "will not necessarily portend [GOP] success in 2016." [WashPost]
-The Cook Political Report moves the Alaska, Maryland and Rhode Island Governor's races to toss-ups. [@CookPolitical]
-Kevin Collins (D) has compiled linked to all 50 state Secretary of State election results sites. [Google Doc via @DKElections]
-A tech and data-savvy grandma is trying to lead Kansas Democrats out of the wilderness. [Yahoo]