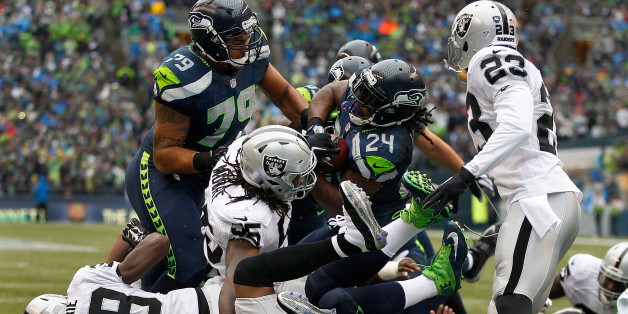 It looked like Seattle Seahawks running back Marshawn Lynch was stopped a few yards short of the end zone. As it turned out, all the Oakland Raiders defense did was get in his way and barely slow him down.
As five Raiders defenders tried to bring Lynch down, he went into "Beast Mode." Lynch kept his legs moving and with some help from a couple of offensive linemen, he overpowered his way into the end zone for the first touchdown of the game.
Lynch added another rushing touchdown later in the first half and the Seahawks held on to win 30-24. The bruising running back finished with 67 rushing yards along with five catches for 76 passing yards.
BEFORE YOU GO
PHOTO GALLERY
PHOTOS: NFL Week 9