Director J.C. Chandor is so excited for audiences to see "A Most Violent Year" that he's even doing press for the film's debut trailer.
"To get the chance to tell this kind of story with a really nice budget and make a really nice period piece that not a lot of people are getting a chance to do these days?" Chandor said to HuffPost Entertainment on Friday after landing in Los Angeles from Mexico. "I'm really grateful that I was able to get the opportunity in the first place."
Set in New York in 1981, the year of strife referenced in the title, "A Most Violent Year" focuses on Abel and Anna Morales (Oscar Isaac and Jessica Chastain), a pair of upwardly mobile 30-somethings who try to stay clean in an increasingly dirty city.
"We're catching them at a very pivotal moment in their lives," Chandor said of his main characters. "The film is playing off a lot of traditional themes in a gangster film, but it also plays against that in a lot of ways."
Chandor, an Oscar nominee for writing "Margin Call" and the writer-director of last year's "All Is Lost," said he set his crime drama during the time period because of its significance to New York history. Though murders were down slightly from the prior year, violent crimes, rape and robbery all hit 15-year highs in 1981.
"There was something fascinating to me about the changes that have taken place in New York City in really a relatively short period of time," Chandor said. "I was looking for crime statistics. I realized all the budget cuts and horrible things that happened to New York during the 1970s actually peaked in 1981. The cool thing about 1981 is that it's also a real transition year: Ronald Reagan took office, Ed Koch was re-elected as New York City mayor, it was the first couple of years of rap exploding."
Not that Abel and Anna are interested in those cultural landmarks. "They're doing everything they can to isolate themselves from the difficulty of the period," Chandor said. "The city slowly fights back, and creeps into their life."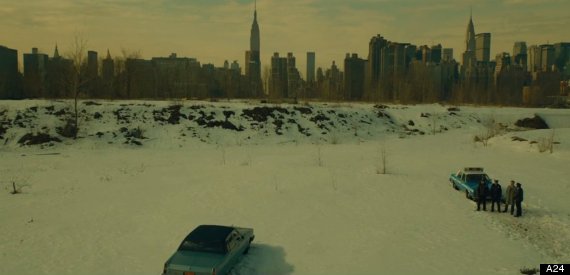 Chandor had been working on "A Most Violent Year" for two years, even before "All Is Lost" made its debut at the Cannes Film Festival in 2013. At that time, Javier Bardem was attached to play the lead role, but the Oscar-winning actor and Chandor had reached a creative impasse that proved insurmountable. "We sort of, by that point, realized the direction I wanted to go, which was a little more grey, was different from Javier, who wanted it to be a very black-and-white situation," Chandor said.
Fortunately, Chastain was there to help. During that year's Cannes Film Festival, she suggested Chandor meet with Isaac, her former classmate at Juilliard. Isaac was just coming to prominence thanks to the Joel and Ethan Coen film, "Inside Llewyn Davis," which also bowed during Cannes.
"I didn't get to meet him there, but I did get to sit down with him in the coming weeks and I really slowly realized there wasn't anyone else to get the part," Chandor said. "Making the character a little younger and casting someone at a pivotal moment in the beginning of his career was fascinating to me. It became a no-brainer, but Jessica gets a casting director credit for it."
It would be yet another credit for Chastain, whose appearance in "A Most Violent Year" marks her fourth onscreen in 2014, following "The Disappearance of Eleanor Rigby," "Miss Julie" and Christopher Nolan's "Interstellar." But having Chastain and Isaac -- himself a key part of "Star Wars: Episode VII" -- in the lead roles proved beneficial for Chandor in more ways than just the pair's growing name recognition.
"There's an amazing familiarity and intimacy between the two of them before we even started shooting," Chador said of his stars. "Just the way they moved around each other. Also, like old classmates, they were very competitive with each other in a fun way. That's something this couple is like, too."
Co-starring David Oyelowo, Alessandro Nivola and Albert Brooks, as the Morales' legal counsel ("There are no forks in peoples' eyes," Chandor said of Brooks' performance, referring to "Drive"), "A Most Violent Year" is out on Dec. 31. The film's excellent first trailer, featuring Marvin Gaye's "Inner City Blues (Make Me Wanna Holler)," can be seen above.
BEFORE YOU GO
PHOTO GALLERY
Jessica Chastain's Most Beautiful Moments