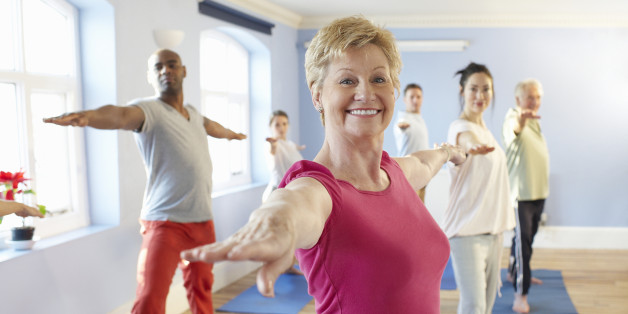 Whether it's a walk around the block on your lunch break or swimming a couple of laps at the gym, getting at least 15 minutes of exercise daily could reap serious rewards for your health -- not just your waistline. And that's especially true for women.
According to the American Cancer Society, around one in eight women in the United States will develop breast cancer at some point in their life.A new study from Oxford University researchers highlights the importance of physical activity for post-menopausal women looking to lower their risk.
Researchers looked at over 125,000 postmenopausal women, studying their body fat composition and also their self-reported physical activity. Over 1,100 subjects developed breast cancer during the nearly three-year follow up. Further analysis concluded that women with higher body fat (average 45.4 percent) were at nearly a 50 percent greater risk for breast cancer than women with lower body fat (average 27.6 percent).
But even without considering body fat, just having 15-35 minutes of vigorous exercise every day was enough to cut the risk of breast cancer by a fifth.
"We've known for some time that exercise may help to reduce breast cancer risk after the menopause," study author Tim Key said in a statement. "But what's really interesting about this study is that this does not appear to be solely due to the most active women being slimmer, suggesting that there may be some more direct benefits of exercise for women of all sizes."
Numerous studies have similarly touted the cancer-fighting benefits of exercise and the link between weight, fat and cancer risk. One study reported that post-menopausal women who worked out at least 10 hours a week -- a little over an hour a day -- slashed their breast cancer risk by nearly a third. Another study looked at the type of exercise that is most beneficial, claiming that running lowered the risk for breast cancer more than walking.
It's clear that physical activity is chock full of benefits, even if it's just 15 minutes a day. "We don't yet know exactly how physical activity reduces breast cancer risk, beyond helping to maintain a healthy weight," Key said. "But some small studies suggest that it could be linked to the impact on hormone levels in the body."
BEFORE YOU GO
PHOTO GALLERY
Dr. Colvin's Advice For Staying Active After 50