Last-minute polling finds the Republicans on track for a Senate victory tomorrow. Early voting, though, suggests it could be close. And what kind of voters are still undecided? This is HuffPollster for Monday, November 3, 2014.
A GOP SENATE LOOKS MORE LIKELY - With less than 24 hours remaining before polls open nationwide, a final round of polls largely confirms previous findings in the much-watched battle for control of the U.S. Senate. Republican candidates are leading by at least nominal margins in enough states to allow their party to capture majority control, although the HuffPost Pollster Senate forecast has grown more confident about the outcome in the campaign's final hours.
As of this writing, the HuffPost Pollster forecast finds a 77 percent chance that Republicans will win a Senate majority, up more than eight points since Friday morning. The shift is largely the result of greater confidence that leads will hold up, as the undecided vote continues to decline and the time for late shifts runs out. Over the past week, confidence that the leaders will win has increased. Since more Republican candidates have been narrowly ahead in the closest states, this shift has increased the model's overall confidence in a Republican majority.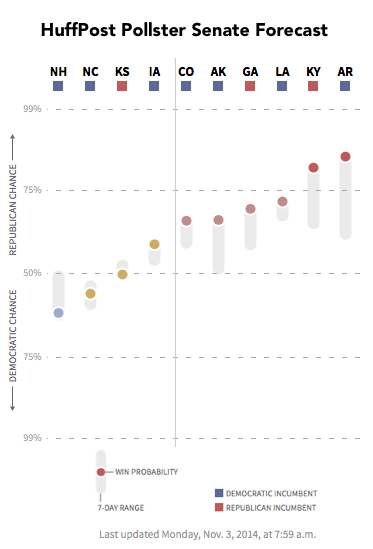 In the most critical contests, however, the margins remain close. In Iowa and Colorado, our poll tracking models, based on all public polls, find the Republican candidates leading by margins of just under 3 percentage points. The margin favoring the Democrat is similarly narrow in New Hampshire and closer still in North Carolina. Polls in Kansas continue to show a dead heat, and while the Republican leads by just under 3 percentage points in Georgia, his vote total suggests a near 50/50 chance that his vote could fall short of the 50 percent needed to avoid a runoff election in January.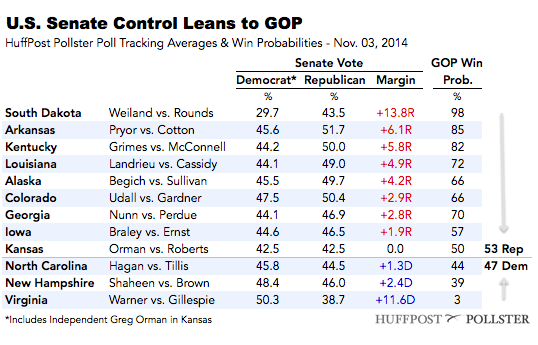 An increasingly narrow path to a Democratic majority - From HuffPollster's weekend review of the nine states that will determine the Senate outcome: "Democrats would need their incumbents to hold on in New Hampshire and North Carolina and to overcome relatively narrow polling deficits in Iowa and Colorado. Yet even in that circumstance, Democrats would still need one more seat to retain a majority. They could achieve this by picking off Georgia (or perhaps having one of their their incumbents overcome far longer odds in Alaska or Arkansas). Absent that, they would just have to hope that independent Greg Orman wins in Kansas and opts to caucus with the Democrats in January." [HuffPost]
More on the latest state polls:
Iowa Senate - Two final polls show significant shifts in the race between Joni Ernst (R) and Bruce Braley (D)...but in opposite directions. A Selzer poll for the Des Moines Register, which had Ernst up by just 1 in early October, found her consolidating support to build a 7-point lead Saturday. A Quinnipiac poll released Monday, by contrast, found Ernst's 4-point lead dissipating into a tie. With the exception of the latest Des Moines Register survey, most recent polling shows a very close race, although most have Ernst, not Braley, ahead. The Pollster model gives Ernst an edge of just under 2 points, and a 57 percent chance of winning. [Iowa chart]
Colorado Senate - Quinnipiac also took a last look at the Colorado Senate race, finding Cory Gardner's (R) lead over Sen. Mark Udall (D) narrowing from 7 points to just 2, 45 percent to 43 percent. A PPP (D) survey found similar numbers, with Gardner up by 3. The Pollster model, which doesn't yet include the newest surveys, gives Gardner an edge between 2 and 3 points, and a 66 percent chance of victory. [Colorado chart]
Georgia Senate - A Sunday NBC/Marist poll gives David Perdue (R) a 4-point lead over Michelle Nunn (D). Surveys in the final weeks of the campaign mostly agree that Perdue has the advantage, but differ considerably on the size. Of the six most recent polls, two have the race tied, while the others give him leads of 2, 3, 4 and 8 points. HuffPost Pollster's model gives Perdue a lead of just below 3 points, with about a 60 percent chance of leading on Tuesday, but about even odds of a January runoff. [Georgia chart]
New Hampshire Senate - Two final polls show an exceptionally close race between Sen. Jeanne Shaheen (D) and Scott Brown: UNH/WMUR has Shaheen up by 1 point (down from an 8-point margin last week), while the automated NEC poll gives Brown a 0.5-point edge. Shaheen continues to hold the advantage in most polling, and the Pollster model gives her a 2-point edge and a just better than 60 percent chance of winning. [New Hampshire chart]
Alaska Senate - A final PPP (D) poll in Alaska gives Dan Sullivan (R) a 1-point edge over Sen. Mark Begich (D), the closest margin in any non-internal poll save one since August. Most other surveys give him an edge of several points, and the Pollster model gives him a 4-point edge and about a two-in-three chance of winning. [Alaska chart]
Louisiana Senate - A Sunday NBC/Marist poll, like most other survey, gives Sen. Mary Landrieu (D) the advantage in Tuesday's jungle primary, but nothing close to the 50 percent she'd need to avoid a runoff. In head-to-head polling against rival Bill Cassidy (R), she trails by 5 points on the NBC/Marist poll, and about the same margin in the Pollster model, which gives him a 72 percent chance of winning. Landrieu hasn't led in any runoff polls since September. [Louisiana chart]
REMEMBER THE U.S. HOUSE? - HuffPollster: "In 2014, the high-stakes battle for control of the U.S. Senate, rather than individual House races, has gotten most of the attention from pollsters and the news media. However, the most recent data from national and district-level surveys suggests that while they're polling significantly behind the level of the 2010 GOP wave, Republicans are poised to expand their U.S. House majority on Tuesday, gaining at least a half dozen seats and perhaps as many as 10 to 15." [HuffPost]
ABOUT THE SENATE UNDECIDEDS - YouGov Chief Scientist Doug Rivers: "In YouGov's final round of surveys in the closest Senate and governor's races, the percentage of undecideds ranged from 11% to 13%, but in the closely contested governor's and Senate contests in Kansas, the percentage of undecideds was 21% and 22%, respectively. Given how close all of these races are, a relatively small advantage for one party or the other among undecideds would be enough to flip the outcome." YouGov's final round of internet surveys featured very large samples in each state, ranging from ranging between 1,112 in Iowa and 1,743 in Georgia, allowing for an analysis of roughly 150 to 200 interviews among undecided voters in each state. YouGov typically finds more undecided voters than other pollsters, as Rivers explains, because YouGov's online method prompts for undecided in a way that live interviewer telephone surveys do not.
So who are they? Rivers: "Frankly, I don't know how likely undecided respondents are to vote and, if they vote, which way they will split...But we do have some data about undecided voters: their demographics, past voting behavior, and party identification....For the most part, undecideds are moderate and independent. Between 58% and 73% identify as independents and don't even lean toward one of the major parties. A majority of undecideds in Colorado, Florida, Georgia, Iowa, Kansas, North Carolina, and Wisconsin called themselves "moderate." The remainder are more likely to be conservative than liberal, especially in Georgia, Kansas, and North Carolina...Many undecideds (between 12% and 42% depending on the race) say that they did not vote in the 2012 presidential election, which makes one suspicious of their likelihood of voting in the 2014 midterm election...In Colorado and Iowa, undecideds in the 2014 Senate race favored Obama over Romney in 2012 by 48-29 and 44-41, respectively. In the other Senate races, undecideds favored Romney over Obama by a little (Georgia) and a lot (in Kansas and North Carolina). Last, and perhaps most significantly, undecideds are overwhelmingly female (typically in the range of 60-40 or 70-30). Women are much more likely to tell us that they are undecided than men. Among decided men and women, there was a gender gap in every one of these races, so, if undecided women end up voting similarly to decided women, this would be good news for Democratic candidates." [HuffPost]

-Philip Bump reviews the theories on what to make of those still undecided on polls in the final days. [WashPost]
POLLING ERRORS FAVORED DEMS IN 2012 - David Rothschild, Sharad Goel and Houshmand Shirani-Mehrg: "[Polls] report a margin of error of typically 3 percentage points. That means that 95 percent of the time the election outcome should lie within that interval. We find, however, that the true error is actually much larger than that...To estimate the true margin of error, we looked at all polls for senatorial races in 2012 that were published on the two major poll aggregation sites (Huffington Post's Pollster and Real Clear Politics). Then, using the standard formula, we computed their theoretical margin of error. Finally, we simply plotted the percentage of polls where the outcome of the election actually fell within the standard confidence range...For polls conducted right before Election Day, the actual election outcome falls within a poll's stated 95 percent confidence interval about 75 percent of the time. That means that whereas the polls' margin of error says they should capture 95 percent of outcomes, they in fact capture only 75 percent. In other words, the reported margins of error are far too optimistic...[A pattern of polling results favoring the Republicans in 2012] is strikingly apparent when we plot the observed differences between poll predictions and actual election outcomes for the 2012 Senate races." [HuffPost]
Nate Silver: The Democratic understatement is relatively recent... - "In 2012, the average Senate poll underestimated the Democratic candidate's actual performance by 3.4 percentage points...However, there have been just as many years, like 1994 and 2002, when the polls proved to have a pro-Democratic bias instead. And over the long run, there's been no long-term bias toward either Democrats or Republicans in Senate polls." [538]
...and partisanship drives bias in both directions at the state level - "[T]here's a much stronger relationship between poll bias and state partisanship. The five states where Republicans have most outperformed their polls are Wyoming, Alaska, Idaho, Oklahoma and North Dakota. Democrats have done best relative to their polls in Hawaii, Delaware, New York, California and Nevada. Republicans have tended to beat their polls in red states while Democrats have beat theirs in blue states....I've compared the direction of state poll bias in elections since 2008 against the results of the 2004 presidential election between George W. Bush and John Kerry...This correlation is quite strong: it's .66.3 Furthermore, once you account for it, there's no longer much meaningful information conveyed by the past direction of polling bias in the state; partisanship rules instead...This is potentially bad news for Democrats:..If past patterns hold, you'd expect polls to be unbiased in purple states like Iowa and Colorado — and biased against Republicans in those like Kansas and Alaska, two hard-to-poll races that are instrumental to Democratic hopes of keeping their majority." [ibid]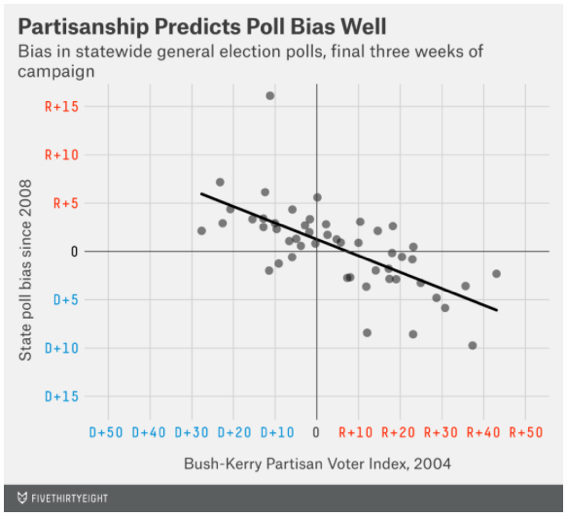 EARLY VOTE ANALYSIS - Michael McDonald takes a "deep dive" into data available on early votes cast in Colorado, Florida, North Carolina, Louisiana and Georgia: "If you want to stay in the shallow end, my take on the early vote data -- where there are enough statistics to be informative -- is that the Republican sweep screaming in the headlines is overblown. Senate control is up for grabs and Democrats have a decent chance to defy the polls. I expect that the election will be so close that we won't know who won until all ballots are counted and the vote is certified several days following the election, not to mention highly probable run-off elections in Georgia and Louisiana." [HuffPost]
Colorado: Cohn sees a late arriving mail votes trending Democratic... - Nate Cohn: "[At first] the trend lines for early ballots weren't moving fast enough for Democrats in Colorado. The ballots received over the last week leaned Republican by about six percentage points — no better for Democrats than in 2010.... [But] Registered Democrats outnumbered registered Republicans by three points over 80,000 received ballots on Saturday. It was the first time that Democrats outpaced Republicans, and it was enough to narrow the Republican advantage to eight points, 40 to 32...I doubt the Democrats will win the remaining votes by three points, if for no other reason than the inevitable return of El Paso County. But the pattern makes it fairly clear that we should expect an increasingly young and Democratic set of ballots over the last few days. [NYTimes]
McDonald sees close CO finish... - McDonald: "[Republican Cory] Gardner does not have the election sewn up. This election is going down to the wire. I'm not saying [Democratic Sen Mark] Udall will win; I'm saying this election is truly too-close-to-call despite poll averages showing a small Gardner lead...There are three reasons why Democrats can be optimistic. First, Bennet won even though a Green Party candidate won 2.2% of the vote. There is no Green Party candidate on the ballot in 2014....Second, the Republican lead has been narrowing as Election Day nears, and is almost certain to narrow further...Third, in addition to vote-by-mail Colorado implemented election day registration. Unregistered people who might take advantage of Election Day registration tend to be younger, persons of color, poorer, and less educated, i.e., Democrats."
...Cohn differs - Cohn, via Twitter: "no one thinks Gardner is going to bleed as many reg GOP/unaffiliated [voters] as [2010 Republican candidate Ken] Buck...Buck got 46% in an electorate w reg R at 39+. Think about that." [@Nate_Cohn here and here]
HUFFPOLLSTER VIA EMAIL! - You can receive this daily update every weekday morning via email! Just click here, enter your email address, and and click "sign up." That's all there is to it (and you can unsubscribe anytime).
MONDAY'S 'OUTLIERS' - Links to the best of news at the intersection of polling, politics and political data:
-On the eve of the election, Barack Obama's image matches its all time low. [WashPost]
-Nate Cohn says 2014 isn't as good as it seems for the Republicans. [NYT]
-Nate Silver also sees reasons 2014 won't be a GOP "wave." [538]
-Matt Barreto and Thomas Schaller argue that pollsters are getting the Latino vote wrong again. [Politico]
-Brendan Nyhan has advice on how to avoid getting fooled on election night. [NYT]
-Steve Koczela breaks down the nearly final Massachusetts governor polls. [WBUR]
-Quintin Zachary Hewlett offers a Canadian perspective on the problem cell phones create for political polls. [Rabble.ca]
BEFORE YOU GO
PHOTO GALLERY
Politicians Then And Now