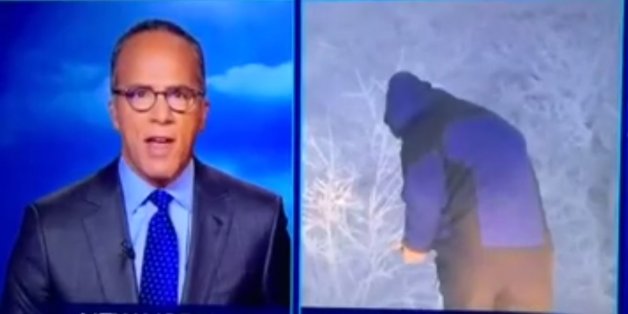 There's not being ready to go on camera. And then there's really, really not being ready. Like, not even a little bit.
This was the unfortunate case experienced by meteorologist Mike Seidel this weekend while reporting on the stormy weather in North Carolina.
There has been some speculation as to what Mike was or was not doing. Think what you will:
H/T FTVLive
UPDATE: Nov. 4-- Brian Williams issued a statement during "Nightly News" Monday night to clear up the confusion about what Seidel was actually doing.
"Mike had lost cellphone contact with our control room, so he couldn't hear through his attached earpiece that he was on the air," Williams said. "He put his back to the storm and the camera -- he had to take off his gloves and re-dial his phone which was tethered to his ear, that's when the rumors hit the web that he was perhaps writing his name in the snow. It was just Mike working to make it right — which is why we all love working with Mike Seidel."
Watch below: