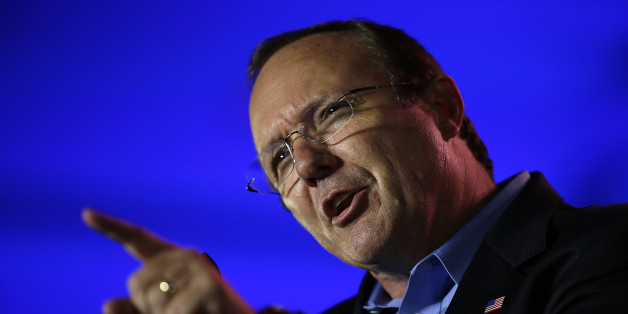 BATON ROUGE, La. -- Rob Maness finished his stump speech just as members of the downtown Kiwanis Club were picking over the last of their red beans and rice. In a half-hour of forceful delivery, he cited the Bible on homosexuality and Jack Nicholson's character in "A Few Good Men" on national security.
Then he got the question -- the one the 52-year-old retired Air Force colonel gets a lot as he crisscrosses all 64 parishes in a Ford F-150, on a long-shot bid to replace Democratic Sen. Mary Landrieu. What's the difference between him and "that other guy"?
Maness ticked off a number of the flaws of Rep. Bill Cassidy, the state Republican Party choice, before arriving at the September continuing resolution. Cassidy voted for that bill, which funded the war on the Islamic State, health care reform and the rest of the federal government. For Maness, a tea-party-style GOP candidate endorsed by Sarah Palin, it represented all that is wrong with mainstream Republicans.
"Congressman Cassidy could have voted no on that bill," said Maness, "if he had principles."
Welcome to politics Louisiana-style: A "jungle primary" is mixing up two Republicans and one Democrat in a battle royal where the top two vote-getters will advance to a December runoff, if no candidate gets at least 50 percent of the vote Tuesday. In a midterm election where control of the Senate hinges unusually on two independents, Maness is yet another potential spoiler in Republicans' quest to win back the Senate.
Maness, a political newcomer who is relying on his military background to appeal to conservative voters, is polling a distant third at about 11 percent. But he still looks poised to force the state into its first Senate runoff since 2002.
Speaking to HuffPost at Bergeron's Boudin and Cajun Meats, a Cajun joint in Port Allen that offers a 10 percent discount for gun-toting patrons, Maness was adamant that he can overtake Cassidy.
"We think we can win," he insisted. "Throw the outliers out and take a real good look at it."
Political observers believe the far more likely outcome is that Cassidy and Landrieu will advance, and Maness will take third.
"He gets his 8 to 10 to 12 percent -- and then the question becomes where do his people go," said Bob Mann, a journalism professor at Louisiana State University who served as communications director for former Gov. Kathleen Blanco (D). "Do they stay home, or do they vote for Cassidy?"
The buttoned-down Cassidy has campaign donations totaling more than $10 million. Maness, on the other hand, has raised more than $2 million, spending some of that money on flamboyant television ads with alligators. At a debate last week, he railed against the "'I'm a scientist' arrogance" of the Centers for Disease Control and Prevention on Ebola virus precautions.
Waving a Maness sign outside that debate on Louisiana State University's campus, James White told HuffPost there was no way he would vote for Cassidy.
Both Cassidy and Landrieu, White claimed, are "for pathways to legalize these illegal aliens." As White expressed his concerns about Obama's "birth certificate issue," another Maness supporter extended her arm in an effort to stop him. He kept going.
"I'm a police officer," White, a 58-year-old retired cop from Westbank New Orleans, told the woman after she touched him. "You're not going to calm me down."
Maness has said he will encourage his supporters to vote for any Republican candidate in a runoff. But Cassidy's bland profile -- along with the fact that he donated to Landrieu during her 2002 election in what he terms a "youthful indiscretion" -- could turn off voters like White.
In response, Cassidy has made transparent efforts to protect his right flank. On Saturday he appeared at a tea party rally with Ben Carson.
Mann thinks Cassidy can bring Maness voters around. While Maness can be pungent about Cassidy's flaws at small events such as the Baton Rouge Kiwanis meeting, Mann said, he has been far less vocal about them at high-profile events like TV debates.
More than anything else, state Republicans' distaste for President Barack Obama and his fellow Democrat, Landrieu, will convince Maness boosters to eventually come around to Cassidy.
Kevin Cox, 51, is the owner of Bergeron's Boudin and Cajun Meats. He told HuffPost he will vote for Cassidy in a runoff if he has to -- anything to get rid of Landrieu.
"I think we've stopped voting for the people we like, and we're voting against the people we don't like," he said.
BEFORE YOU GO
PHOTO GALLERY
Senate Seats Up For Grabs In 2014