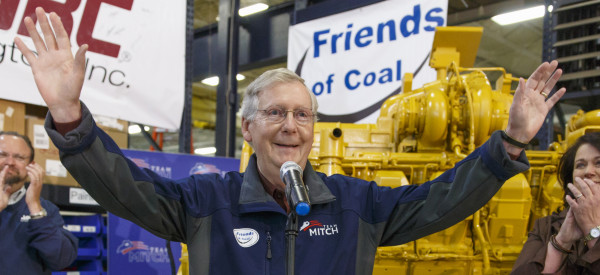 TOP STORIES
75% CHANCE GOP TAKES SENATE TOMORROW Democrats' chances of holding onto the Senate continue to slip away. A mysterious last-minute infusion of cash is hitting the campaigns. Washington lobbyists are flocking to Mitch McConnell as his victory appears imminent. And here's what a GOP senate takeover could mean for ObamaCare. [HuffPost]

MIDTERM DEBATES: CANDIDATES MENTION OBAMA AT LEAST 500 TIMES And almost none of them were positive. [HuffPost]
ISIS ROUTS US-BACKED SYRIAN REBEL FIGHTERS "The Obama administration's Syria strategy suffered a major setback Sunday after fighters linked to al-Qaeda routed U.S.-backed rebels from their main northern strongholds, capturing significant quantities of weaponry, triggering widespread defections and ending hopes that Washington will readily find Syrian partners in its war against the Islamic State." The rout comes as U.S.-backed Iraqi forces prepare for a spring offensive. [WaPo]
ISIS ATROCITIES CONTINUE "Islamic State militants have killed 322 members of an Iraqi tribe in western Anbar province, including dozens of women and children whose bodies were dumped in a well, the government said in the first official confirmation of the scale of the massacre. The systematic killings, which one tribal leader said were continuing on Sunday, marked some of the worst bloodshed in Iraq since the Sunni militants swept through the north in June with the aim of establishing medieval caliphate there and in Syria." [Reuters]
INVESTIGATION INTO VIRGIN GALACTIC CRASH COULD TAKE OVER A YEAR While early reports indicate a lever was improperly moved on the doomed Virgin Galactic SpaceShipTwo test flight, the official cause of the crash that killed one pilot and severely injured another is unknown. The crash, combined with the failed Virgin Galactic rocket ship launch on Friday, is casting doubt on the future of commercialized space travel. [CNN]
ISRAELI CROSSING INTO GAZA CLOSED "Israel closed its crossing into Gaza following a rocket attack, while the prime minister urged calm in the face of unrest in Jerusalem. Gaza's pedestrian and cargo entrances were closed on Sunday in response to a rocket that landed in Israel on Friday, a Defense Ministry spokeswoman said." [WSJ]
ONE WORLD TRADE CENTER OPENS TODAY Conde Naste employees are moving in. [USA Today]
BRITTANY MAYNARD HAS ENDED HER LIFE "Brittany Maynard, who became the public face of the controversial right-to-die movement over the last few weeks, ended her own life Saturday at her home in Portland, Oregon. She was 29. 'Goodbye to all my dear friends and family that I love. Today is the day I have chosen to pass away with dignity in the face of my terminal illness, this terrible brain cancer that has taken so much from me … but would have taken so much more,' she wrote on Facebook." [PEOPLE]
WHAT'S BREWING
NOTHING LIKE A NASCAR BRAWL Even Jeff Gordon gets in on the action. [ESPN]
BEYONCE MIGHT BE DROPPING ANOTHER ALBUM Is it Christmas already? [HuffPost]
GOODBYE, ODORS "Two researchers have found the mathematical formula to create an olfactory equivalent of 'white noise,' which they say could be used to cancel out any pungent odors you may want to get rid of." [HuffPost]
THERE IS SUCH A THING AS A HEALTHY GROCERY CART And it's not filled with clearance Halloween candy. [HuffPost]
YOU HAVE AN INTERNAL CLOCK And it doesn't love daylight savings time. [HuffPost]
A HANGOVER PATCH TIMELINE "Using the oh-so-scientific process of trying a Bytox Hangover Patch once, with no further testing, we concluded that a little patch really can curb the splitting headache that usually comes with a night of excess. Follow us on a journey that ended after eight beers, one whiskey, two shots and a lot of shame (and note that we don't condone binge drinking -- this was a completely journalistic endeavor)." [HuffPost]
ON THE BLOG
ROBERT KUTTNER: 'THE AVOIDABLE ROUT' "A Democratic Party worthy of the name would be addressing the real pocketbook frustrations of the Barista Generation. One of these days, more Democratic candidates will come along with convictions and courage. Until then, voters will fault both parties and ... government -- a default setting that happens to play to the advantage of Republicans." [HuffPost]
BEFORE YOU GO
~ A tightrope walker broke two records this weekend.
~ See the first photo of Jessa Duggar and Ben Sewald's wedding.
~ The trailer for "Fast and Furious 7" and "Grumpy Cat's Worst Christmas Ever" dropped this weekend. Try to spot the differences.
~ Look out for fanged deer (and no, this isn't a belated Halloween joke).
~ Everything you ever needed to know about Sigourney Weaver.
~ The best celebrity Halloween costumes.
~ Rihanna has returned to Instagram.
~ Prince's SNL performance was one for the ages.
~ Tom Hiddleston fans, rejoice: Loki has a lot more roles coming.
~ This woman crowdfunded her $362 Uber Halloween night charge.
Send tips/quips/quotes/stories/photos/events/scoops to Lauren Weber at lauren.weber@huffingtonpost.com. Follow us on Twitter @LaurenWeberHP. And like what you're reading? Sign up here to get The Morning Email delivered to you.