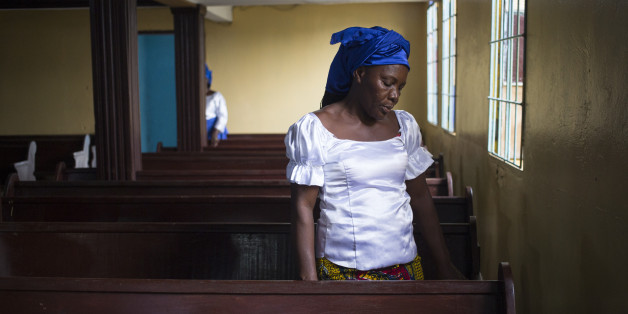 It's clear Ebola survivors are key to helping stop the outbreak. Their immunity to the disease means they can provide vital hands-on care to infected people, and blood transfusions from survivors may also turn out to be an important way to help other patients combat the virus. Yet survivors and their family members are struggling to get back to normal life after defeating the dreaded disease. Disturbing anecdotal reports of adults rejected from their communities and jobs and orphans with nowhere to turn began emerging almost as soon as the outbreak began. And as the virus continues to spread, there's no sign that things are getting better.
The culprit is stigma; shame, fear or disgrace around a particular experience -- such as having had Ebola virus disease. And as HIV/AIDS, another highly stigmatized viral disease, has proven, that stigma can be a devastating strike against people trying to reintegrate into their communities after surviving the disease, according to Caroline Kuo, Ph.D., of Brown University's School of Public Health.
"Stigma can erode an individual's decisions to access health care in a number of ways, and it can result in terrible emotional pain for people on the receiving end of stigma," said Kuo. "It's an awful, awful experience, and what's really challenging about stigma is that it ultimately can have devastating effects for instituting evidence-based responses to disease, whether it be HIV or Ebola."
Brown, who specializes in HIV and community-based HIV intervention, is an honorary lecturer in the Department of Psychiatry and Mental Health at the University of Cape Town in South Africa, the country that's been hardest hit by HIV/AIDS. Since the first cases were reported in 1981, more than 25 million people have died from the disease, and the effects of the stigma have been well-studied.
Based on the lessons learned from HIV/AIDS, Guinea, Sierra Leone and Liberia may have a long road ahead when it comes to instituting policies that protect Ebola survivors, said Kuo.
"One large lesson we're learning from the past decade of HIV research is that it's important not to pathologize families that are affected and infected by HIV," said Kuo. "So from the very start of a crisis, such as [with] HIV and I think probably with Ebola as well, I think we need to ask the question, 'How can we support the resilience of these individuals, families and communities?'"
For example, economic help is vital to making sure survivors of a stigmatized disease thrive. Lucie Cluver, Ph.D., of the Department of Social Policy and Intervention at Oxford University, researches how to improve the lives of children affected by HIV/AIDS in Sub-Saharan Africa. She said that in case of HIV/AIDS, financial aid was "essential" in helping patients and survivors get back to normal life after illness. Sickness takes away a family's income by either redirecting salaries toward huge medical bills or by incapacitating a family's breadwinner. Indeed, some Ebola survivors have shared that they've been turned away from work after recovering at an Ebola treatment center, or pushed out of the marketplace as their customer base dried up.
While there isn't enough research to say for sure how Ebola survivors will ultimately be able to reintegrate, Cluver said, it's clear that for HIV/AIDS survivors, communities and governments can play a strong role in helping them get back to normal life. For instance, programs to make school free or affordable for children affected by HIV/AIDS, or clear public health interventions about when people are infectious and not infectious, are key to shielding children from being wrongly feared and shunned, Cluver explained.
As in the HIV/AIDS epidemic, it seems that West African policy makers must make special considerations to protect children who have been affected by Ebola. There are an estimated 3,700 children from Guinea, Liberia and Sierra Leone who have lost at least one parent to Ebola, according to UNICEF, and they're all vulnerable to social rejection, poverty and even violence now that their parents are gone and Ebola fears cloud all of their interactions with others.

Stigma against Ebola isn't just a problem in West Africa. On an international level, stigma can look like a travel ban, unnecessary quarantines for health workers returning home from West Africa and even slow aid response. (And in another parallel to HIV/AIDS, the U.S. and other countries had also placed a travel ban on people with HIV/AIDS. President Barack Obama lifted it in 2009, after 22 years in place.)
All those things can weigh heavily on the minds of survivors and West Africans in general, said Ernest Gaie, the Liberia country director for Africare, a non-profit developmental aid organization. Gaie described how he would not be able to attend his daughter's high school graduation in Kenya because of the travel ban between the two countries, and he hesitates to visit his wife in the U.S. for fear that co-workers might shun her. But in addition to interfering with his family life, the ban has taken a heavy psychological toll, said Gaie.
"People who are currently stigmatizing those coming from affected countries -- what they don't understand is by doing that they are increasing the psychological impact of the disease on an already emotionally drained and over-burdened society in these three countries," said Gaie. "If it is not addressed adequately, we will have an epidemic -- for lack of a better word -- of mentally ill people."
BEFORE YOU GO
PHOTO GALLERY
The Survivors: Portraits Of Liberians Who Recovered From Ebola