It's Election Day. Americans are casting their ballots in the only poll that matters. And if you want to watch returns like a pollster, there's still time to stock up on scotch, pain killers and Excel. This is HuffPollster for Tuesday, November 4, 2014.
As Election Day dawns, the final HuffPost Pollster election forecasts, based on all public polls, show that while a half dozen key Senate races remain very close, Republicans are on the verge of winning a majority of the U.S. Senate and adding to their existing majority in the U.S. House. Many of the 36 races for governor being decided on Tuesday remain remarkably close, with candidates separated by less than one percentage point in four states.
With the last batch of polls added, the Pollster Senate forecast gives Republicans a 79 percent chance of winning a Senate majority. The new polls released over the weekend nudged Republican margins slightly higher in a handful of close states, but our model's increasing confidence comes mostly from a shrinking pool of undecided voters and the ticking clock, which combine to make late shifts in the Democrats' favor less likely. The final estimates show contests leaning Republican in enough states to add up to a gain of 8 seats, adding up to a 53 seat senate GOP majority.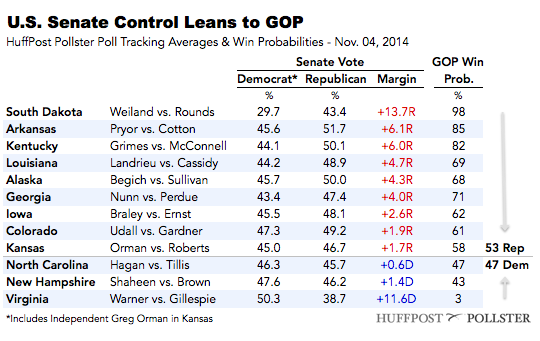 The Path To A Democratic Win - Although the odds against it are long, the Democrats' best chance to hold their majority is under the following scenario: Their candidates must hold on to tenuous leads in New Hampshire and North Carolina, and must defy the polls and overcome narrow Republican leads in both Iowa and Colorado. They would then need to pick up one more seat, either overcoming potentially longer odds in Georgia or Alaska, or hoping that independent Greg Orman wins in Kansas and opts to caucus with the Democrats.
Could the polls be wrong enough to miss Democratic wins in Colorado and Iowa? Our polling averages in Iowa and Colorado understated Barack Obama's margin over Mitt Romney by over 3 percentage points in 2012 and Democratic Sen. Michael Bennet's margin by exactly 3 points in 2010. A repeat would be just enough to put both Democrats slightly ahead in 2014, but the odds are long. As Nate Silver has noted, such polling errors have not been consistent over the longer term.
Even with a reversal in Iowa and Colorado, the challenge of finding the 50th Democratic caucus member is more daunting, but not inconceivable. The Kansas Senate race has been one of the closest in the nation, although our final estimate puts Republican Sen. Pat Roberts slightly ahead. A run-off election is virtually assured in Louisiana and a slightly better than a 50/50 proposition in Georgia. At very least, if the Democrats can come from behind in Iowa and Colorado, they would force the Senate battle into overtime.
The Path To A Republican Landslide - Differences between final polling averages and election results of 2 to 3 percentage points on the margin errors are not uncommon, but they could occur in either direction. As such, it is also possible that Republicans could overcome their small deficits in New Hampshire and North Carolina and hold their margins elsewhere, resulting in a 55 seat majority.
One theory, offered by RealClearPolitics' Sean Trende and Republican pollster Patrick Lanne, argued that the low approval rating of President Obama would cap support for Democratic candidates and that late deciding voters would break to the Republicans, as they did to Democrats in 2006. Something close to that scenario has played out. Since early October, for example, deciding voters helped increase support for Republican candidates (+2.8 percentage points) more than Democrats (+1.4 points).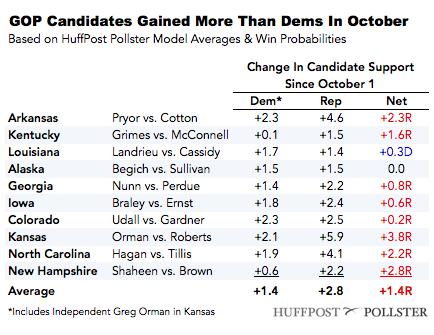 If a similar pattern occurs among the voters who make up their minds in the final hours, it could make for a Republican wins in North Carolina, New Hampshire or both. The polls will close at 7:30 p.m. Eastern Time in North Carolina and by 8:00 p.m. in New Hampshire, so their votes will be among the first to be counted. Watch those results for signs of how the rest of the evening will go.
HOUSE ALSO LIKELY TO SEE REPUBLICAN GAINS - HuffPollster, with Natalie Jackson: "[T]he most recent data from national and district-level surveys suggests that while they're polling significantly behind the level of the 2010 GOP wave, Republicans are poised to expand their U.S. House majority on Tuesday, gaining at least a half dozen seats and perhaps as many as 10 to 15….HuffPost Pollster's tracking model for the generic House vote, which combines all of the public polls, has given Republicans an advantage of roughly 2 percentage points on the national generic vote question since early August. Democrats may see that margin as relatively good news, since national polls in 2010 had Republicans leading by much wider margins. Pollster's final 2010 average gave the GOP an 8-point advantage….While district-level polling is rare and the details of the statistical models complex and a bit murky, those derived from opinion polls are pointing mostly in the same direction: Republicans should gain as few as six and perhaps as many as a dozen or more seats in the House."
Looking for polling on an individual House race? - Pollster is tracking 25 of this year's most-polled congressional races, including races with a 3-point margin or less in IA-03, IA-04, ME-02, MA-06, MN-07, NH-01, NY-24 and WV-03. Click on "2014 House Races" under "explore a set of charts" to check them out. [HuffPost]
IN MANY STATES, GUBERNATORIAL RACES COULDN'T BE CLOSER - HuffPollster, with Natalie Jackson: "While the battle for the U.S. Senate has captured attention nationwide, some of this year's closest contests are among the 36 governor's races, nearly a third of which are headed to virtual photo finishes, according to recent polls. As of this writing, the HuffPost Pollster tracking models show the top candidates separated by less than three-tenths of a percentage point in four states -- Connecticut, Florida, Illinois and Maine. Four more states -- Alaska, Colorado, Michigan and Wisconsin -- are near tossups with the top two candidates separated by less than 2 percentage points. In three more contests -- Georgia, Kansas and Massachusetts -- the margins are slightly greater but remain close enough to allow for election night surprises. Those 11 races include seven seats currently held by the GOP and four held by Democrats, although any trend across the states may have more to do with general voter dissatisfaction than partisanship. Each, save Massachusetts, features a vulnerable incumbent, many of whom are taking criticism on how their states weathered the economic conditions of recent years." [HuffPost]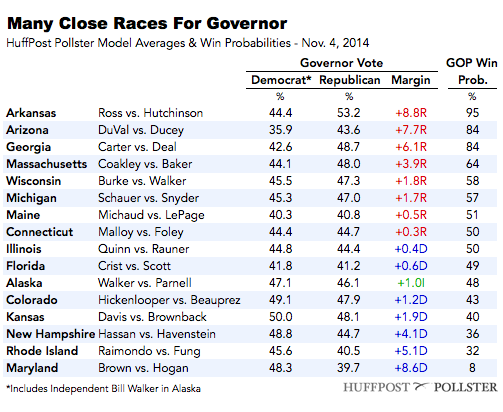 EARLY VOTE: BAD NEWS FOR DEMS IN COLORADO? - Harry Enten: "Democratic pollsters who have shown the race close to a tie have modeled an electorate in which registered Republicans make up 5 percentage points more of the electorate than registered Democrats. The two public pollsters, Marist College and Monmouth University, who released data on party registration gave Republicans a 7 percentage point registration advantage on average. Because the state has adopted all-mail voting, there has been a substantial portion of the vote already reported (90 percent of the number of votes cast in the last midterm). Through Monday night, Republicans are holding a 7.5 percentage point lead in party registration among those who voted — slightly more Republican-leaning than the average in the public polls." [538]
-Nate Cohn: "Colorado update: 1,586,226 votes counted, R 39.7, D 32.2...Today's pace wouldn't get Dems where they want to be. Another 500,000 ballots at this pace would yield R+6.6 at 2.086m votes....Democrats should hope that there are additional Denver/Boulder ballots tonight, and then Dems would still need to far much better [tomorrow]." [@Nate_Cohn here, here and here]
-Michael McDonald (via email): Cohn's reports "are incomplete counts from last night that don't include all of the Denver/Boulder vote from yesterday....Bennet won in 2010 by 1.7 points with Republican registration advantage of +6.8 with a Green candidate taking 2.2% of the vote. We would also have to assume that the rate of Democratic and unaffiliated ballot returns don't increase today. It is not implausible to think they will, as they have over the past half week. Not only are many ballots in the mail from the weekend, but many people will drop off ballots today at special drop boxes or vote in-person at special polling locations. These numbers, first, confirm what I said that this race would tighten. We can expect the race will continue to tighten today. Second, Bennet's 2010 race is a reasonable baseline for comparison, and indicates the Colorado Senate election is going to be very close."
WHAT TO WATCH ON ELECTION NIGHT - The HuffPost Data Team has been hard at work on our 2014 Election Results dashboard, which will begin displaying the latest vote counts reported by the Associated Press for Senate, House and governor races, as well as statewide ballot measures beginning at 6:00 p.m. Eastern Time. The dashboard will once again include county-level maps and comparison scatterplots for the most competitive statewide races. [HuffPost 2014 Election Results]
Other election night resources:
-DailyKos maps the poll closing times. [DailyKos]
-The Upshot will apply an adjustment to AP election returns on Tuesday night. [NYT]
-Kevin Collins (D) has compiled linked to all 50 state Secretary of State election results sites. [Google Doc]
-Steve Koczela and Paul McMorrow explain their Massachusetts results dashboard. [YouTube, Dashboard]
-Brendan Nyhan offers advice for how to avoid getting fooled on Election Night. [NYT]
-Nate Cohn rounds up a list of "bellwether" counties. [NYT]
-Roll Call summarizes the recount rules for key battlegrounds. [Roll Call]
-Global Strategy Group (D) recommends scotch, painkillers and Excel to survive election night. [GSG]
WHY YOU STILL SHOULD IGNORE EARLY EXIT POLLS - HuffPollster, back in 2012: "Hard as it may be, you should try to ignore them, at least until the polls close. And even then, take the underlying vote estimates with big grains of salt….as tools to predict the outcome of close races just before the polls close, they are blunt instruments at best. Here's why: First, an exit poll is just a survey. Like other polls, it is subject to random sampling error, so differences of a few percentage points between the candidates in any given state sample are not terribly meaningful. Second, the networks almost never "call" truly competitive races on exit poll results alone...Third, the initial results of the exit poll interviews have had [past] problems with non-response bias, a consistent discrepancy favoring the Democrats...[Exit pollsters now] hold back the data from their news media clients in a sealed quarantine room on Election Day until 5 p.m. Eastern time. The quarantine means that any numbers purporting to be "exit polls" before 5 p.m. are almost certainly bogus." [HuffPost]
HUFFPOLLSTER VIA EMAIL! - You can receive this daily update every weekday morning via email! Just click here, enter your email address, and and click "sign up." That's all there is to it (and you can unsubscribe anytime).
TUESDAY'S 'OUTLIERS' - Links to the best of news at the intersection of polling, politics and political data:
-Ann Selzer answers criticism of her final Des Moines Register Iowa Poll: "I've heard it before." [WashPost]
-Young Americans remain as Democratic as they were in 2010. [Gallup]
-Perceptions of President Obama are worse than they were in 2010. [YouGov]
-28 percent of registered voters say they have used their cell phones to follow political news or campaign coverage. [Pew Internet]
-Nate Silver and Harry Enten say a chaotic finish works in the Democrats favor. [538]
-Sean Trende reaches back to 1978 to conclude that 2014's results will say nothing about 2016. [RCP]
-John Sides presents four "fundamentals" in four graphs pointing to a Republican Senate victory. [WashPost]
-Two-thirds of persuadable voters say they use the Internet to vet candidates. [WashPost]
-Google search data doesn't seem to predict a voter surge. [NYT]
-Mona Chalabi has the numbers behind DC's push to decriminalize marijuana. [538]
-Patrick J. Egan says these elections are the most unrepresentative since World War II. [WashPost]
BEFORE YOU GO
PHOTO GALLERY
Political Potty Mouths