A fantastically bright fireball put on quite a show across the eastern U.S. on Monday evening.
The fireball, which some witnesses say had a vivid green color, was seen in the sky from Georgia northward to Chicago and eastward to Washington, D.C. Just check out a video of the fireball above, which was uploaded to YouTube by Chicago resident Harlan Cohen.
(Story continues below map.)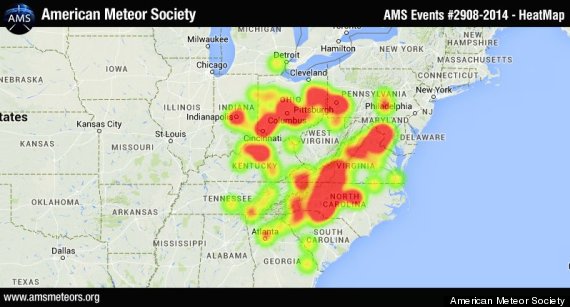 A heat map showing where witnesses reported seeing a fireball on Monday evening.
The American Meteor Society said it received more than 300 eyewitness reports of the fireball. Of course, the fireball's brilliance also fired up the Twitterverse.
Crappy screen grab of meteor or burning space junk or whatever I just saw over Chicago. pic.twitter.com/EVoRPRZZDZ

— steveWSOP (@stevewsop) November 4, 2014
I'm getting reports of the bright meteor i saw in Roanoke, VA....from Virginia to Ohio. It was incredibly bright.....#METEOR #SWVA

— LeoHirsbrunner (@LeoHirsbrunner) November 3, 2014
Meteor was straight overhead in Lexington KY heading due east. Burning green. Size of a bottle rocket here #meteor #whatdoesitmean

— DrewCurtis (@DrewCurtis) November 3, 2014
What exactly was this fireball? A meteor? A bit of space debris?
Mike Hankey, the society's operations manager, told the Chicago Tribune that no formal determination had yet been made. Stay tuned for more details.
BEFORE YOU GO
PHOTO GALLERY
Orbital Debris Surrounding Earth