America is voting. Candidates are canvassing. Votes are being turned out. The stakes are either very high, or very low, depending on the news you read.
So while you wait, enjoy some of the best photos to come out of Election Day 2014.
Mitch McConnell voting in Kentucky on Tuesday morning. Thumbs down for what?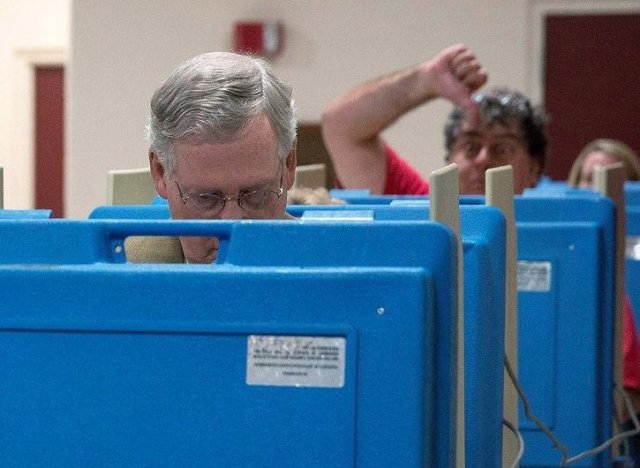 (Aaron P. Bernstein/Getty Images)
Missouri Gov. Jay Nixon's (D) crack social media team posted this photo Tuesday morning. It was wiped from Twitter shortly after.
Missouri @GovJayNixon, call your social media team http://t.co/ybtXjJwklm pic.twitter.com/NYXnf41EMV

— Mashable (@mashable) November 4, 2014
Florida gubernatorial candidate Charlie Crist (D) strikes a pose.
Take a lunch break outside in the beautiful sunshine and go vote! http://t.co/VnZ1DMLR9m pic.twitter.com/n751Eqe6Mp

— Charlie Crist (@CharlieCrist) November 4, 2014
A lost absentee ballot didn't stop Lil Jon from turning out to vote.
Looks like Florida Gov. Rick Scott (R) got the short end of the stick in this photo with Texas Gov. Rick Perry (R).
.@FLGovScott barely made it into the frame of this Rick Perry rally photo. pic.twitter.com/QFdiZFGnzr

— Max Steele (@maxasteele) November 4, 2014
Texas gubernatorial candidate Wendy Davis (D) locking down the Wu-Tang vote.
...And this is the last time we're expecting to see Wendy Davis until the polls close. pic.twitter.com/nhkIJBFUp3

— Emily Baucum (@EmilyBaucum) November 4, 2014
This might be the happiest photo of Sen. Mitch McConnell (R-Ky.) in existence.
Your next Majority Leader of the U.S. Senate, @Team_Mitch! #KYSEN pic.twitter.com/o01P7eD93B

— Amanda Faulkner (@acfaulknr) November 4, 2014
Way to take things literally, Sen. Mark Udall (D).
Sen. Udall gives stump speech on a stump (pic via @katiezez) pic.twitter.com/i1S0C936fm

— Ruby Cramer (@rubycramer) November 4, 2014
Sen. Tim Scott (R-S.C.) gets out the vote.
Election shot of the day: @SenatorTimScott jumps and high fives young supporter in Columbia. (by @timdominickSC) pic.twitter.com/bHj6Gjs28v

— Andy Shain (@AndyShain) November 4, 2014
When going to the polls, keep your hands to yourself.
Here's @NYGovCuomo at the polls with girlfriend Sandra Lee. http://t.co/0rH9hFKy3a Got a caption for this photo? pic.twitter.com/hEVpJHlTdw

— NYDN Politics (@NYDNPolitics) November 4, 2014
Below, more updates on election news:
11/05/2014 8:27 AM EST
Christie: GOP Wins Show Focus On Leadership
The AP reported Wednesday:
WASHINGTON (AP) -- New Jersey Gov. Chris Christie says Republican victories in governor's races across the country show voters want leaders who will "get things done," rather that fighting over ideology.
Christie, chairman of the Republican Governors Association and a possible 2016 candidate for president, said he was gratified by GOP wins in Democratic-leaning states such as Maryland, Massachusetts and Illinois, as well as victories in key swing states like Florida, Michigan, Wisconsin and Ohio.
Christie said voters "elect and re-elect governors to get things done."
Christie, who campaigned for GOP candidates across the country, said the winners deserve the credit, not him. He said elections are "always about the candidate."
Christie spoke Wednesday on NBC's "Today" show, ABC's "Good Morning America" and Fox News Channel.
11/05/2014 7:46 AM EST
President Obama To Address Midterm Results In Afternoon Press Conference
President Barack Obama will speak to the press Wednesday afternoon to address his party's resounding loss in the 2014 midterm elections, according to White House press secretary Josh Earnest. He is expected to strike a tone of compromise and accountability following a Republican takeover of the U.S. Senate and many of the nation's gubernatorial offices.
Obama tried reached out to Sen. Mitch McConnell (R-Ky.), who is widely expected to be the next senate majority leader and who also won re-election Tuesday night, and left a message, CNN reported.
The president's press conference will take place at 2:50 p.m. Eastern time from the East Room of the White House.
Igor Bobic
11/05/2014 6:57 AM EST
Indictment, Dog Killing, Infidelity Overcome By GOP Candidates
How bad was it for Democrats? Rep. Michael Grimm, a Republican facing a 20-count indictment won in New York and another known for outbursts of rage and killing a beagle, Mike Bost, won a seat in President Barack Obama's home state of Illinois that had been Democratic for 70 years.
Down in Tennessee, Rep. Scott DesJarlais' past infidelities and pushing of abortion on a mistress continued to not matter to voters, who handed him a landslide victory.
There were a couple of bright spots for Democrats, or at least the more moderate crowd. Florida Rep. Steve Southerland lost to Democrat Gwen Graham after holding an all-male fundraiser and joking about Graham in lingerie. And in Louisiana, GOP Rep. Vance McAllister, dubbed the "Kissing Congressman" after he was caught on tape smooching a staffer, finished far back in the field in his contest.
-- Michael McAuliff
11/05/2014 5:24 AM EST
Expect A Delay In Results
AP not calling these races until the number of outstanding votes can be verified: Va. gov.; Conn. gov.; Colo. gov.; Alaska gov, Senate.

— AP Politics (@AP_Politics) November 5, 2014
11/05/2014 5:07 AM EST
Alaska Becomes 4th State To Legalize Recreational Marijuana
In yet another major pushback against the war on drugs, Alaska legalized recreational marijuana on Tuesday, joining Oregon and Washington, D.C. -- both of which legalized cannabis only hours before. Alaska becomes the fourth state in the U.S. to legalize retail marijuana, along with Oregon, Colorado and Washington state.
Voters approved Measure 2, which legalizes the possession, use and sale of recreational marijuana. Adults, age 21 and older, may possess up to 1 ounce of marijuana and grow up to six plants (with no more than three being mature) for personal use. The measure also legalizes the manufacture, sale and possession of marijuana paraphernalia, such as devices used for smoking or storing the plant.
"The folks trying to keep marijuana illegal are relying on the same scare tactics today that they have relied on for decades, but voters just aren't falling for it anymore," Rob Kampia, executive director of the Marijuana Policy Project, said in a statement early Wednesday morning. "The results are particularly encouraging since voter turnout during a midterm election is typically smaller, older, and more conservative. Clearly, support for ending marijuana prohibition spans the political and ideological spectrums."
Read more here.
-- Matt Ferner
11/05/2014 4:28 AM EST
Ah, Politics... Chicago-Style
People are STILL voting on Chicago's north side because of election judge problems @cbschicago #Election2014

— Elizabeth Godvik (@GodvikNewzGirl) November 5, 2014
11/05/2014 3:40 AM EST
Sarah Palin To GOP: You Didn't Build This
Former Alaska Governor Sarah Palin took to Facebook last night to issue a hearty congratulations -- and warning -- to her GOP brethren:
Thank you, wise voters! Tonight is a big victory for We the People! Credit is due to the victorious candidates. Your message to President Obama is undeniably received, though he'll try to ignore it.

...

The Democrats got mauled today, deservedly so. To prohibit that from happening to the GOP in 2016, it must learn the lesson from the last time Republicans held the Senate majority. This time they must not retreat, and it's our responsibility to hold them accountable. Will they fight for reform that aligns with the limited government planks of the Republican platform, or will they return to the big government cronyism and status quo favored by the permanent political class? Will they drain the swamp or decide the D.C. cesspool is really just a jacuzzi they can't wait to jump on into and shake us off?

If GOP leadership returns to business as usual, then this majority will be short lived, for We the People say, "once bitten, twice shy."
Click here to read the full statement.
11/05/2014 2:55 AM EST
Alaska Approves Minimum Wage Increase
ANCHORAGE, Alaska (AP) _ Alaskans have voted to raise the minimum wage.

— Becky Bohrer (@beckybohrerap) November 5, 2014
11/05/2014 2:39 AM EST
Alaska Rep. Don Young Projected To Win 22nd Term
The Associated Press is projecting that Rep. Don Young (R-Alaska) will win re-election as Alaska's only member of Congress.
--Sam Levine
11/05/2014 2:36 AM EST
Voter Turnout In The U.S. Is Always Awful.. And This Year Was No Different