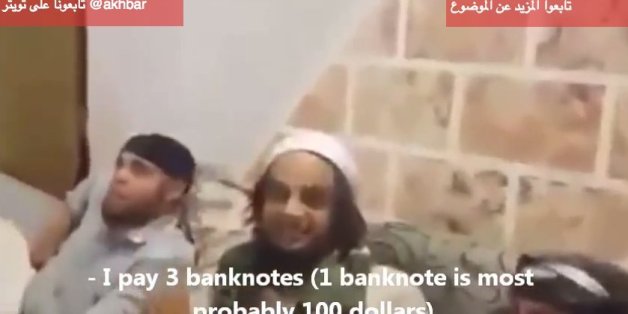 A disturbing video that emerged last week purports to show members of the Islamic State militant group joking and laughing while discussing the sale of captured girls as slaves.
The clip shows a discussion between several bearded men in a barren room. A suspected Islamic State fighter appears to be addressing the camera. "Today is the slave market day," the man says, according to a translation posted by the Dubai-based Al-Aan network, which first uncovered the video.
"Today is the day of (female) slaves and we should have our share," another alleged militant adds. "Where is my Yazidi girl?" he asks mockingly, referring to members of the Iraqi minority group targeted in a major Islamic State assault in August.
The suspected fighters then appear to discuss prices for the girls, explaining that the amount depends on a girl's appearance. One man mentions to be willing to pay a Glock pistol, while another offers $300.
The Huffington Post was unable to independently verify the content of the video. However, The Independent reported that the clip has been shared on social media channels that are believed to be linked to the militant group.
If the video is real, it would corroborate numerous accounts by survivors of Islamic State kidnappings and abductions.
Representatives of the Yazidi community say they have documented nearly 7,000 names of Yazidi girls and young women who have been kidnapped by the extremists. The community says that more than 300,000 members of the religious group are currently in need of aid after having been driven from their homes by the Islamic State, which is also known as ISIS or ISIL.
"The video is very disturbing, repulsive, and might possibly be important evidence. But it's also inconclusive," said Fred Abrahams of Human Rights Watch's Children's Rights division. "It could show men who are about to commit war crimes, but it also could be a group of idiots spouting offensive nonsense."
Abrahams told HuffPost that the video is consistent with what his organization has heard about Yazidi women and girls, "but it shouldn't be taken as evidence on its own."
Human Rights Watch warned last month that the Islamic State is holding hundreds of Yazidi men, women, and children from Iraq captive in detention facilities in Iraq and Syria. Relatives of the detainees told the organization that the militants have systematically separated young women and teenage girls from their families and have forced some of them to marry its fighters.
Amnesty International has also accused the Islamic State of abducting "hundreds, if not thousands" of Yazidi women and girls. The group said it had obtained the names of dozens of women and girls who were reported missing by family members, noting that many of those held by the militants have been threatened and pressured to convert to Islam.
Several women who were able to escape their Islamic State captors have spoken to the media about their ordeals. A 15 year-old Yazidi girl told the Associated Press recently that she was among hundreds of women and girls captured from her village in Iraq in August. "They took girls to Syria to sell them," the girl said. "I was sold in Syria. I stayed about five days with my two sisters, then one of my sisters was sold and taken (back) to Mosul, and I remained in Syria."
The U.S. State Department on Monday held up the video as the latest example of the extremist group's savagery. The department's "Think Again and Turn Away" program, which aims to discourage people from joining the Islamic State, featured the clip on its Facebook and Twitter accounts. "A sickening video has emerged of #ISIS terrorists attending a slave girl "market" where they negotiate prices and barter with weapons for the youngest women, those with good teeth, and girls with green eyes," the program stated on its Facebook page.