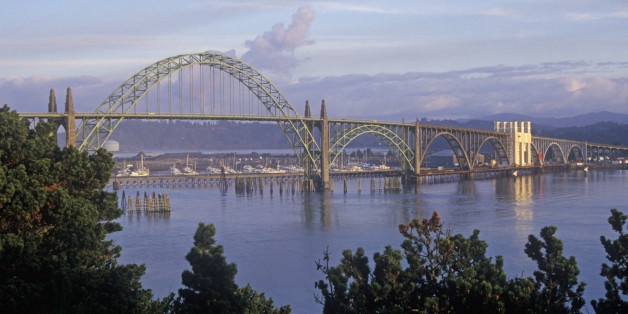 The body of a 6-year-old boy was found in Yaquina Bay in Newport, Ore., on Monday night after a woman called police and allegedly said she had thrown him off a bridge.
The woman, who has not been named but is said to be the child's mother, reportedly called 911 and said she heard voices telling her to throw the boy off the Yaquina Bay Bridge, according to News Lincoln County.
The bridge is approximately 130 feet above the bay.
The woman is in custody and is being questioned but has not been arrested, according to KATU, the local ABC affiliate. Police told the station that a number of people reported seeing a woman walk along the bridge with a child and then throw him over.
"I feel really sorry for the family," Newport Police Chief Mark Miranda told KGW.com. "Losing a kid isn't easy."
The 911 call came in at about 6 p.m. local time on Monday evening. By 6:30, the U.S. Coast Guard had sent two boats and a helicopter to assist local police and fire agencies Petty Officer 3rd Class Jonathan Klingenberg told KOIN 6, the local CBS affiliate.
The boy's body was found at about 11 p.m. local time at a jetty near the Embarcadero Resort about a mile away after being spotted by someone at the resort's restaurant, the Oregonian said.
"The fire department got there first and recovered the body," Klingenberg told NBC News. "It's absolutely a tragedy. Most of us all have families."
BEFORE YOU GO
PHOTO GALLERY
10 Major Crimes That Shocked America (SLIDESHOW)