A radical new sculpture by Turner-prize winning artist Gillian Wearing was revealed outside the newly transformed Library of Birmingham in the United Kingdom last week. The work depicts a loving family that strays from the nuclear norm, one not often represented in the realm of visual art, especially public art.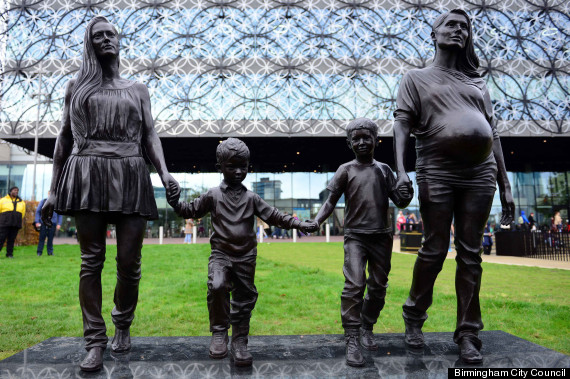 The piece, entitled "A Real Birmingham Family," depicts two sisters, Roma and Emma, both single parents, and their two sons Kyan and Shaye. A plaque below the piece contains a quote from Wearing stating: "A nuclear family is one reality but it is one of many and this work celebrates the idea that what constitutes a family should not be fixed."
Wearing was inspired to embark upon the project after working on the 2008 piece "A Typical Trentino Family" in Italy. During that process, Wearing employed statisticians to break down what the "classic" Trentino family consisted of -- with surprisingly broad definitions of a family. Inspired by this inclusive perspective, Wearing organized a similar search in her hometown of Birmingham.
In 2011 and 2012, Birmingham residents were invited to nominate their families to be immortalized in bronze, with no restrictions on what a family could be. The artistic endeavor illuminates the diverse understandings of love, family and partnership in the 21st century. The Jones family was selected by a panel of community, cultural and religious figures following discussions of diversity, generations and ties to the community.
"I want the work to feel inclusive and that every family feels important," Wearing explained to The Telegraph. "I think so many governments speak the language of family values but they always talk as if it is a niche group and don't let other families to be a part of that. Other families bar the nuclear family exist and we should really embrace that."
We didn't need an artwork to show us what family means in the 21st century or all of the beautiful shapes it can take. But it sure is nice to see it cast in bronze.
BEFORE YOU GO
PHOTO GALLERY
Ballet Dancers Changing the Landscape