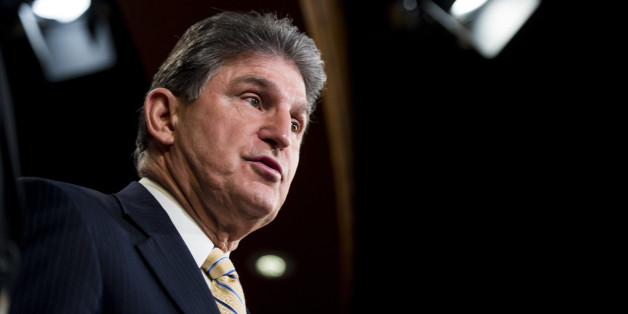 Sen. Joe Manchin (D-W. Va.) used some off-color language to describe the extent of his party's dramatic losses in Tuesday's midterm election, which gave Republicans control of the U.S. Senate for the first time in eight years.
"This is a real ass-whooping," Manchin told the Washington Post in a Wednesday interview.
The moderate first-term senator criticized President Barack Obama and Senate Majority Leader Harry Reid (D-Nev.) for failing to present voters with a positive record of accomplishments.
"Harry let us vote, let's do something. It's easier for me to go home and explain what I voted for and against than to explain why I don't vote at all," Manchin said of the Senate, which is on track, along with the House, to become the most unproductive Congress in modern history.
Manchin used a football analogy to describe the Democrats' strategy, which he described as misguided.
"We had the lead the whole entire game up until the middle of the 4th quarter and they decided to sit on the ball. And guess what? We got beat 31 to 30," he said.
"This is a rough and tumble sport and you know what? Every member of Congress -- 535 -- has earned the right to make a complete fool of themselves if they want to," he added. "We just have to make sure that the American public can see who wants to get something done, who wants to be an obstructionist and who wants to be a fool."
President Barack Obama also addressed the midterm election results Wednesday afternoon from the White House, telling reporters that he was looking forward to working with the new Congress on issues like patent reform and trade agreements.
"Obviously, Republicans had a good night," he said.
BEFORE YOU GO
PHOTO GALLERY
U.S. Capitol Photos