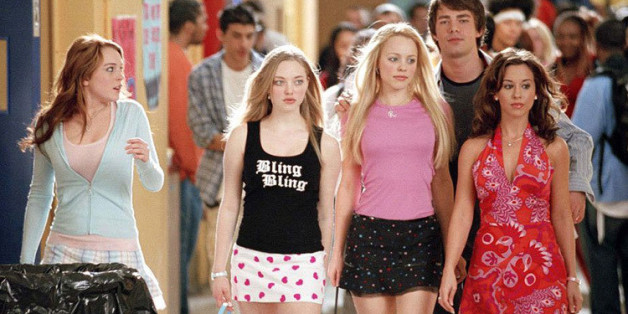 This past April marked the 10-year anniversary of "Mean Girls," but it took a few extra months for Entertainment Weekly to finally manage to round up the film's leading ladies for the proper reunion everyone has been waiting for.
But this assembly was more than just nostalgia fodder. From this blessed gathering of Lindsay Lohan, Rachel McAdams, Amanda Seyfried, Lacey Chabert and, of course, Tina Fey, we gleaned a few things that even fans who repeatedly watched director's commentary on the DVD could not have known.
1. Tina Fey and Amy Poehler didn't understand Lindsay Lohan's feud with Hilary Duff.
While discussing the production of the film, Fey told Entertainment Weekly that she remembers Lohan trying to explain her "beef" with fellow actress and pop star Hilary Duff to the two funny ladies. "We couldn't quite crack it. But we were pretending we could follow it," Fey explained.
2. Lohan was on a quest to find pink Uggs.
Everyone knows that on Wednesdays we wear pink, but the quest for apparel of that color bled outside the boundaries of the film shoot.
"I remember 17-year-old Lindsay was on a mission to find pink Uggs. That was, like, what she was working on," Fey told the magazine.
Lohan also remembered her mission for pink footwear, and explained, "I had been online trying to get pink Uggs because I had a pink pleated skirt in the scene where I fall into the garbage can. I was like, 'I need pink Uggs!' I mean, I was rhinestoning my phone at the time with Swarovski crystals. [Laughs] So it was somewhat Method."
It doesn't look like she found them.
3. It may or may not be all downhill after high school for the popular kids.
When asked where they think each member of The Plastics would be today, the stars had some interesting predictions for their characters.
Lohan said she saw Cady working with Oprah in Africa, while Seyfried envisioned Karen owning a store that sells dog attire ("Like Swarovski dog collars and Halloween costumes for animals"). Of course, Chabert said that Gretchen took over the Toaster Strudel empire (she told HuffPost Live something similar earlier this year), while Regina apparently never really outgrew her mean girl ways after all. As McAdams predicted she's now a "Real Housewife."
4. You probably know the lines to the movie waaaaaay better than the cast does.
McAdams revealed that while recently staying at a bed-and-breakfast in Ireland, the owner's granddaughter asked her to write down a few of her favorite quotes from the film. "I couldn't think of any of them! It's been 10 years!" she said. "So I said, 'Well, what are your favorites?' So she literally fed me all these lines, like 'Is butter a carb?'" (Funny enough, when asked by a red carpet reporter to recite her favorite lines this past January, McAdams also singled out "Is butter a carb?")
Lohan, meanwhile, also endured a similar experience. Recently, when she was leaving the theater where she's performing in David Mamet's "Speed-the-Plow" in London's West End, fans waiting outside asked her, "Do you know what day it is?"
"And someone said, 'It's October 3rd!' I was like, 'What? I don't understand!' I didn't know what they meant. Then I realized it!" she said referring to the date that's recognized (at least online) as "Mean Girls" day.
5. We're never going to get an official sequel, even if Tina Fey regrets not making one.
"At the time we did want to start the conversation about the sequel, and for whatever reason I was like, 'No!!! We shouldn't do that!'" Fey said. "Now I look back and I'm like, 'Why?' But now, no -- it's too late now," Fey admitted.
The #MeanGirls cast looks back—& tells us where their characters would be today: http://t.co/3DoK8F7KbE #EWReunions pic.twitter.com/ptXddi46a7

— Entertainment Weekly (@EW) November 5, 2014
For more with the cast of "Mean Girls," head over to Entertainment Weekly and pick up a copy of this week's issue, which also includes reunions with the casts of "Ghostbusters," "Monty Python," "Little House on the Prairie" and more.
More coverage of the "Mean Girls" 10 year anniversary:
BEFORE YOU GO
PHOTO GALLERY
Mean Girls 10 Years On - Where Are They Now?