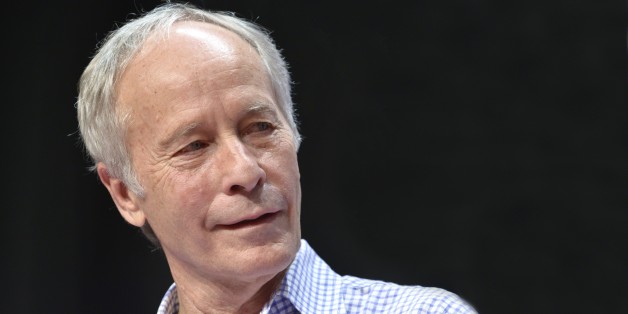 Richard Ford is the author of eight novels and five short story collections, many of which center on protagonist Frank Bascombe, a sportswriter with a literary background and an everyman appeal. The Sportswriter earned Ford a PEN/Faulkner Award for Fiction nomination, and Independence Day, the second book chronicling Bascombe's life, earned Ford a Pulitzer Prize.
Ford's writing has been praised for being sonorous and seeped in descriptions of American terrain. His latest novel, Let Me Be Frank With You, picks up Bascombe's story shortly after Hurricane Sandy devastated New Jersey and surrounding areas. It published November 4.
Below, Ford discusses his timeless yet ever-changing character and the importance of a word's "noises" as opposed to its meaning:
First and foremost -- you've said that you were finished with Frank Bascombe's story. Why did you decide to revisit it?
I try to be as good as my word. But when it comes to what I choose to write about, I feel lucky to have anything to write about at all. Hurricane Sandy, when I experienced it and then went down to Seaside Heights, NJ, to see its human consequences, just affected me strongly. If you're a writer you have to pay attention to things that affect you strongly. The effects I experienced were expressed in my brain in Frank Bascombe's voice. I felt Frank -- as an instrument of inquiry -- could get at the human consequences of the storm -- the ones the mass media wouldn't notice. It was frankly irresistible.
Frank serves as a sort of cultural barometer -- he doesn't only relate current events, his mood also closely parallels the collective mood of the nation. In Let Me Be Frank With You, he's begun to "declutter" his life. Do you think this is a side effect of growing older, or a more general sentiment shared by Americans of all ages?
I really don't know the answer to that. I had Frank begin uncluttering his life -- jettisoning friends, de-commissioning language from his vocabulary -- because that seemed an interesting (and funny) thing for a person to do. It also seemed consistent with his age. Beyond that, I wasn't trying to make him a barometer, or make him emblemize anything... I was thinking solely in terms that are specific and unique to him, not to the culture at large. I don't think about the culture at large.
You seem transfixed with the ways in which a single character can change as he or she ages -- this happened on a micro level in your last book with Dell Parsons, and of course we've been with Frank for decades. Why does this paradigm appeal to you, and how do you think your own writing has altered over time?
I'm sure my writing's altered, but I'm just not aware of how. Too much awareness of one's writing style doesn't seem healthy. I just hope I've gotten better.
You've been described as "sound-oriented" and haven't exactly renounced the designation. Would you say that's still accurate?
When I go looking for a word to fit into a sentence, I'm often willing to choose a word because of its noises (number of syllables, what its 'long a' sounds are, its 'schwa e' sounds, etc.) rather than whether or not it satisfies my original intention. Inevitably sentences change using this method; but sometimes the changes are interesting. Poets of course do this all the time and call it "discovery."
Do you think you're finally finished writing Frank's story, and if so, what's up next for you?
I have no idea what's next. As for being finished with Frank, I have no plans for another book. But -- as started -- you can't say never but once.