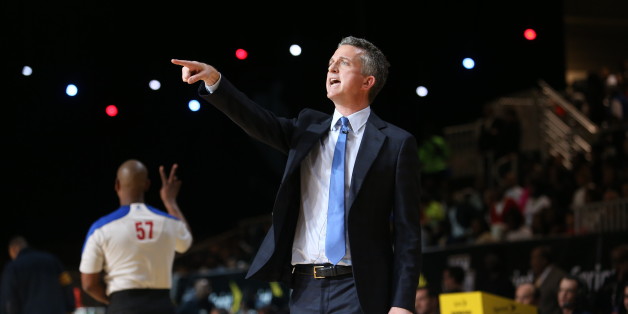 ESPN's Bill Simmons will not sit quietly while being criticized by others at ESPN. In response to some harsh words from an ESPN colleague, Simmons went into attack mode himself on Twitter.
The inter-ESPN feuding began during the "Mike and Mike" radio show on Thursday, when co-host Mike Golic took a shot at Simmons over comments he had made about LeBron James earlier in the week on another ESPN radio show. On Wednesday, Simmons joined Colin Cowherd's ESPN radio show and said LeBron so far this season reminds him "a tiny bit" of when Albert Pujols signed with the Los Angeles Angels and suddenly was no longer an MVP-caliber player.
"I think it's one of the most ridiculous statements I've heard four games into a season in my life in any sport. That's what I'll say about Bill Simmons. So, you know, he grabbed a headline, which is something I know he loves -- and that's one of the most ridiculous lines I've ever heard in any sport in my life. Four games into a season," Golic said.
As The Big Lead pointed out, this comment was part of a larger discussion on the Cavaliers' early-season struggles. Before Golic ripped Simmons over the LeBron-Pujols comparison, "Mike and Mike" only played a small portion of Simmons' segment with Cowherd.
Simmons did not appreciate that:
What Mike and Mike did today was absolute garbage. I would say I lost respect for that show, but I never had it. http://t.co/LRd8YzFfO8

— Bill Simmons (@BillSimmons) November 6, 2014
For an ESPN Radio show to pull an interview out of context from another ESPN Radio show, then play the moral authority card, is disgusting.

— Bill Simmons (@BillSimmons) November 6, 2014
Have the balls to call me to discuss it on the show. Don't pull it out of context just because you need fodder for a segment. Pathetic.

— Bill Simmons (@BillSimmons) November 6, 2014
But hey - I'm just a guy who can't evolve, right? http://t.co/XJ0GWbc5gJ

— Bill Simmons (@BillSimmons) November 6, 2014
What "Mike and Mike" never played was Simmons saying, "It's really early to say this so please sports blogs and people, don't throw this in my face." While Simmons also talked about how James "doesn't look the same," he also told Cowherd earlier in the segment that "I think you need 20 games before you decide what's going on with this team."
Listen to Bill Simmons' full segment on "The Herd with Colin Cowherd."
BEFORE YOU GO
PHOTO GALLERY
RANK Current ESPN Personalities