You can probably belt out any number of Bryan Adams' saccharine songs on command. But the enduring rock star wants you to remember an entirely different project of his.
And it's unlikely you'll be able to forget this stunning body of work.
Before he became a household name, the "Summer of 69" singer grew up in a military family where serving was an "Adams tradition," he told the Telegraph. Though he never enlisted, Adams always retained his respect for veterans, which was what drove him to photograph 40 severely injured British vets who served in Iraq and Afghanistan.
Marine Joe Townsend lost both legs to an IED in Afghanistan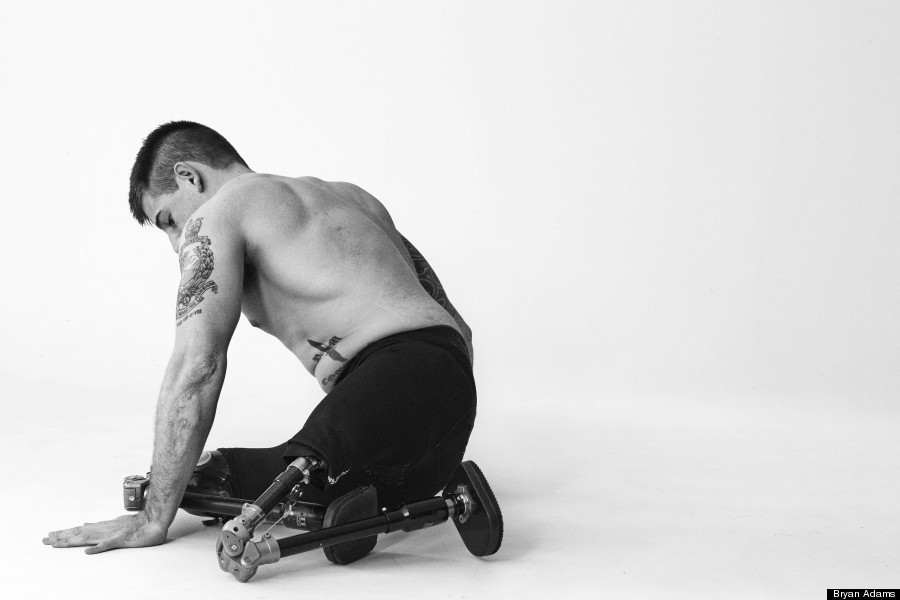 The 54-year-old started toying with photography back in the late '90s while on tour and he's become a venerable force in the field. His startling images of servicemen and servicewoman who have sustained devastating wounds were compiled into a book, Wounded: The Legacy of War, which was published last year.
The images will be featured on public display for the first time in the UK at the Somerset House later this month.
Since 2001, 589 members of the U.K. armed forces and civilians died in Iraq and Afghanistan and 836 have been seriously injured. An unknown number of personnel have suffered mental health issues after deploying, the Guardian reported. Still, members of Parliament have warned that many wounded veterans aren't getting the care they need to battle post-traumatic stress disorder, alcohol addiction and other plaguing issues.
They fear that as the wars "fade from the public eye" so will the critical long-term care that these struggling vets need.
Cpl. Hannah Campbell was blinded in one eye, and her womb was damaged in Iraq. Her left leg was eventually amputated.

Adams feels particularly connected to the British military because both his grandfathers and father served in the country's Army, according to the Somerset House. But once his dad started working for the U.N., Adams' family lived in the Middle East, Portugal and Austria, and he eventually moved to Canada after his parents divorced.
"I think if we had lived in the U.K., there's a good chance the Army would have been part of our lives," Adams told the Telegraph of himself and his brother.
Failing to honor these servicemen and servicewomen's sacrifices is of major concern to Adams, who is against military interventions.
"I want people to remember these soldiers and I want them to remember the consequences of wars. I hope the seriously wounded won't be forgotten," the singer told the paper.
ITN journalist Caroline Froggatt first approached Adams about the portrait project in 2008 and the book came together after four years of shooting, according to the Independent. It costs 50 British pounds (about $80) and proceeds will support the following veteran organizations: Blesma, Blind Veterans UK, Combat Stress, SSAFA and War Child.
BEFORE YOU GO
PHOTO GALLERY
Bryan Adams' Stunning Vet Photo Series