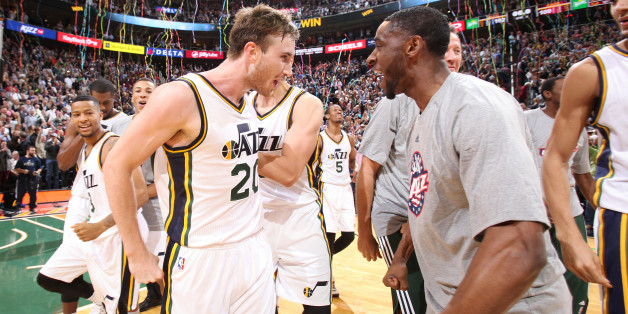 LeBron James and the Cavs were helpless in Gordon Hayward's world. With stellar defense and a smooth jumper as time expired, the Utah Jazz forward helped hand the Cavs their third loss in the first four games of the season.
With the Cavs trailing 96-94 with 32 seconds left, LeBron got the ball in the corner and tried to drive past Hayward along the baseline. But Hayward, who tweeted back in October that he'd "crush" the four-time NBA MVP in a one-on-one game, shut him down and forced a missed shot from inside the paint. Later, after the Cavs managed to tie the game with three seconds left, Hayward stepped up again. After receiving the inbounds pass just beyond the 3-point line, Hayward quickly moved to his right and drained a step-back fadeaway at the buzzer to win the game.
Earlier in the first half, Hayward gave James a taste of his own medicine. James immediately attacked the basket on a fast break after stripping the ball away for a steal. As he went up for a layup over Utah's Alec Burks, Hayward soared through the paint and delivered a LeBron-esque chase-down block. Then, as the Jazz went on a fast break, Hayward finished the sequence off with a two-handed dunk.
"I knew I had him right from the get-go," Hayward told the Salt Lake Tribune after Utah's 102-100 win. "It kind of set up perfectly. [Alec Burks] kind of went underneath him so LeBron couldn't jump up and I came over to clean up. I was reading it the whole time. You learn things like that from watching LeBron."
Along with the rejection, Hayward finished with 21 points and seven assists in Utah's second win of the season.
BEFORE YOU GO
PHOTO GALLERY
101 NBA Posterizations