On Hawaii's Big Island, a 2,000-degree river of lava is slowly crawling through the Pahoa Village, threatening the homes of 800 or more residents.
While state and government officials have intentionally done nothing to stop, divert or obstruct the lava flow (citing the potential risks and cultural sensitivities), some homeowners are trying anything they can to save their homes from fiery destruction.
Last week, a video entitled "Garden Hose vs. Lava" surfaced on Facebook. The clip shows an unidentified person, armed with a garden hose, going toe-to-toe with the powerful force of nature by spraying it with water:
Another resident, Alfred Lee, whose home is only a few feet away from the front of the lava flow, built a 15-foot "great wall" to protect his home.
Both methods of defense were met with criticism from Big Island residents who believe that any attempt to alter the flow of the lava is disrespectful to Pele, the Hawaiian goddess of volcanoes. Others note that attempts to divert the flow may put other homes at risk.
Lee, however, has decided he'll do anything he can to save his family's home.
"I wasn't trying to give up this place without a fight," he told West Hawaii Today. In another interview, he said he was "born and raised on this place. Very hard to give up."
While the flow has stalled in the past week, geologists with the Hawaiian Volcano Observatory say it's not because of these efforts.
"Anything man-made out here is not the reason why this lava flow has stalled," geologist Frank Trusdell told Hawaii News Now. Trusdell says the flow hasn't advanced recently because there are more vigorous breakouts up above that are "starving the front of its magma supply."
Still, the lava slowly continues to consume anything in its path. Five days after the garden hose video was posted, another video was posted, showing that a portion of the property where the water was sprayed had succumbed to the lava:
BEFORE: Still of garden-hosed area from video published on Oct. 31, 2014.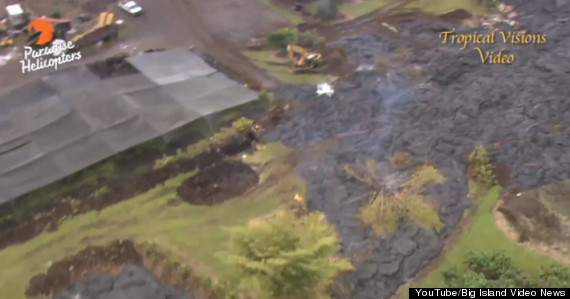 AFTER: Same area filmed on Nov. 4, 2014.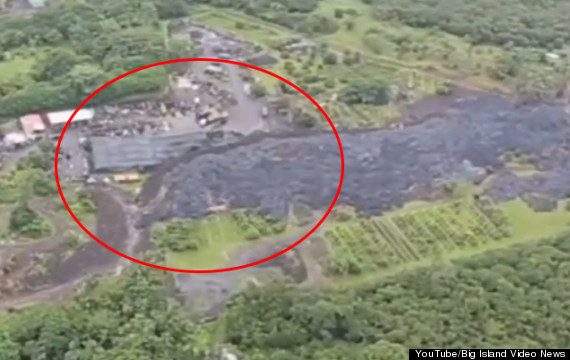 The lava is also building up near Lee's "great wall." A photo posted by the Hawaiian Volcano Observatory shows the growing lava front towering over his berm: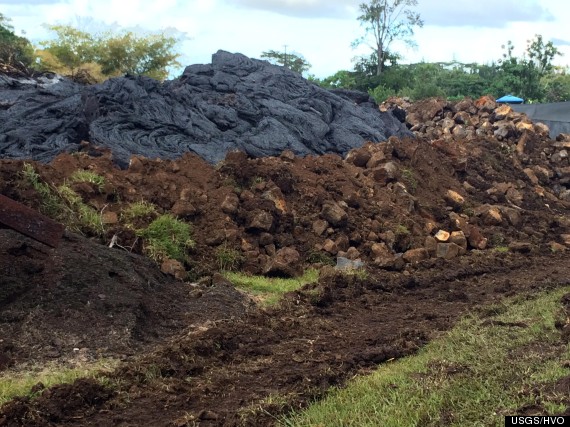 The flow "came into contacted and inflated against" the artificial berm, inflating to a level much higher than that of the berm.
BEFORE YOU GO
PHOTO GALLERY
Volcanic Eruptions Around The World