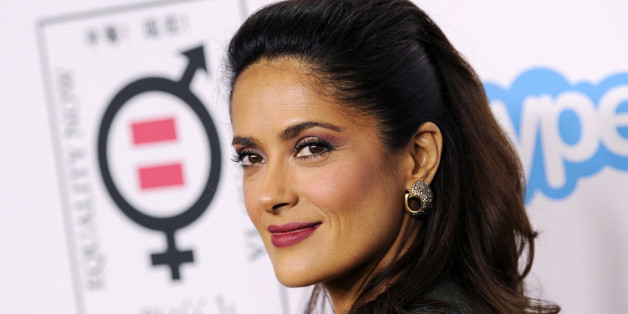 Salma Hayek may have co-founded Chime for Change in 2013 -- a global campaign focusing on fighting for women's rights around the world -- but the actress says she's not a feminist.
Just before being honored as a women's rights advocate at Equality Now's Make Equality Reality even in Beverly Hills on Monday, Hayek told People magazine she doesn't see herself as a feminist.
"I am not a feminist," Hayek said on the red carpet. "If men were going through the things women are going through today, I would be fighting for them with just as much passion. I believe in equality."
Hayek, 48, has long been a voice for women who have been denied their basic rights across the globe -- but it seems she has the wrong idea of what the feminist movement means. While many erroneously equate feminism to a form of man-hating mindset, in truth the movement's main goal is gender equality.
At the event, the star also told The Hollywood Reporter why it was so important to stop the hate against women.
"We need to make war against hate," Hayek said. "I think that if you hate women you hate humanity. You hate life itself because there is no man who came to this world that did not come through a woman. Until there is respect, equality and the curiosity to discover the magical miracle that is womanhood around the world we will not have a chance to find dignity for humanity."
The actress' comment seemed especially out of place at the event, which honored Hayek and feminist Gloria Steinem. Not to mention, according to The Hollywood Reporter, host Kathy Griffin at one point said "Let's talk about feminism. I'm sick and tired of these young girls not owning this word!"
Regardless of whether Hayek is "owning" feminism or not, she says she does make it a point to not preach to her 7-year-old daughter.
"I don't preach to her every day," Hayek told People. "She's aware that her mommy fights for the rights of women, that there are many places in the world where they are not entitled to the rights."
H/T Latina
BEFORE YOU GO
PHOTO GALLERY
The Multiple Facets Of Modern Feminism