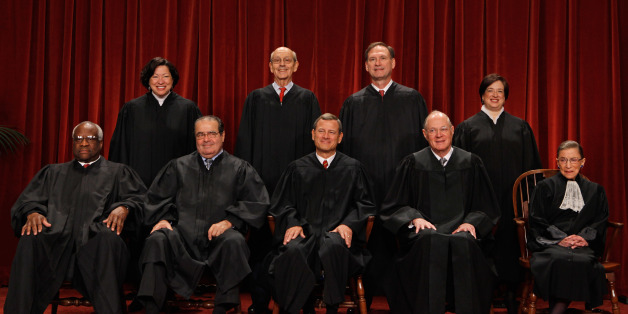 By Lawrence Hurley
WASHINGTON, Nov 7 (Reuters) - Gay marriage supporters in four states where bans on same-sex nuptials were upheld by a federal appeals court said on Friday they will ask the U.S. Supreme Court to take up the issue, and officials in two of the states vowed to do the same.
Both sides being in agreement that the high court should intervene increases the chances that the nine justices may hear oral arguments in the spring and decide the case by the end of June.
Same-sex marriage advocates in Michigan, Kentucky, Ohio and Tennessee said they would quickly appeal to the Supreme Court, possibly within the next two weeks.
Officials in Michigan and Kentucky, who defended their states' gay marriage bans, said they would urge the high court to resolve the constitutionality of the prohibitions. Officials in Ohio and Tennessee said they were still considering their options.
The Supreme Court must receive submissions from both sides by the end of December in order to consider in early January whether to take up one or more of the six consolidated cases from the four states that the appeals court considered.
It is relatively unusual for both sides in a case to ask the high court to intervene.
The Supreme Court last month declined to take up the issue of whether state bans on gay marriage violate the U.S. Constitution's guarantee of equal protection under the law.
But the Cincinnati-based 6th U.S. Circuit Court of Appeals on Thursday upheld the same-sex marriage bans in Michigan, Kentucky, Ohio and Tennessee in a ruling that put pressure on the high court to issue a definitive nationwide ruling on the matter.
The 6th Circuit's 2-1 decision departed from a series of other rulings by regional federal appeals court in recent months that struck down bans in other states.
Michigan Attorney General Bill Schuette, a Republican, said he told attorneys representing gay couples "that we support a swift appeal" to the high court. Kentucky Governor Steve Beshear, a Democrat, said his state would take a similar approach.
Dana Nessel, one of the attorneys for the Michigan plaintiffs, said her team would be ready to file an appeal petition with the high court within the next two weeks.
In October, the justices let stand rulings that struck down gay marriage bans in five states. That move, which did not constitute a decision on the constitutionality of the bans, triggered judicial action that has led to a total of 32 states now permitting gay marriage. Before the high court action, only 19 states and the District of Columbia permitted it.
Other cases are still pending in appeals courts, including challenges to bans in Texas and Louisiana, which will be considered by the New Orleans-based 5th U.S. Circuit Court of Appeals in January.
The Supreme Court is divided on gay rights.
In 2013, it struck down a federal law that denied benefits to same-sex couples on a 5-4 vote. That and every other gay rights decision in recent years has been written Justice Anthony Kennedy, who often casts the deciding vote in close cases. It is not known how he would rule on gay marriage but he does have a history of backing gay rights. (Additional reporting by Joan Biskupic, Fiona Ortiz, Steve Bittenbender and Kim Palmer; Editing by Will Dunham)