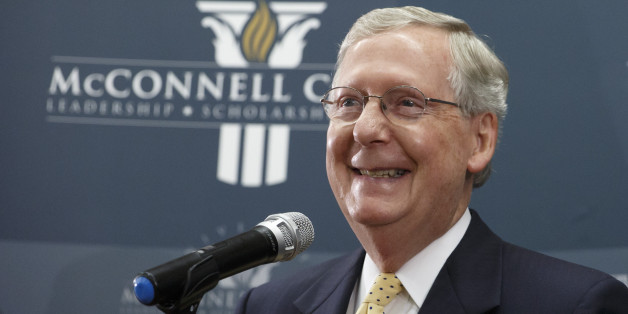 WASHINGTON -- Don't laugh. Don't snarf your coffee. Democrats say their 2014 Senate race ground game worked.
Sure, they're on the losing side of an election that is likely to see a nine-seat swing in the U.S. Senate once the counting is all done, handing majority control to the Republicans.
But the results would have been even worse if the Democratic Senatorial Campaign Committee hadn't invested some $60 million in an unprecedented midterm get-out-the-vote effort, according to a memo Democrats are circulating about the debacle. The effort was dubbed the Bannock Street Project, after the street where DSCC boss Sen. Michael Bennet (Colo.) had his campaign headquarters when he won in the 2010 midterms.
It's actually a pretty simple argument that says in all the places the DSCC invested, it did boost turnout in 2014 compared with 2010. But the problem was Republicans also did better in some places and independents turned heavily against Democrats, swamping whatever ground game Democrats mustered.
DSCC Deputy Executive Director Matt Canter, citing the memo, pointed to several states as examples, including Colorado, New Hampshire, Virginia and North Carolina.
In New Hampshire, unlike in most of the country, overall voting surged compared to the last midterm election. In 2010, some 441,000 voters cast ballots. This year, that jumped by more than 10 percent to 486,000. According to Democrats' breakdown of the contest, more of those new voters were Democrats, with their share of the electorate rising from 27 percent in 2010 to 28 percent this year, while the GOP share fell from 30 percent to 27 percent. The result was that Democratic Sen. Jeanne Shaheen held off the challenge from former Massachusetts Sen. Scott Brown. She prevailed by fewer than 16,000 votes.
"If the electorate was like 2010, Jeanne Shaheen would have lost," Canter said.
In two other states where Democrats invested heavily, but lost, they can also point to a spike in Democratic turnout -- Colorado and North Carolina.
In Colorado, Bennet won in 2010 with 852,000 votes, even though Republicans had a 7-point voter turnout edge. He dominated with independent voters. In 2014, according to the Democratic memo, their get-out-the-vote surge whittled the GOP advantage to just 5 points, and Sen. Mark Udall (D) got many more votes than Bennet -- 916,000. But the big difference was that independent voters soured on President Barack Obama, and flocked to Rep. Cory Gardner (R), who got his own Republican surge and tallied 966,000 votes. The increased Democratic showing did seem to save their governor, John Hickenlooper.
"Gov. Hickenlooper wouldn't have won without Mark Udall's ground game," Canter said.
It was a similar tale in North Carolina, where Sen. Kay Hagan narrowly lost to Republican Thom Tillis. Democrats got out their voters, but Republicans also boosted turnout, and again, independents favored the GOP.
"African-American turnout in North Carolina looked more like 2012 than 2010," Canter said, referring to the large outpouring of voters for Obama's re-election compared with meager turnout two years before.
To put an exclamation point on the impact of the ground game, Democrats pointed to Virginia, where the Senate committee did not invest, and where Sen. Mark Warner (D) eked out a narrow win over Republican lobbyist Ed Gillespie. Turnout fell overall, but especially among key groups for Democrats, compared with last year's governor's contest. (There was not a 2010 Senate contest in Virginia.) Voting in African-American precincts fell by more than 10 percent. With less focus on the base, the GOP nearly pulled a huge upset.
The bottom line, Democrats argue, is that even if they get their voters out in greater numbers than normal, that is not enough if a true wave is washing over the country.
"The ground game can work and we can still lose. The two aren't mutually exclusive," Canter said.
Canter and others at the DSCC are talking about the raw numbers because they feel the strategy did what it was intended to do, even if it didn't affect the broader electoral environment. And they believe the party shouldn't give up on a tool that made the difference for Hickenlooper and Shaheen, and that could be a bigger key in a more normal election year.
"I don't want the wrong lessons to be learned by Democrats," said Matt Dover, the director of campaigns at Civis Analytics, a firm created from the Obama campaign analytics operation and that did the targeting for the DSCC. "The goal all along was to make the electorate measurably better than it was in 2010. The evidence is there that that's in fact what happened."
Michael McAuliff covers Congress and politics for The Huffington Post. Talk to him on Facebook.

BEFORE YOU GO
PHOTO GALLERY
2014 Election Results: Winners & Losers