November is National Adoption Month and RaiseAChild.US is celebrating with twice weekly "Let Love Define Family™" series installments in Huffington Post Gay Voices. Today, learn how diapers and dice figured into one gay man's path to fatherhood!
Tyler Windsor, 51, calls himself a planner by nature. At age 44, he had achieved many of his goals except for becoming a father. After taking a hard look at his life and realizing he no longer wanted to wait for the right partner, he decided it was time to take action.
"I ended up pursuing adoption as a single person because I knew that if I didn't do it, no one was going to do it for me," Tyler explained. As a CPA working in Risk & Control at a large bank in New York City, Tyler prides himself on his planning skills and his follow through in both his professional and personal life.
"I always try to make sure everything is planned out. However, the way my life has worked out, everything I've wanted has come but not when planned," he said philosophically. "My plans were like dice -- when I threw them in the air, they just landed at different times than I expected. The same thing with fatherhood. I just told myself, I can't wait until I'm in another relationship."
After exploring his own options for parenthood through a number of informative meetings at The LGBT Community Center in New York, and after learning about the many ways he could become a father, adopting a child in foster care "just seemed to be the logical choice to me. It just felt right." Tyler now facilitates support groups for prospective parents at The Center.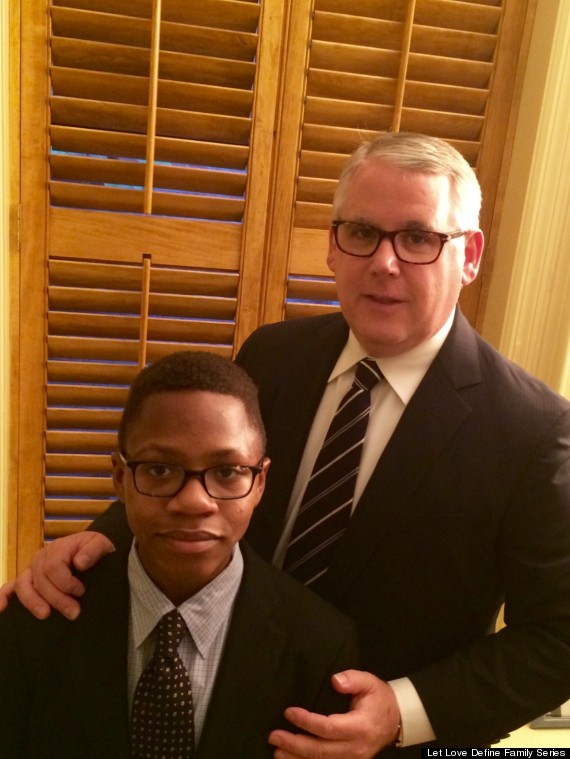 Tyler met his son Matthew when Matthew was seven and adopted him when he was eight. Though Tyler lives in Manhattan on the Upper East Side, through serendipity he found Matthew in an online listing from Sullivan County's foster care in upstate New York. Tyler worked with an LGBT-affirming agency in Manhattan to attend training classes and get certified as a foster-adoptive home. Then he worked with both the local agency and the upstate agency to process the adoption. At the time Matthew and Tyler met the child's parental rights had already been terminated, but it still took nearly a year to finalize the adoption.
Tyler said being a gay single man was a "non-issue" at the NYC agency, but he wasn't sure how he would be received upstate. He did his homework when he reached out to them and planned how to address any issues.
"I looked at this as the most important job interview of my life, so I put together 'marketing materials' to promote myself, my home and what I could provide," said Tyler. "Although it was clear that I was gay from my home study, it was a topic that the Sullivan County social workers did not approach, even after I asked them to please ask any question they wanted as I was an open book. When they sat me down and interviewed me, I challenged them -- I told them I would buy dinner for whoever asked the most probing question that they were afraid to ask. I was trying to give them the opportunity to ask me about being gay, but none of them asked about it. However, they did seem to ask a lot about who would be the female influences in my son's life."
The cultural divide between upstate and the Big Apple was an unexpected, though small, hurdle.
"Not being familiar with NYC, the social workers had a hard time understanding how I would be a parent if I didn't have a back yard for my son!" said Tyler. "I kept explaining that, no, I do not have a back yard but I live near Central Park."
Tyler describes his son as an energetic, intelligent and resilient young man. "Matthew has a loving and caring personality, and among his friends he is the 'peacemaker' and 'diplomat.' I am most proud of Matthew for being a strong and courageous young man, and developing a strong set of morals and an interest in social justice."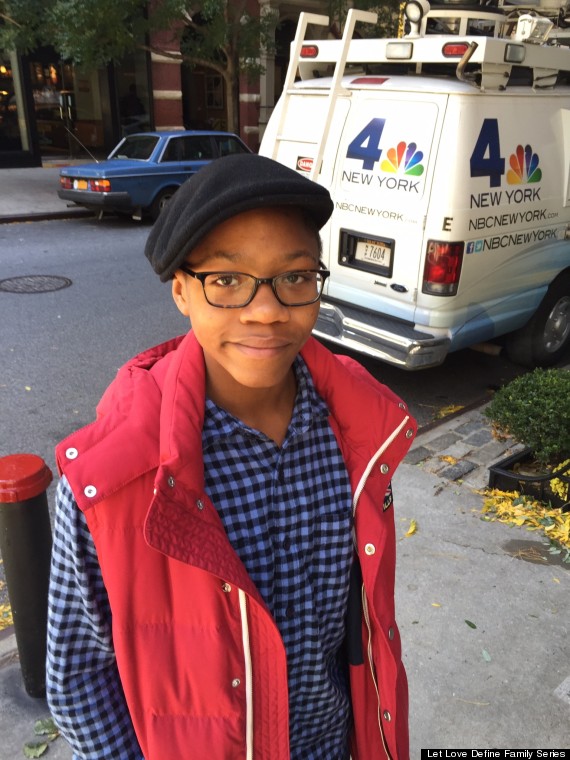 Tyler is Caucasian and Matthew is African-American. Tyler states that "making sure my son is familiar with his heritage, culture and traditions" is an important part of parenting.
Matthew is turning 14 in January. He's in the eighth grade and excelling in school. Still, his difficult past means that Tyler has chosen to use pseudonyms in this article for his son's protection.
One of their most cherished traditions is quite unique.
"On the night before Thanksgiving, I met my son for the first time at McDonald's Playland," said Tyler. "Many people say, 'Oh, you don't want to eat too much at McDonald's!' and we don't -- because we save McDonald's for a very special occasion. So now one of our traditions is that every year on the night before Thanksgiving, we celebrate our meeting day by going to McDonald's!"
Tyler has no regrets about his choice to become a single parent.
"At the end of the day, being a parent is probably the most rewarding life experience," he said. "Just know what you can and cannot handle. I decided, 'If I'm doing this alone, I can't do diapers!' So I chose to adopt an older child. I didn't know how I would be able to have an infant and work."
He also encourages prospective foster-adoption parents to broaden their criteria.
"I told the agency I worked with that I was looking for a child ages three to six. But I remember one night I was looking at the photo list online and I decided, what happens if I go up on my range? Matthew had never popped up on my searches because he was seven. But by changing my criteria I found the perfect child!"
For National Adoption Month, RaiseAChild.US is hosting two free events for prospective foster and adoptive parents. We hope you will join us and learn about the advantages of building a family through fostering and adoption. Tuesday, Dec. 2 at The Garner House in Claremont, CA. Wednesday, Dec. 3rd at The Montalbàn Theatre in Hollywood, CA. RSVP and information at www.RaiseAChild.US.
Corinne Lightweaver is the Communications Manager at RaiseAChild.US, a national organization headquartered in Hollywood, California that encourages the LGBT community to build families through fostering and adopting to serve the needs of the 400,000 children in the U.S. foster care system. Since 2011, RaiseAChild.US has run media campaigns and events to educate prospective parents and the public, and has engaged more than 2,200 prospective parents. For information about how you can become a foster or fost/adopt parent, visit www.RaiseAChild.US.