The Facts and the Curious.
"The Fast and the Furious" came out all the way back in the summer of 2001. Since then, the "Fast & Furious" franchise has transitioned from being purely about street racing to grand heists that involve The Rock. "Furious 7," the possible final ride in the series, is due out next April. Its trailer promises mayhem of the highest order.
But it's difficult to know how to juggle celebration of the film's opening while mourning the death of series star Paul Walker, who makes his final appearance in "Furious 7." "We grew up in the business together, and we became famous together, and we represented the biggest franchise together," Vin Diesel, who plays Dominic Toretto, said earlier this year on "Live With Kelly and Michael." "[Paul's death is] one of the darker moments in this, in my journey." He then addressed the audience: "Yeah. Yeah guys, you know it's a rough one. You all had people you love that passed away."
But instead of focusing on the bad, let's heed the words of Toretto. "I live my life a quarter mile at a time," he says in the first film. "Nothing else matters ... For those 10 seconds or less, I'm free." With the promotional cycle starting up for the latest installment, "Furious 7," it seemed like the right time to take a look back and share some little known trivia from the series.
1. That runway from "Fast & Furious 6" was extremely long.
Most runways are just over a mile, but the one in the film was abnormally long.
The climactic scene of "Fast & Furious 6" involves the crew chasing after an airplane trying to take off. The scene lasts over 13 minutes. The plane is always going at least 115 mph, given what The Rock said during an interview while promoting the movie.
Vulture talked to Captain Robert Travis, President of the Independent Pilots Association and did some independent math, while breaking down the scene in parts to conclude that the runway was 28.829 miles. For a different conclusion, the BBC talked to pilot Ian Hollingworth and using his speed estimate concluded that the runway was 18.37 miles long.
2. Both Michelle Rodriguez and Jordana Brewster were cast despite not having driver's licenses.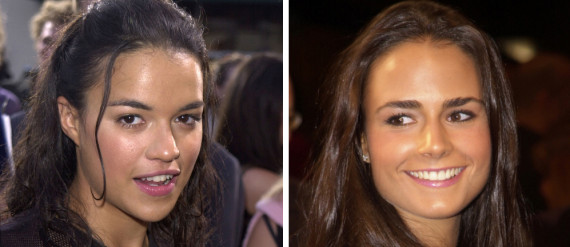 Jordana Brewster said she had to learn to drive in New York City, where she was living at the time -- a challenging place to start. She actually had to pass her driver's license test in one take or she would have been dropped from the movie due to insurance requirements.
Michelle Rodriguez told Entertainment Tonight that learning how to drive for the series led to quite a few speeding problems:
I got such a bad record with speeding 'cause I got my license for "Fast and Furious." After 11 points on your license, you're like, "Yo, where's that Prius at? I'm dropping this M3 somewhere.
3. "Fast & Furious" and "Herbie: Fully Loaded" take place in the same universe.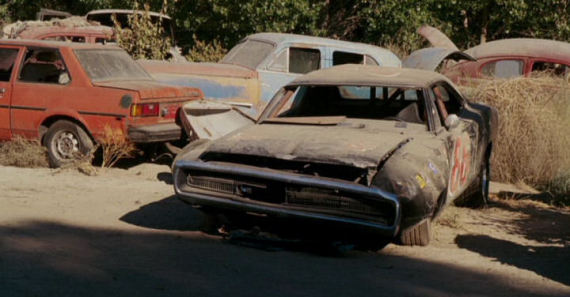 Referring to the picture above of a 1970 Dodge Charger driven by Dominic Toretto in the first movie, an advertisement for "Fast & Furious 6" asked the question, "'Fast & Furious' and 'Herbie: Fully Loaded' confirmed to take place in the same universe?" and answered, "We're gonna say yes."
Herbie is an anthropomorphic Volkswagen Beetle that has a mind of its own and is extremely fast. Certainly the ramifications of this sentient car being in the "Fast & Furious" universe are huge. In "Herbie: Fully Loaded," there is even a street racer scene in which Herbie has LED blue lights and a lowered suspension. For supposedly being some of the best street racers in the world, it's pretty suspicious the "Fast & Furious" crew have somehow never talked about the the "Love Bug." Maybe they all got beat by Herbie once and are too embarrassed to bring that up.
Image: "Herbie: Fully Loaded"
4. Michelle Rodriguez really didn't like the cast at first and thought Paul Walker was a "Ken Barbie doll."
In the aforementioned MTV News interview, Michelle Rodriguez revealed that she was far from a fan of her co-stars when she first met them. As she explained, "I was like, 'Who's the Kenny Barbie doll,' when I looked at Paul ... I thought Jordana was prissy ninny. I thought Vin was a dick ... And I was wrong about each and every one of them." The interview notes that they truly seemed like a sort of family. It's a sentiment that Rodriguez reiterated after Walker's death.
More recently, when asked by Empire about her co-star The Rock, she seemed to be more fond of his right from the start:
He's such a cool cat. I'm always staring at him like he's not real. I look at him, I see an eyebrow raised, him in his underpants! Those muscles, they feel like rocks for real. I'm in awe of that guy. I can't even approach him like a real person. He's an entity. Most of my scenes are not with him, unfortunately.
5. Vin Diesel gave the Red Chevelle he drives in the movies to his infant daughter.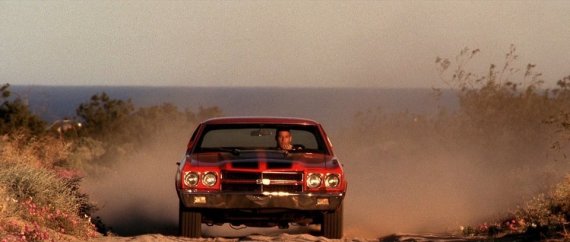 Vin Diesel's character, Dominic Toretto, drives off in a red 1970 Chevy Chevelle SS454 coupe at the end of "The Fast and the Furious." When the character returns in the 2009 movie, "Fast & Furious," the car is seen again.
Although multiple versions of the car exist, Diesel told MTV News that he gave at least one of the Red Chevelles to his infant daughter because she was born while filming "Fast & Furious."
Diesel was apparently hesitant in going to the hospital and cutting the umbilical cord, but Paul Walker convinced him that he had to do it.
Image: "The Fast and the Furious"
6. There's a movie from 1954 called "The Fast and the Furious" that involves fast cars and racing.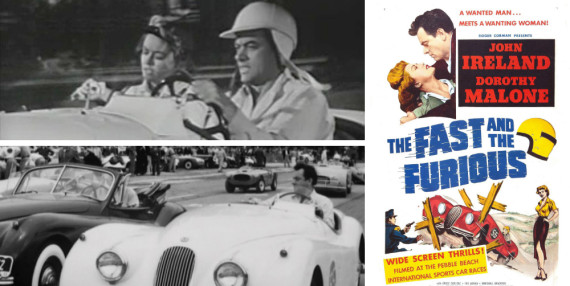 This is a movie that involves hotrods and car racing. Jaguar had product placement in the movie. That said, despite the similarity of a focus on cars, the 1954 version is very different and focuses on the actor and director John Ireland's character trying to escape to Mexico after breaking out of jail.
For the 2001 version, Universal acquired the title rights to "The Fast and the Furious," but not the story rights. The new movie was actually inspired by a 1998 article about New York City street racing in Vibe. According to the The New Yorker, the original producer, Roger Corman, his title to be used as a trade for ancient Roman studio footage from "Spartacus."
Images: "The Fast And The Furious."
7. A woman sued when she thought "Drive" wasn't as good as the "Fast & Furious" series.
Sarah Deming filed a lawsuit against FilmDistrict, when their movie, "Drive," wasn't "similar to The Fast and [the] Furious." She claimed that "Drive" had been marketed to be like "Fast & Furious" and that "Drive" was such a disappointment compared to "Fast & Furious" that it deserved to be sued. Apparently Ryan Gosling is just no Vin Diesel. In the lawsuit she only sought ticket reimbursement, which the movie theater had already given her.
Although her case may not have been as solid as The Rock, her point that movies should be more like "Fast & Furious" is respectable.
BONUS: Will there be more movies?
Regarding another installment to the franchise, in one of his final interviews, Paul Walker said: "There's going to be an eight. It's like who's going to be in the "eight" I think is the question." The answer is now tragic in light of his death just days later on Nov. 30, 2013. Earlier in that year, Vin Diesel had said, "I think the debate is whether it's seven, eight, nine or seven, eight, nine, 10. I know, it doesn't even make sense."
More recently, there has been rumors that Cody Walker -- Paul Walker's younger brother -- will be joining the cast for future installments. Kurt Russell, who stars in "Furious 7," has also been talked about as being a part of an eighth installment.
BEFORE YOU GO
PHOTO GALLERY
Paul Walker in 'Fast and The Furious"