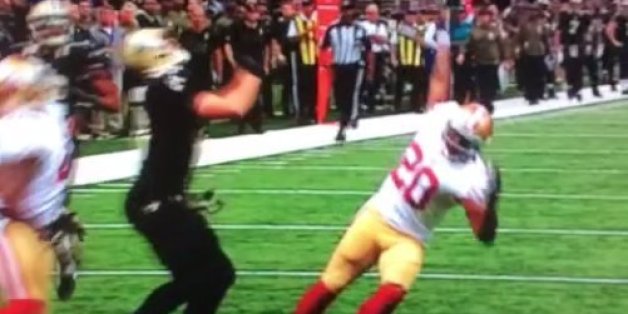 San Francisco 49ers defensive back Perrish Cox reminded football fans on Sunday that flopping happens in the NFL.
On the final play of regulation with the game tied at 24, Saints quarterback Drew Brees dropped back from San Francisco's 47-yard line and launched a Hail Mary pass to the end zone. Despite being in triple coverage, Pro Bowl tight end Jimmy Graham made the catch and scored what would have been the game-winning touchdown. But officials penalized Graham for offensive pass interference after he appeared to initiate contact with Cox to create some space. The replay showed that while Graham extended his arms, Cox embellished the contact with an NBA-esque flop.
The flop worked as the 49ers forced overtime and went on to win 27-24.
BEFORE YOU GO
PHOTO GALLERY
PHOTOS: NFL Week 10