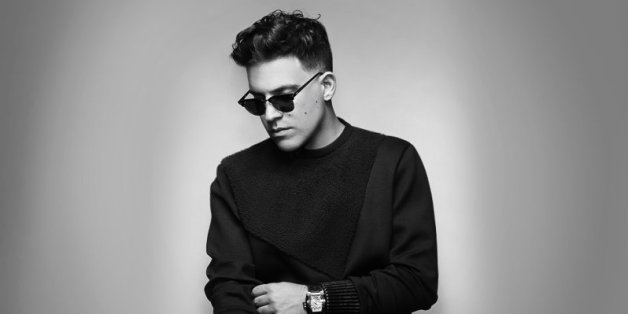 Back in March, Akon made a passing comparison between Azad Right and Nas. Months later, Champ Sports noted the comparison in a piece that was shared by Complex's social accounts. To no one's surprise, it stirred up some controversy.
"That was personal, that was just his opinion," Azad told The Huffington Post of the comment. "[They] also used a really R&B-looking picture of me, so you're looking at it and you're like, 'How is this guy like Nas at all?' I get it. But I'm intelligent enough to think for myself and so maybe I will end up liking it or maybe I won't. But I can make my own decision on it."
Azad's family was exiled from Iran for being politically active -- "My dad's first wife was executed, and my uncle was also executed," he said -- and proceeded to move around quite a bit: Turkey, Germany and France, before coming to America and Los Angeles. He grew up playing piano and violin, but he explained that his father's relationship to poetry was the great influence on his musical career.
"My dad immediately went to UCLA to get his PHD," Azad said. "The entire time he was traveling around doing these poetry shows. I was able to go with him, not only because he was going blind, but also because I had an affinity for words."
In seventh grade, Azad purchased his first hip-hop albums, Eminem's "The Slim Shady LP" and "The Marshall Mathers LP." Obsessed with Eminem's wordplay and phrase construction, he printed the lyrics out and highlighted the patterns. Drawn in by the audible passion, he continued on with artists like Nas and Jay Z. In high school, after "8 Mile" hit theaters, a lot of online rap battle forums started cropping up, and so Azad started recording little battle bits on his computer. At the beginning, he would whisper them in his room, afraid that his dad would hear him. Unsure if his father would understand, Azad wasn't ready to broach the topic (and he hadn't figured out if he loved the idea of becoming a rapper himself). But before long, Azad was going to open mics and dropping mixtapes in a city that was quickly beginning to know his name.
"When a lot of people hear Iranian-American they think I live in Beverly Hills and that I've had this privileged life, but they don't know I grew up poor with a blind single father," Azad said. "I don't hold it against them. When people ask me what I do, I laugh when I say I'm a rapper. It even sounds funny to me. More often now, I have been introduced as an artist, which is what I believe I am. I don't just rap. I'm in the studio from the inception of the melody, to the beat, to the drums, to the hook, to the singer, to writing my bars, to the engineering. I went to school for this, so this is what I do."
Heritage is important to the art Azad creates as well. "There's no Middle Eastern influence in pop music," he said. "I think we are underrepresented, but when kids come up to me after a show and I'm trying to see who is relating to the story, it's not only Europeans and Middle Easterners, it's the black kid, the latino kid, the white kid."
Dedicating 2014 to both honing his sound and releasing "For The Hopeful," everything seemed to be on track for Azad until he split ways with his management. While out on tour, he was hit with a cease and desist by his former producer that said Azad was no longer allowed to use at least half of his album. Numerous samples had to be removed, and the album's first single was taken down from SoundCloud. But the setback was no matter to Azad: In four days, he recorded the new songs and remixed the entire record.
"The publicists that had been working with us were like, 'This is a mindfuck for us. You had us service these records and now none of the songs and none of the videos are part of it,'" Azad said. "But they were all really happy because it was better music. There's live bass, live guitar, strings, organs. At the beginning there's a Pink Floyd record for the intro, and for the outro, there's a jazz band. That's about it for the samples. The other stuff was smaller.'"
"For The Hopeful" is meant to reflect on the music of Azad's childhood. It's meant to bring hope to someone who yearns for the depth and sound of the Golden Age of hip-hop as much as it is for someone who comes out of school and is struggling to find a job. Songs like "Hoop Dreams," with its soulful vocals and huge drums, serve as trunk bangers, while others like "Crashing Down," a somber, guitar-driven confession, dish Azad skeletal.
No, Azad isn't Nas, but no one believed that for a second. So, who is Azad? That remains to be seen. Kanye didn't become Yeezus after his first breakthrough project. These things take time. But with "For The Hopeful" as his foundation, who doesn't have the time to let Azad tell his story?
You can download Azad Right's "For The Hopeful" for free here.

Before The Beat Drops is an artist introduction series dedicated to bringing you the rising acts before they make their break. Our unlimited access to music of all kinds is both amazing and overwhelming. Keeping your playlists fresh, we'll be doing the leg work to help you discover your next favorite artist.
BEFORE YOU GO
PHOTO GALLERY
Artists To Know In 2014