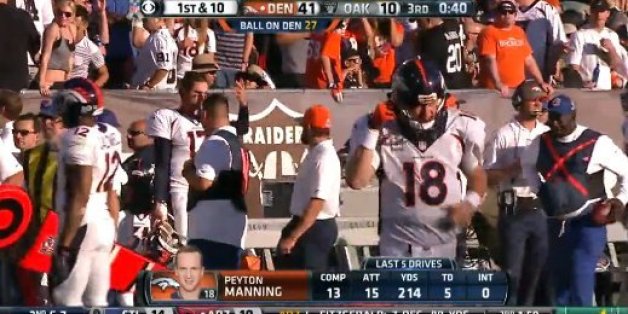 Before the fourth quarter even started, Peyton Manning had lit up the Oakland Raiders defense with five touchdown passes. The Denver Broncos had scored 35 unanswered points and led 41-10 when they got the ball back with 30 seconds left in the third quarter. With such a big lead, Denver's back-up quarterback Brock Osweiler thought it was time to replace the five-time NFL MVP.
But Peyton apparently wasn't ready for his day to end. Following a punt, Osweiler quickly swapped his headset for his helmet and was about to run on the field. But when he saw Manning going back in the game, all he could do was throw his hands up and wait a little longer.
Osweiler eventually entered the game and played the entire fourth quarter, completing just two of five passes.
BEFORE YOU GO
PHOTO GALLERY
PHOTOS: NFL Week 10