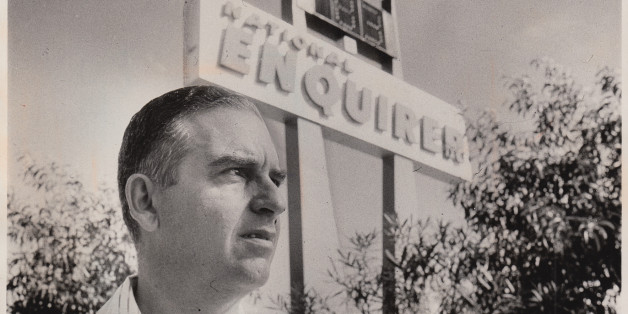 If you've begun to notice an abundance of socially-conscious filmmakers gathered together in lower Manhattan this week, first of all -- you're wonderfully observant. Secondly, there's a reason for it. This week marks the beginning of DOC NYC, the two-week long festival devoted to documentary storytelling of all kinds. From humor to reportage, memoirs to historical portraits, the cinematic bonanza covers everything new and noteworthy in the world of documentary filmmaking.
This year's calendar includes submissions from around the world, diving into things cultural -- the life of a rural artist community in post-tsunami Japan, the impact of Juilliard's Music Advancement Program for inner-city youth, the songs of Central African Republic's Bayaka pygmies -- and political -- the concept of equality in transnational LGBT marriage immigration cases, the realities of Jewish communities in modern day Poland, the publishing history of the National Enquirer.
There are over 150 films screening at DOC NYC, so we've compiled a guide to some of our our favorite selections. Check out our abbreviated list of must-see submissions, and make sure you check out the full schedule here.
1. Do I Sound Gay?
Journalist David Thorpe enlists the help of experts (linguists, acting coaches), friends (family members, willing celebrities) and strangers in an exploration of his personal anxiety about 'sounding gay.' What begins as an intimate dive into one man's social hangup morphs into a strikingly universal portrait of the cultural baggage and identity crises wrapped up in wanting a different voice.
(7:00 p.m., Thursday, Nov. 13, 2014 @ SVA Theatre)
2. The Kingdom of Dreams and Madness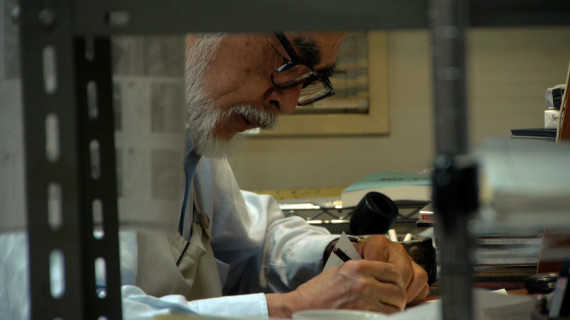 (Photo © 2013 Dwango)
Head inside Japan's Studio Ghibli, an animation haven that plays home to Hayao Miyazaki ("Spirited Away," "Howl's Moving Castle," "The Wind Rises") and Isao Takahata ("Pom Poko," "The Tale of The Princess Kaguya"), two of the film world's most beloved and visionary artists. Directed by Mami Sunada, if you call yourself an animation fan, this doc is for you. (See a Japanese-language trailer here.)
(11:45 a.m., Sunday, Nov. 16, 2014 @ SVA Theatre)
3. The Great Invisible
Director Margaret Brown investigates the Deepwater Horizon oil spill in the Gulf of Mexico, with an eye toward its impact on fishermen, oilmen and other natural and societal victims of the horrific disaster that took the American South by surprise.
(9:30 p.m., Tuesday, Nov. 18 @ Bow Tie Chelsea Cinemas)
4. The Yes Men Are Revolting
Follow veteran pranksters Andy Bichlbaum and Mike Bonanno (not their real names) as they continue to poke fun at contemporary media culture by boldly posing as government lackeys and corporate bigwigs in Washington, Copenhagen, Uganda and the Albertan tar sands. Per usual, the Yes Men and director Laura Nix experience both poorly received jokes and pranks that set the press afire, as well as one case that sparks a legal snafu like none other they've encountered. Prepare to sit on the edge of your seat as you hope for the best and worst for relentless Andy and Mike.
(7:00 p.m., Thursday, Nov. 20 @ SVA Theatre)
5. CITIZENFOUR
In one of the most suspenseful documentary setups, Oscar-nominated director Laura Poitras says she began receiving encrypted e-mails from an anonymous person known only as "citizen four," a whistleblower with key information on the NSA's covert programs. Poitras teamed up with Glenn Greenwald to investigate the man who turned out to be Edward Snowden.
(7:00 p.m., Tuesday, Nov. 18 @ Bow Tie Chelsea Cinemas/4:00 p.m., Thursday Nov. 20 @ Bow Tie Chelsea Cinemas)
6. Some Kind of Spark
This film takes you inside Juilliard's Music Advancement Program for inner-city youth, a mentorship program devoted to fostering musical proficiency with hands-on instruction. As "Some Kind of Spark" makes apparent, this is not the story of prodigies. This is the story of music education's impact on the daily lives of everyday students. Directed by Ben Niles.
(2:00 p.m., Sunday, Nov. 16 @ SVA Theatre)
7. Kasamayaki
"Kasamayaki" explores the lives of two elderly parents living in a rural artistic community in Japan after the 2011 tsunami. More than that, the film dives into the relationship between director Yuki Kokubo and the mother and father who abandoned her as a teenager in New York City.
(5:00 p.m., Sunday, Nov. 16 @ IFC Center)
8. Opposite Field
Jay Shapiro, a baseball enthusiast, became enthralled with the news that an American businessman was going to rural Uganda to build a baseball field. So he followed him there, with camera in tow, to watch the birth of what many hoped to be the first Little League World Series team in Africa.
(5:30 p.m., Monday, Nov. 17 @ IFC Center/10:45 a.m., Tuesday, Nov. 18 @ IFC Center)
9. Song from the Forest
What happens when an American musicologist leaves modern society to live with Central African Republic's Bayaka pygmies? Louis Sarno (the college roommate of Jim Jarmusch) tells his story in "Songs from the Forest," a stunning portrait of music and family, that follows the father -- with his son Samedi -- as he returns to New York City after 25 years away.
(5:00 p.m., Friday, Nov. 14 @ Bow Tie Chelsea Cinemas)
10. I am Big Bird
Meet Caroll Spinney, the man behind "Sesame Street's" beloved Big Bird. Spinney has been a part of the program since 1969, also voicing the less amiable character, Oscar the Grouch. For those enthralled with the icon of children's television, this is a touching glimpse into one man's memorable career.
(6:45 p.m., Friday, Nov. 14 @ SVA Theatre)
11. In Country
Filmmakers Mike Attie and Meghan O'Hara reveal a strange and, perhaps, not so surprising realm of war re-enactment: the soldiers, veterans, history buffs and combat enthusiasts who choose to restage the Vietnam war.
(7:15 p.m., Saturday, Nov. 15 @ IFC Center/5:00 p.m., Monday, Nov. 17 @ Bow Tie Chelsea Cinemas)
12. Enquiring Minds: The Untold Story Of The Man Behind The National Enquirer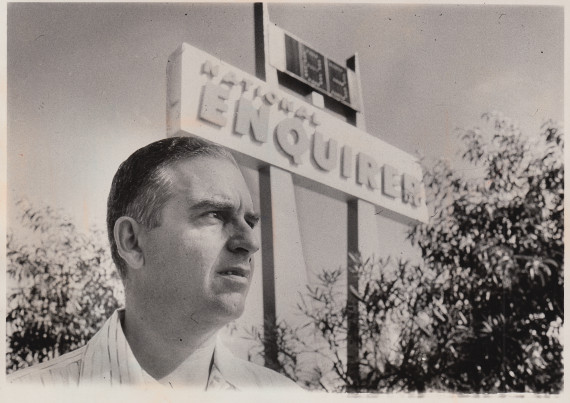 The man behind The National Enquirer -- Generoso Pope Jr. -- allegedly bought the paper in 1952 with the help of the Mob, and ended up launching an entire celebrity-journalism-driven culture. Go inside his world of sex, gore, gossip and supernatural phenomenon with Ric Burns' equally sensational portrait.
(7:00 p.m., Saturday, Nov. 15 @ SVA Theatre)
13. Love and Terror on the Howling Plains of Nowhere
Pegged as "a 'This American Life' episode devoted to a real-world 'Twin Peaks,'" Dave Jannetta's film explores the small-town of Chadron, Nebraska, a town plagued with its own creepy mystery and the conspiracy theories that go with it.
(11:45 p.m., Saturday, Nov. 15 @ IFC Center)
14. Heaven Adores You
Elliott Smith, a Portland-bred musician who inspired an entire generation of indie songwriters but has been largely forgotten by mainstream audiences, gets the documentary he deserves in Nickolas Rossi's "Heaven Adores You."
(9:30 p.m., Saturday, Nov 15. @ SVA Theatre/9:30 p.m., Thursday, Nov. 20 @ SVA Theatre)
15. Almost There
Dan Rybicky and Aaron Wickenden present the life and work on an unknown outsider artist named Peter Anton. Discovering that the eccentric elderly man has a catalogue of beautifully bizarre art dating back to decades ago, they decide to help him land an art exhibition so he could finally experience the world of a celebrated artist. However, the two filmmakers were unaware of Anton's past, and when his controversial actions comes to light, their heartfelt decision to showcase Anton's art takes a turn.
(6:45 p.m., Saturday, Nov. 15 @ Bow Tie Chelsea Cinemas)
16. The Age of Love
Enter the world of speed-dating for the 70+ set. From widowers to divorcees, men who haven't dated for 50 years to women who call 71-year-olds "babies," Steven Loring's film is a touching and funny look into the lives of seniors who just want to find love.
(2:15 p.m., Saturday, Nov. 15 @ SVA Theatre)
BONUS: Finding Vivian Maier & Banksy Does New York: We've covered both these films extensively -- check them out here and here.
DOC NYC runs from November 13-20 at the IFC Center, Chelsea's SVA Theatre and the Bow Tie Chelsea Cinemas.