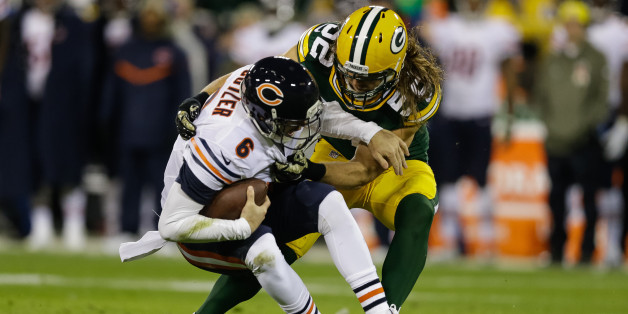 Jay Cutler may be more be popular in Green Bay than Chicago these days.
At least a few Chicago Bears fans have become so fed up with their team's quarterback that they were lighting replica No. 6 jerseys on fire after the team's latest loss. This wave of anti-Cutler sentiment grew after yet another loss to the Bear's rivals from Green Bay. No matter the venue, Cutler's Bears can't seem to keep up with Aaron Rodgers' Packers. When going up against Chicago's longtime NFC North rival, Cutler is just 1-11 in his career (including one playoff game). He has thrown 14 touchdown passes and 22 interceptions while Rodgers has thrown 31 touchdowns and just 10 picks.
Those numbers combined with the embarrassing 55-14 loss on Sunday made a few Bears fans burn their Cutler jerseys, something that they've done before.
Just found a ripped, half-burnt Jay Cutler jersey down the block. Needless to say, Chicago is not happy today. pic.twitter.com/HrisUEi19b

— Dan Carson (@Dr_Carson_) November 10, 2014
This fan decided to do away with all of his Bears' possessions.
BEFORE YOU GO
PHOTO GALLERY
PHOTOS: NFL Week 10