Taylor Swift's stunning video for "Blank Space" is basically the best thing she's ever done, and if you are anything like us, you definitely took notice of the majestic mansion where her nightmare dressed like a daydream was filmed.
Welcome to New York Oheka Castle, the sprawling 109,000 square foot estate that once belonged to financier and philanthropist Otto Hermann Kahn.
The luxurious estate, currently owned by real estate developer Gary Melius, definitely conjures up images of "magic, madness, heaven, sin," as Swift sings on "Blank Space," so we rounded up a few facts about the mansion that likely piqued your interest.
1. You've definitely seen it before.
Over the years, Oheka Castle has appeared in a number of films and television shows, including arguably the greatest film of our time, "Citizen Kane." The massive estate was used to portray Xanadu, the fictional estate of Charles Foster Kane in the 1941 film.
The castle and its lush grounds and gardens has also appeared in "What Happens in Vegas," "The Others," "The Anderson Tapes," the USA series "Royal Pains" and "Gossip Girl."
2. The castle served as one of the inspirations for Jay Gatsby's estate in F. Scott Fitzgerald's The Great Gatsby.
Located in Huntington, New York on Long Island, Oheka Castle was completed in 1919 and contains 127 rooms. Kahn and his wife, Addie Wolff, built the mansion as a summer home, where they "hosted lavish parties and regularly entertained royalty, heads of state, and Hollywood stars," according to the estate's official website.
Today it remains second-largest private residence ever built in America (the largest is the Biltmore House in Asheville, North Carolina).
3. It's the most to die for wedding venue.
Yes, you can have your fairytale wedding at the castle, if you can afford it. An average wedding at the awe-inspiring mansion costs $100,000, the estate's marketing director Nancy Melius told The New York Times in 2013.
Celebrities including Kevin Jonas and Joey Fatone, said "I do" at the magical locale with their respective partners.
4. It's just really, really ugly.
Just kidding! Look at this place. It's gorgeous.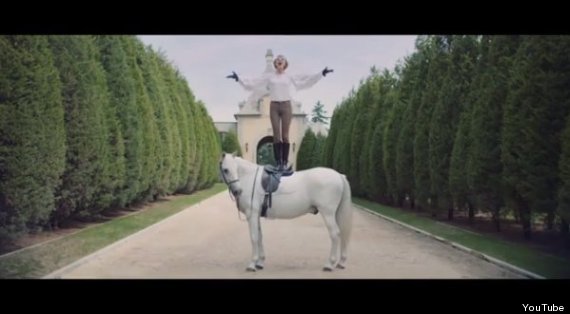 BEFORE YOU GO
PHOTO GALLERY
Taylor Swift