Step into a topsy-turvy, color-drenched universe where baboons smoke pipes and peacocks wear robes, where lion-rooster hybrids breathe fire and don ostentatious purple hats. This is the mystical world of Milan-born artist El Gato Chimney, where childish whimsy mingles with darker impulses.
"As many artists and writers before me, I use animals, made-up and real, and heterogeneous symbols to depict the world around me," El Gato explained in an email to The Huffington Post. "I hope that people can see past the colors and the imagery to read the message below."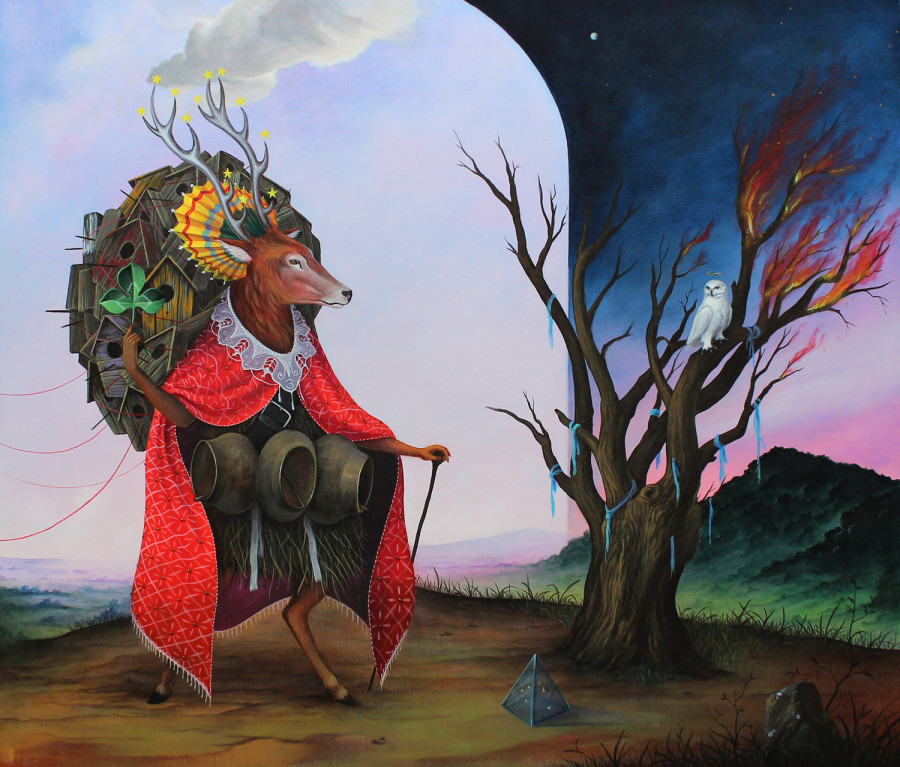 The message reads like a pagan fairy tale with infinite interpretations. Folklore, magic, occultism, and art history join forces in fantastical images that could never exist if not in paint. El Gato describes it as: "Borges meets Bosch and they decide to go on a journey to Papua New Guinea. Breton documents the trip."
"I know it sounds cliché, but I started drawing as a kid and I never stopped, the way people do when they grow up," the artist continued. "When I was a teenager I began interested in street art and for the first time I realized all I wanted to do with my life was art. I am a self-taught artist. I quit my daily job to be able to paint all day and to study art. I, obviously, regret nothing."
See his dreamy renditions below and let your mind float to a world where wild creatures wear fanciful costumes and human beings are nowhere to be found.
PHOTO GALLERY
El Gato Chimney
El Gato's work will be on view at Stephen Romano Gallery from March 5 until May 2, 2015.