Supporters across the world have erupted since a 90-year-old WWII vet was arrested in Florida for feeding the homeless. But perhaps no one has offered as swift of a takedown of the charges as British comedian Russell Brand.
Arnold Abbott, affectionately known as "Chef Arnold," may face 60 days in jail and a $500 fine because he continued to help the hungry after Fort Lauderdale passed an ordinance banning public feedings, Local 10 originally reported. The fiery actor helped put the hotly debated topic into perspective on his web series, "The Trews," when he reminded viewers that while feeding the hungry is an unequivocal no-no in Fort Lauderdale, bringing a gun pretty much anywhere is just fine.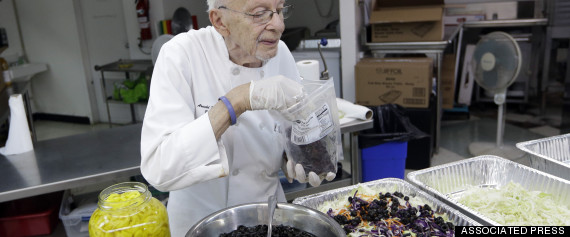 When Abbott was arrested for the first time on Nov. 2, the advocate told Local 10 that one of the police officers told him to "'drop that plate right now,' as if I were carrying a weapon."
But Brand pointed out that it's actually easier to brandish a weapon in this particularly gun-friendly city than it is a plate of food.
"If you were carrying a weapon, afternoon sir," Brand suggested the police might have said.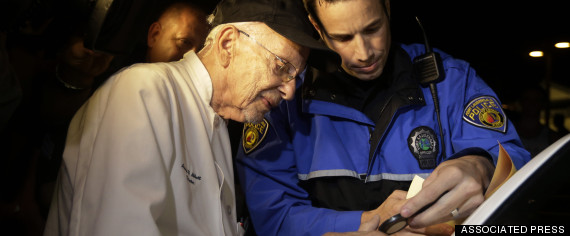 An estimated 1 million Floridians have concealed weapon permits. And a 2011 Fort Lauderdale law further eased restrictions, allowing gun owners there to bring firearms to government buildings, pools, beaches and parades, the Sun Sentinel reported.
The outspoken comedian noted, however, that Fort Lauderdale isn't alone in its mission to criminalize homelessness.
Since January last year, 21 cities have enacted measures to limit feeding homeless people, according to a recent National Coalition for the Homeless (NCH) survey.
Despite getting cited for a second time on Wednesday, Abbott -- who founded the interfaith mission Love The Neighbor -- remains committed to his cause.
"I'm grateful that they allowed us to feed the people before they gave us the citation," Abbott told the Associated Press on Wednesday.
Watch Russell Brand's epic rant above and find out how you can support Love The Neighbor here.
BEFORE YOU GO
PHOTO GALLERY
Man, 90, Arrested For Feeding Homeless