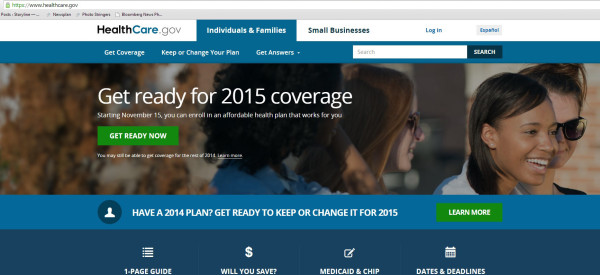 TOP STORIES
SNEAK PEEK AT HEALTHCARE.GOV PLAN PRICES, IMPROVED WEBSITE "Health insurance consumers using HealthCare.gov will get their first look at the prices for 2015 coverage starting Sunday night, when window shopping goes live on the website, federal officials announced Sunday. Shoppers won't be able to choose a health plan for 2015 until Nov. 15, when the three-month enrollment period begins. But the Centers for Medicare and Medicaid Services is providing early access to estimated health insurance premiums and the value of subsidies available to low- and moderate-income households." While the website appears to be more stable this go-round, "some preparations are coming down to the wire." [HuffPost]

IRAN, U.S. NUCLEAR TALKS HEAT UP As the Nov. 24 deadline fast approaches, Secretary of State John Kerry hopes to deliver a much-needed diplomatic win for the U.S. [AP]
ISIS AIRSTRIKES LIMITED BY OPPORTUNITY "More than three months into the American-led air campaign in Iraq and Syria, commanders are challenged by spotty intelligence, poor weather and an Iraqi Army that is only now starting to go on the offensive against the Islamic State, meaning that warplanes are mostly limited to hitting pop-up targets of opportunity." All of this is contributing to the military failure to eliminate the elusive leader of ISIS. [NYT]
CHINA PIVOT CONTINUES "President Obama arrived here on Monday morning for a three-day visit that will capture the complexities of the United States-China relationship: the tensions of a rising power confronting an established one, as well as the promise that the world's two largest economies could find common cause on issues like climate change." [NYT]
CYBERATTACKERS' UNWITTING ACCOMPLICES: GOVERNMENT EMPLOYEES Phishing emails are hard. [AP]
MEET THE ATTORNEY GENERAL NOMINEE "President Barack Obama's nomination of [Loretta] Lynch to be attorney general comes as the department she would take over continues to investigate the police shooting of an unarmed black 18-year-old in Ferguson, Missouri and seems partly intended to convey the message that police misconduct and civil rights will remain a principal focus even after the departure of Eric Holder. If confirmed by the Senate, Lynch would be the first black woman in the job and would follow the first black attorney general." [AP]
SUICIDE BOMBER KILLS AT LEAST 48 STUDENTS IN NIGERIA The bomber allegedly wore a school uniform in order to set off explosives in the middle of a high school assembly. [NYT]
GM SOUGHT NEW SWITCHES BEFORE RECALL "General Motors Co. ordered a half-million replacement ignition switches to fix Chevrolet Cobalts and other small cars almost two months before it alerted federal safety regulators to the problem, according to emails viewed by The Wall Street Journal. The parts order, not publicly disclosed by GM, and its timing are sure to give fodder to lawyers suing GM and looking to poke holes in a timetable the auto maker gave for its recall of 2.5 million vehicles." [WSJ]
BREAK OUT THE PARKAS A massive cold front is headed our way. [CNN]
WHAT'S BREWING
A NEW TEAM FOR MICHAEL SAM "'There have been about a half-dozen (NFL) teams in contact with Michael Sam, so he could get an opportunity to come back to a practice squad at any time now,' Schefter said during Sunday morning's SportsCenter. 'It wouldn't be surprising if he wound up signing a futures contract to go to camp with another team next summer.'" [CBS]
DRONES INVADING FOOTBALL STADIUMS "Along with huge crowds and tailgating parties, football stadiums across the country are becoming magnets for something else on game day: rogue drones. The Federal Aviation Administration is investigating a rash of incidents this fall in which thrill-seekers with small, camera-toting drones have violated airspace restrictions by swooping over large outdoor sporting events." [WaPo]
LAUNDRY PODS: SAFETY HAZARD FOR KIDS On average, one kid was hospitalized a day from 2012 to 2013 after the laundry detergent pods release. [USA Today]
DISNEY BEAT OUT CHRISTOPHER NOLAN Cute pals win over soaring soundtracks. [Vulture]
BEST TIME TO CHRISTMAS SHOP Forget Black Friday: The Wall Street Journal's sale tracker will let you know when your favorite items are the cheapest. [Vanity Fair]
NATALIE MORALES LEAVING 'THE TODAY SHOW' The drama behind the scenes continues. [Page Six]
WHAT FEUD? Martha Stewart and Blake Lively are apparently great pals. As for Gwyneth... [People]
STILL IN A TAILGATE FOOD COMA? Here's how to make your snacks healthier for next weekend. [HuffPost]
SURVIVALIST FOOD TASTIER THAN EVER "There's never been a better time to stock up on food for your bunker. Back when "prepping" was called 'survivalism,' it was basically about guns and gear, but these days there are all kinds of domestic accessories and supplies for sale as well: 'preparedness seeds,' hand-cranked water purifiers, sun cookers -- and food." [Salon]
ON THE BLOG
THE DCCC AND GOLDMAN "With current DCCC Chair Steve Israel (D-NY) stepping down, House Democratic Leader Nancy Pelosi will shortly name a new chair. One of the people running hard for the job is Congressman Jim Himes of Greenwich, Connecticut -- hedge fund country. Rep. Himes' former job, before taking his seat in 2009, was Vice President of Goldman Sachs ... Himes is a prime sponsor of a bill, H.R. 1105, which would exempt hedge funds and private equity companies from key disclosure protection provisions of the Dodd-Frank Act." [HuffPost]
BEFORE YOU GO
~ YouTube stars, the new sexual predators?
~ ICYMI, you can now buy Sriracha 2 Go and Twitter has emojis.
~ Eric Trump's wedding this weekend was quite the to-do.
~ Kate Middleton showed off her growing baby bump over the weekend.
~ Here's Rolling Stone's review for the Pink Floyd album dropping today.
~ Nicki Minaj, Nazi comparisons are never a good call.
~ And this is what it looks like to dance like no one is watching.
Send tips/quips/quotes/stories/photos/events/scoops to Lauren Weber at lauren.weber@huffingtonpost.com. Follow us on Twitter @LaurenWeberHP. And like what you're reading? Sign up here to get The Morning Email delivered to you.