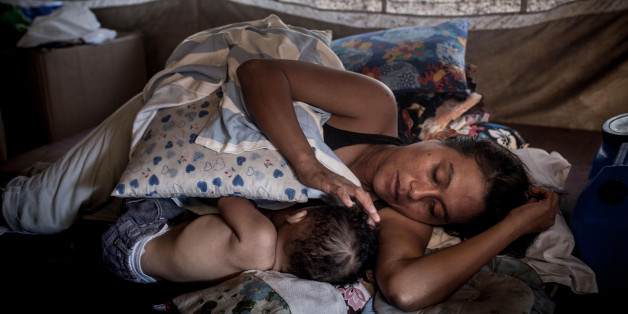 TACLOBAN, Philippines (AP) — Four months after she lost her husband and home to Typhoon Haiyan's fury, Agnes Bacsal gave birth to their sixth child — a sprightly boy, whose company has eased the family's pain.
Other survivors, like fisherman Ben Pedrero, still struggle. His wife and son perished in the monster storm and more than 40 other relatives are still missing, one year later.
"In just a blink of an eye, they were all gone. I'll only overcome this tragedy when I die myself," the 61-year-old Pedrero said, wiping tears with his shirt as he helped relatives roast a pig and prepare food for the disaster's anniversary.
On Saturday, as church bells pealed and sirens wailed across this central Philippine city to commemorate the moment on Nov. 8, 2013, when Haiyan barreled inland from the Pacific, Bacsal and Pedrero were planning to light candles and offer prayers at separate mass graves in Tacloban.
Leyte Roman Catholic Bishop John Du led prayers at a site where close to 2,300 people are buried. Some lit candles and wrote names of their family members on newly planted white crosses in the vast field on the outskirts of the city. At a city hall commemoration, 1,000 white balloons were released to signify acceptance of the human loss.
Typhoon Haiyan leveled entire villages with ferocious winds and tsunami-like waves, leaving more than 7,300 people dead or missing.
Funeral parlors were overwhelmed, forcing survivors to bury their dead near where they were found — on church grounds, roadsides and beaches, as well as in front yards and backyards.
The worst-hit city of Tacloban and outlying regions have crawled back from the rubble. Shopping malls, hotels and offices have reopened, with cars, taxis and motorcycles clogging downtown streets — the same spots where huge mounds of debris and bodies lay scattered weeks after Haiyan blew away. Yet, human scars are harder to overcome.
The storm's 7-meter (21-foot) -high waves also took away Pedrero's house with all its precious belongings — including his family's pictures and other mementos. Also gone was his fishing boat, which provided his only source of income.
Like him, Bacsal still relies on dole-outs, mostly from relatives and friends. Without her husband, tricycle driver Jonathan and her house, she now lives with her six children in a shack built from storm debris.
Amid continuing adversity, Bacsal's family is being held together by faith — an altar with rosaries and the images of Jesus and the Virgin Mary adorn a wall — and a bubbly, new family member, 7-month-old baby John William. His cries filled the bare shack.
"He gives me joy, just by being beside me," Bacsal said, cradling her baby.
A 14-year-old daughter, Maria Jean, beamed with optimism. "I'll be the best businesswoman in Asia and bring them out of here someday," she said when asked about her plans.
With help from relatives and friends, Bacsal was able to send Maria Jean to high school. They scrimp on grocery items recently donated by a city official and were able to sell extra food stuff to neighbors in an improvised store.
They sometimes miss out on meals.
While the exact figures for the dead and missing are still being collected, the physical recovery from Haiyan remains a challenge. The typhoon demolished about a million houses and displaced more than 4 million people in one of the country's poorest regions, where a Marxist insurgency has endured for decades.
Overall damage was estimated at 571.1 billion pesos ($12.9 billion), including about 16 million knocked-down coconut trees, a major source of livelihood.
With the loss of income, about a million more people were pushed deeper into poverty, according to the Asian Development Bank.
Building more than 200,000 new houses for the poor, who were left with nothing, is proving difficult. The Philippine government, backed by international donors, has built temporary bunkhouses and shelters, but many residents have hammered back their shacks in the same coastal villages where they were hit by the storm — and which have been officially declared "no-build zones."
About 3,000 people still live in tents in Tacloban, though the city government has pledged to move them to permanent housing by the end of the year. Under the long-term plan to protect against similar typhoon onslaughts, the government wants to build an elevated road connecting Tacloban to two coastal towns that also will serve as a dike.
"Like you, I am impatient," President Benigno Aquino III told residents during a visit Friday to nearby Eastern Samar province.
He added, however, "We can't be reckless as we build back better."
How to continue helping victims of Typhoon Haiyan:
UNICEF
UNICEF continues to help the Filipino people rebuild after devastation. After the typhoon hit, the organization provided essential medicines, nutrition supplies, water and more to children and families in affected areas, but recovery efforts continue. Learn more here.

World Vision
Supporting Christian aid group World Vision will help provide relief to families impacted by disasters in the Philippines, including Typhoon Haiyan. The organization's global pre-positioning resource network makes it a leader in providing emergency relief, like food, hygiene kits and temporary shelter, to those who need it most. Learn more here.

Save the Children
Save the Children, one of the first agencies on the scene after the devastation of Typhoon Haiyan, reached 470,000 children and adults with food, water, medicines, shelter, hygiene kits and other essentials in the first months of its response. Learn more here.

International Medical Corps
The International Medical Corps emergency response team provided infection control, clean water and food to families in the hardest hit areas after Typhoon Haiyan's destruction. Learn more here.
BEFORE YOU GO
PHOTO GALLERY
Typhoon Haiyan Recovery Stories