We hate to break it to you, but it's no longer crazy to be thinking about Christmas shopping. In fact, it's probably smart to start checking items off your list, since December will be here before you know it.
But with the holiday season come the crowds and pushy sales associates. Who needs it, really, when everything can be ordered from the comfort of your couch? And if ordering all your holiday gifts in your pajamas isn't easy enough, things just got even easier, thanks to Keep.com's universal shopping cart.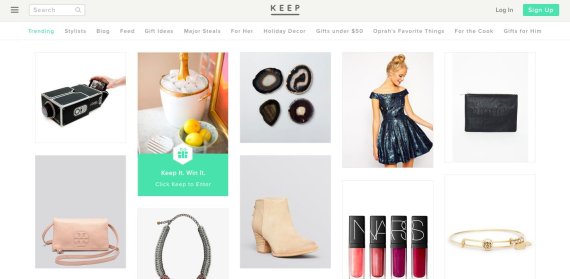 A primer: Keep.com is essentially a shoppable Pinterest. Sound awesome? It's because it is. Users create a profile, add the "Keep" button to their computers -- similar to the "Pin It" button -- and can then "keep" any item that is for sale on the Internet. Basically, instead of saving wish lists on individual sites, you can save every item in one place. And with the newly implemented universal shopping cart, users can now buy products from multiple stores on Keep.com, all in one simple checkout process. Translation: you can purchase a sweater from Gap, a book from Amazon and boots from Zappos, all in one transaction. No need to input your shipping address three separate times.
It's really simple to use, too. Once you "keep" an item, it will appear on your profile and you can then buy it. If for some reason a product sells out or is back ordered, Keep will notify you immediately.
In summation: Buy any product from any store, anywhere -- all in one checkout process. Think: you can enter your personal information once with Keep, and then never have to enter that information again for any purchase, ever. Starting your holiday shopping doesn't sound so bad after all, now does it?

BEFORE YOU GO
PHOTO GALLERY
Our Favorite Online Shopping Sites