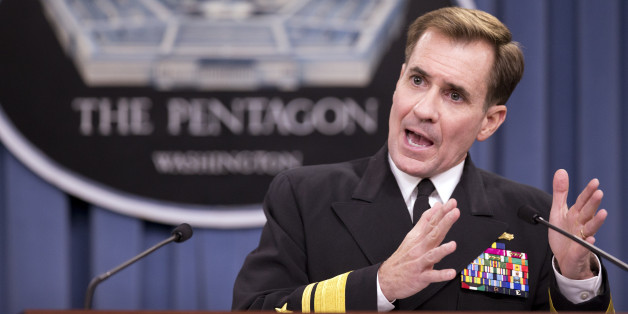 Americans are split on President Barack Obama's decision to authorize the sending of up to 1,500 more noncombat troops to Iraq, according to a new HuffPost/YouGov poll.
Forty-three percent of survey respondents support the potential troop increase, while 39 percent oppose it, with another 18 percent unsure.
The president's decision, announced last Friday, could approximately double the number of U.S. forces in Iraq, with the additional troops used to advise and train the Iraqi and Kurdish forces fighting Islamic State militants, according to the Pentagon. Administration officials stressed that the U.S. forces would not be serving in combat, and they denied any political angle to the timing of the announcement, which came three days after the midterm elections.
The tepid public backing for the planned troop increase contrasts with wider public approval of the airstrikes against the Islamic State, which a broad majority of Americans have supported.
Much like the airstrikes, however, the idea of a troop increase garnered more public support after it became a policy rather than a hypothetical: An August survey found that Americans opposed sending in troops to assist Iraqi army units by a margin of 15 percentage points.
Obama's approval rating for his handling of the Iraq situation, which showed signs of modestly increasing last month, now looks worse than it did in late August, when 36 percent of Americans gave him a positive rating.
Just 32 percent now approve of the president's handling of Iraq, while 53 percent disapprove and 16 percent aren't sure. While Republicans are largely united in opposition, Democrats' support is far from unanimous: Though 56 percent approve, 25 percent disapprove and 19 percent aren't sure.
Overall, 42 percent of Americans said the government should have a tougher response toward insurgents in Iraq, while 20 percent said the response has been about right and 14 percent said the U.S. should respond less aggressively. Republicans and independents were more likely to say that the U.S. should be tougher. Democrats were again more divided, with 32 percent saying that the response has been about right, 26 percent that it should be tougher, 15 percent that it should be less aggressive and the remaining 28 percent unsure.
More broadly, 48 percent of Americans, including a majority of Democrats and independents, have concluded that the initial invasion of Iraq in 2003 was a mistake.
The HuffPost/YouGov poll was conducted Nov. 8-10 among 1,000 U.S. adults using a sample selected from YouGov's opt-in online panel to match the demographics and other characteristics of the adult U.S. population. Factors considered include age, race, gender, education, employment, income, marital status, number of children, voter registration, time and location of Internet access, interest in politics, religion and church attendance.
The Huffington Post has teamed up with YouGov to conduct daily opinion polls. You can learn more about this project and take part in YouGov's nationally representative opinion polling. Data from all HuffPost/YouGov polls can be found here.
BEFORE YOU GO
PHOTO GALLERY
Clashes in Iraq