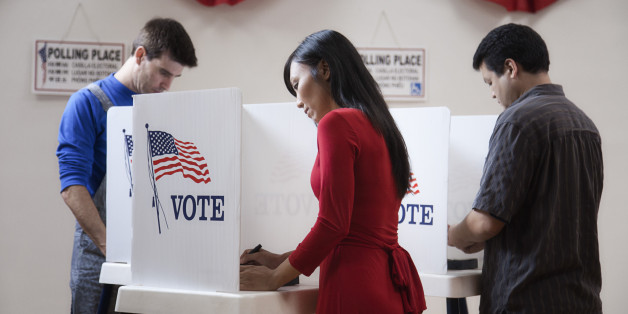 Pollsters take a look at the Latino and Asian electorates. An attempt at identifying persuadable voters seems to have gone awry. And the Roper Center Archives is looking for a new host, but not going away. This is HuffPollster for Tuesday, November 11, 2014.
A CLOSER LOOK AT THE LATINO VOTE - Jens Manuel Krogstad and Mark Hugo Lopez: "Even though some states with the largest Hispanic populations were not part of the most competitive midterm election contests, the Latino vote still mattered. Gearing up for the election, pollsters, journalists and politicians wanted to know how the Hispanic vote would shape the overall result....Here are five takeaways about Latino voters in this year's elections, based on exit poll data....[1] Democrats won the Latino vote, but Republican candidates gained a sizable share of this electorate...[2] Hispanics made up 8% of the nation's voters, the same as in 2010 and 2006, according to national exit polls....[3] The economy was, by far, the top issue for Latino voters....[4] It's not clear whether President Obama's executive action delay on immigration swayed Hispanic voters one way or the other....[5] In state elections, Republicans won most races for which exit poll data are available, even though they lost the Latino vote." [Pew Research]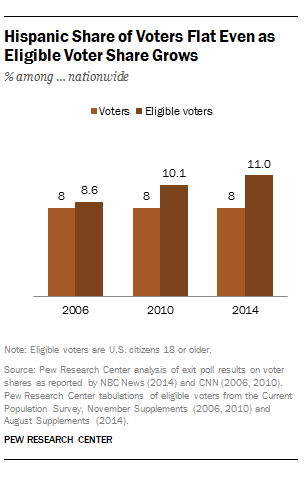 Latino Decisions: A different take on immigration and the economy - Matt A. Barreto and Gary M. Segura: "What did we learn from the 2014 midterms? Herewith, LD's bullet-pointed list of the 8 major takeaways from our 2014 election eve poll...Lesson #1: Immigration is nascent issue for Latino voters. At some point during the past two years, immigration eclipsed the economy as the biggest motivating issue for Latino voters, at 45 percent (Q1). Perhaps matters will return to form and the economy, rated first by 34 percent of Latinos this year, will again be the top concern for Latinos by 2016. But the continued inability of President Obama and the Congress to reach agreement on comprehensive immigration reform -- and Obama's refusal to use executive action to stop deportations -- has clearly resonated with Latinos. Lesson #2: President Obama and the Democrats' immigration gambit failed. Related to #1, it seems clear that the president and top Democrats were wrong to punt the decision to use executive action on immigration until after the election in a desperate attempt to save several Senate incumbents from defeat. Was a single Democratic Senate candidate saved by this electorally-motivated political decision? Other than maybe Jeanne Shaheen in New Hampshire -- and that's a big "maybe" -- Kay Hagan, Mary Landrieu or Mark Pryor gained little by ducking this issue. The president's promise the day after the election to take action was more than a day too late." [HuffPost , Latino Decisions election eve poll]
Doubts about exit poll findings on Asian Americans Taeku Lee, managing director of the newly launched Asian American Decisions: "Buried in the blue and red bars of the exit poll results from Tuesday's midterm elections is an astonishing figure. Asian Americans were nearly evenly split in their voting in congressional races: 50 percent to 49 percent, with a nod to Democrats by the faintest of recordable margins. Why is this astonishing? Because just two years ago, exit polling showed that Asian Americans broke overwhelmingly in favor of the Democrats — 73 percent to 26 percent...Is this 50 percent figure believable? Exit polls, after all, are known for the occasional bad calls, sometimes with decisive and notorious effect, as in the 2000 and 2002 elections. But are exit polls especially prone to getting the Asian American vote wrong? The answer is a clear, resounding 'yes.'...Exit polls are not designed to produce representative samples of groups within the electorate, such as Asian Americans. Warren Mitofsky, the 'godfather of exit polls,' noted that errors in such polls 'appear mostly among demographic groups that are both relatively small and those that tend to be geographically concentrated'...The sample size for Asian Americans was 304. If that is indeed the sample size, it is conspicuously small, with a margin of error that could approach 11 percent given the sampling design of the exit poll." [WashPost]
DID A COMPUTER MODEL ADD TO DEMOCRATS' WOES IN IOWA? - Ben Jacobs: "The Daily Beast has learned that in the crucial swing states of Iowa, North Carolina, and Colorado, the DSCC made a decision in September to put an increased emphasis on persuasion, talking undecided voters into supporting Democratic candidates rather than turning out its base voters….These undecided, persuadable voters were identified via a computer model that ranked and ordered voters as targets of persuasion not just through volunteer contact but through direct-mail paid media as well. The problem was that, at least in Iowa, this model was imperfect. According to information obtained by The Daily Beast, the universe of persuasion targets in the Hawkeye State according to this model included 33 percent Republicans and 50 percent independents. These voters were contacted by volunteers and received at least 10 different pieces of direct mail in addition to whatever television and radio advertisements they saw or listened to. Initial data indicate that more than 60 percent of voters in this group who actually turned out on Election Day supported Republican candidates." [DailyBeast]
THE ROPER CENTER AND UNIVERSITY OF CONNECTICUT PART WAYS - Stephanie Reitz: "UConn and the Roper Center for Public Opinion Research, one of the world's leading archives of social science data that has based its operations on the Storrs campus for almost four decades, have announced they will be parting ways at the end of the 2015 calendar year. The joint announcement ends a relationship that dates back to 1977, when the Roper Center decided to relocate from Delaware to Connecticut….UConn expects to re-allocate funds used to support the center's operations for student and faculty support in the social sciences" [UConn]
Roper seeking a new host - "The Roper Center for Public Opinion Research is moving its world-class archive of public opinion surveys to a new base of operations, the Center's Board of Directors announced Monday. There will be no break in service for providers or members…The Roper Center and the University announced that they are ending their relationship due to changing financial and academic priorities at the University. The Center's Board of Directors, owner of its vast public opinion database – the world's largest – is inviting proposals for a new home and has begun initiating discussions with prospective hosts to ensure a smooth transfer of the archive by late 2015." [Roper]
HUFFPOLLSTER VIA EMAIL! - You can receive this daily update every weekday morning via email! Just click here, enter your email address, and and click "sign up." That's all there is to it (and you can unsubscribe anytime).
TUESDAY'S 'OUTLIERS' - Links to the best of news at the intersection of polling, politics and political data:
-Nate Cohn says Republicans made progress toward 2016 but are still playing catch up. [NYT]
-David Uberti explains how polling data can be dangerous for political journalists.
[CJR]
-Kristen Soltis Anderson (R) says Democrats are sending men the message that "men are the problem or their economic concerns don't really matter." [DailyBeast]
-Charlie Cook calls 2014 a wave but not a Tsunami. [National Journal]
-NPR's Morning Line reviews the data on 2014 voter turnout. [NPR]
-Sam Wang says turnout explains the Democratic losses [American Prospect]
-Patrick O'Connor and Dante Chinni report on the limits of "Big Data" campaign tactics in 2014. [WSJ]
-Kristen Soltis Anderson (R) says Democrats are sending men the message that they "are the problem or their economic concerns don't really matter." [DailyBeast]
-Frank Newport sees the "tragedy of the commons" writ large in the Congressional elections.
[Gallup]
-A pro-Hillary Clinton group argues her 2014 appearances produced "discernable bumps in female support" for the candidates she endorsed. [Time]
BEFORE YOU GO
PHOTO GALLERY
Politicians Then And Now