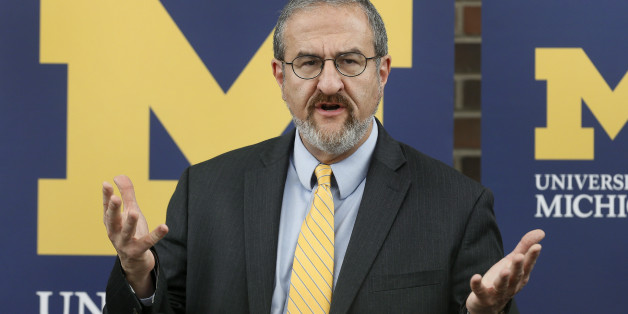 University of Michigan President Mark Schlissel told a group of faculty Monday the school has admitted athletes who weren't skilled enough to be students at the public institution, the Michigan Daily reports.
Speaking before the Senate Advisory Committee on University Affairs, a faculty governance group, Schlissel lamented how too many football players were coming to the prestigious public university who weren't academically ready to be in college.
"We admit students who aren't as qualified, and it's probably the kids that we admit that can't honestly, even with lots of help, do the amount of work and the quality of work it takes to make progression from year to year," Schlissel said. "These past two years have gotten better, but before that, the graduation rates were terrible, with football somewhere in the 50s and 60s when our total six-year rate at the university is somewhere near 90 percent. So that's a challenge."
Schlissel spoke for the first time since the university's athletic director, Dave Brandon, was forced out from Michigan. Schlissel was also speaking in light of a University of North Carolina-Chapel Hill report showing two decades of academic fraud, especially concentrated in that school's football program, released in late October.
Schlissel suggested athletics at Michigan were trumping academics, and complained that no one is following the 20.5 hours per week limit set by the NCAA for how much time athletes can spend practicing in-session, according to the Detroit Free Press.
A CNN analysis earlier this year found most schools have between 7 and 18 percent of revenue sport athletes -- football or basketball -- who are reading at an elementary school level. CNN requested information from UM on the ACT or SAT scores of athletes playing football or basketball, or the number of specially admitted athletes, but the university said in May it did not have documents with that material.
"The incentives are really strong for them to be as successful on the field as possible, and some of those are in dollars and others are in performance," Schlissel said. "If we had won Nobel Prizes this year, we wouldn't have gotten as much attention as did our A.D. It's sad but it's really true."
UPDATE, Wednesday, Nov. 12: The university released a statement late on Tuesday following multiple media requests, including from The Huffington Post, asking for more specifics about Mark Schlissel's remarks.
UM said it is in "full compliance with NCAA practice-hour regulations," which are tracked by athletics compliance officials. Asked whether the university admitted students who were not qualified to be at UM, but got in because they're athletes, the school said, "admissions is an art as much as a science."
"Many students find the academic rigor of Michigan challenging and this can be true for student-athletes in particular given the demands on their time," the statement continued. "Our goal is to provide appropriate ways to support the academic success of all of our students, including our student-athletes."