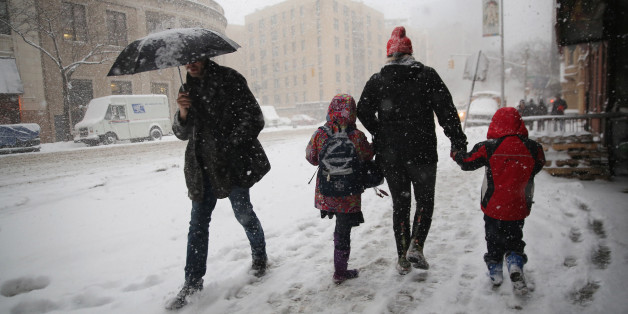 About 87,000 elementary school students were chronically absent in New York City during the 2012-2013 school year, according to a new study from the Center for New York City Affairs at The New School. This amounts to 19 percent of students in kindergarten through fifth grade.
To be "chronically absent," a student must miss at least 10 percent of the school year -- which adds up to almost a month of school days.
This is a widespread problem in New York. Out of 748 schools studied, about 130 of them struggled with "persistent chronic absenteeism," wherein at least one-third of students missed 10 percent or more of their classes for five consecutive school years.
At 33 schools, chronic absenteeism affected more than 40 percent of students.
Missing school hurts students' academic performance. In the 2012-2013 school year, more than 30 percent of students at regularly attended schools passed Common Core-aligned math and reading tests. However, just 11 percent of students at schools with persistent chronic absenteeism passed the same tests.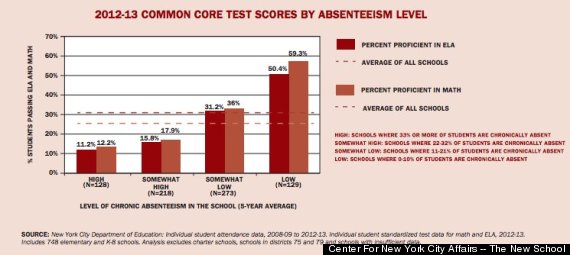 These individual failures affect entire schools. For every percentage point increase in chronic absenteeism, the number of students passing state tests decreases by 1.3 percent, the study found.
The researchers used 18 factors to determine a neighborhood's "total risk load" for chronic absenteeism.
"The incidence of persistent chronic absenteeism strongly corresponds with where deep poverty is most virulent and entrenched in students' lives, where it matches up with and contributes to school dysfunction, and where ameliorative social supports ... are most badly needed," the report states.
Typically, researchers use the number of students eligible for free lunch to assess a neighborhood's total risk load, but this study went further to include additional factors. Eleven factors were related to the schools or students, such as principal and teacher turnover, the number of student suspensions, and the number of students known to be in temporary housing or eligible for welfare benefits. The remaining seven factors were neighborhood-related, including poverty and unemployment rates, adult education levels, and the presence of public housing.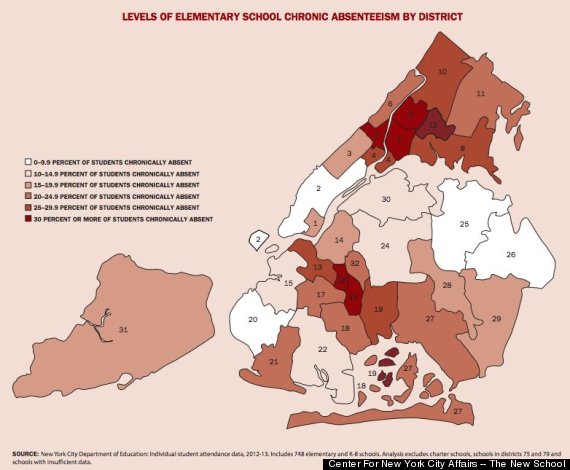 Schools in low-income areas like Central Brooklyn and the South Bronx had the highest percentages of chronically absent students. Wealthier areas, like the Upper East Side in Manhattan and Park Slope in Brooklyn, had much lower percentages of chronic absenteeism.
Students are absent for a wide variety of reasons. There are health-related issues, including general health problems, mental health concerns, and, widely, asthma. Students will skip school to avoid bullies, and high school students are prone to choosing not to go. In low-income neighborhoods, problems with housing and transportation cause more absences.
"Most schools struggling with high homelessness numbers also struggle with other poverty-related risks, including chronic absenteeism," the report says.
Every school sees drops in attendance during bad weather days, half days, or days surrounding vacations, but low-income communities tend to be hit harder on these days, "plummeting when other schools simply dip."
Still, "poverty alone is not destiny," the report says. In a deeper study of 13 schools with high poverty rates, The New School saw that schools varied based on their particular risk factors. Predictably, if a school community was dealing with a higher amount of risk factors, even if they had the same poverty rate as another community, they had higher levels of chronic absenteeism.
School administrators who focused on combating absenteeism saw positive results. A lot of these efforts were low-cost but required time and attention. Administrators needed to individually track attendance and identify the chronically absent students. Especially for the younger students, creating relationships with parents helped lower absences. Regular meetings with students and prizes for improved attendance also lowered absence rates at one school.
Overall, it took individualized attention to at-risk students to raise attendance rates remarkably. Unfortunately, the study noted, many schools either do not have the capacity for this kind of effort or choose not to focus their attention on attendance. In one example the report mentioned, a school undertook a principal-led focus on attendance, which improved rates -- but when the principal turned his focus to improving test scores the next year, attendance rates dropped back down.
BEFORE YOU GO
PHOTO GALLERY
5 Hidden Costs of Public High School