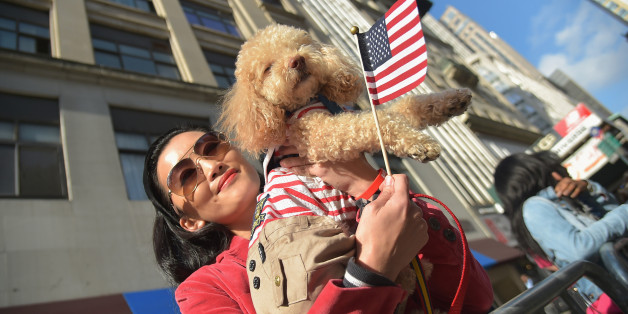 After the nation honored the members of our military on Tuesday, it's the perfect time to also remember our friends on four legs that have been a valuable resource to our armed forces.
The American Humane Association, along with U.S. War Dogs Association and New Jersey's Red Bank Veterinary Hospital have teamed up to announce that they will provide free veterinary care to dogs that served in the military.
According to the organizations behind the initiative, military and working contract dogs save about 150-200 lives each, and contribute important work during their time in service. Once retired, many of these pooches experience medical issues, however they aren't guaranteed medical care. Furthermore, regulations prohibit government funding of such programs. The three organizations aim to make up for this lack of care.
"Dogs are as essential to the military as humans, but unlike humans, these dogs are not guaranteed medical care following their retirement," said Ron Aiello, president of the U.S. War Dogs Association, according to a press release. "We are pleased to work with American Humane Association and Red Bank Veterinary Hospital to provide essential, lifesaving veterinary care for these brave four-legged warriors."
The Red Bank Veterinary Hospital's five facilities will offer free specialty medical care to dogs retiring from military duty.
To learn more about the new program, or donate to the organizations, visit the following organizations:

The American Humane Organization works at protecting children, pets and farm animals from abuse and neglect.
The US War Dog Association helps promote awareness about military service dogs, as well as provide support for their handlers.
The Red Bank Veterinary Hospital is a group of five hospitals located throughout New Jersey, and has been providing since 1986.


Like Us On Facebook

Follow Us On Twitter
BEFORE YOU GO
PHOTO GALLERY
shelter dogs