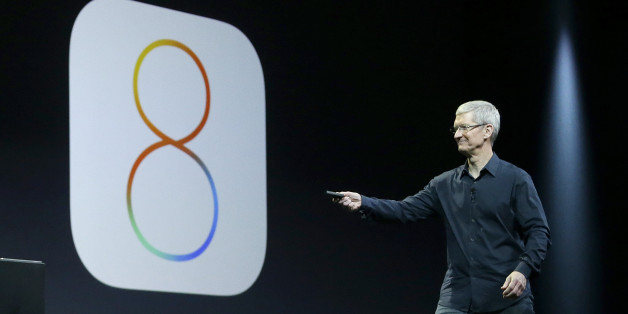 People don't seem to be in a hurry to download Apple's latest mobile operating system.
Apple on Tuesday said that 56 percent of people who visited the App store on November 10 were using devices running iOS 8, up just 9 percent since Apple last released figures more than a month ago.
iOS 8 came out on September 17, and while people initially rushed to download it, adoption quickly slowed. After only four days of being out, 46 percent of people visiting the App store had downloaded it. But two weeks later, that number had climbed only 1 percentage point.
It's difficult to compare the most recent official adoption figures from Apple to figures from last year, because it doesn't appear that Apple released these numbers in November 2013. But Mixpanel, a mobile analytics company, also keeps track of iOS adoption. Mixpanel's analysis of the percentage of iOS devices running iOS 8 on November 10 was 57.88 percent, close to Apple's.
At this time last year, iOS 7 was on 75.5 percent of iPhones, according to Mixpanel. (Apple did release figures December 5, 2013 that said iOS 7 adoption had hit 74 percent; it does not appear that iOS 8 will reach that in the next three weeks.)
iOS 8 had a rough start, which could contribute to a reluctance to download it. The long-awaited Health app wasn't compatible with third party apps at launch, but the update to fix it was even buggier -- it rendered some new iPhones pretty much useless, and Apple made the rare move of pulling the update, which led to oodles of bad publicity.
Apple did not immediately respond to a request for comment on Wednesday.
iOS 8 also isn't a huge departure from iOS 7, the way that iOS 7 was a complete redesign from iOS 6. So some people probably don't feel a huge need to download it. Apple Pay, which is the biggest new feature of iOS 8, only works on the newest devices.
John Gruber, a prominent Apple blogger, wrote last month that slow adoption of iOS 8 is because of storage space -- it can take a whopping five gigabytes of free space to update the operating system via Wifi. How many people have that free space on their phones to dedicate to upgrading the OS?
Still, Apple is breaking records with its latest iPhone models. All of the newest iPhones come with iOS 8, so that number should be boosted by the people who are visiting the App Store with their new phones.
If you have an older iPhone and it's working well, you should think twice about downloading the latest operating system. As I wrote about last month, operating systems are designed for the latest and greatest hardware, and tend not to run as well on older phones.