Well this is a pleasant surprise.
We are always thrilled to see plus-size models featured on the runway or on the cover of our favorite magazine. But when we got wind of this Vogue.com shoot featuring Marquita Pring, Inga Eiriksdottir and Ashley Graham among others in some amazing lingerie, we nearly jumped out of our seats.
While this is not technically the first time a branch of the glossy has featured plus-size models (Vogue Italia featured three beauties on the cover back in 2011) it is still seriously refreshing to see these ladies praised for their figures on a website that is not especially known for an abundance of, well, curves.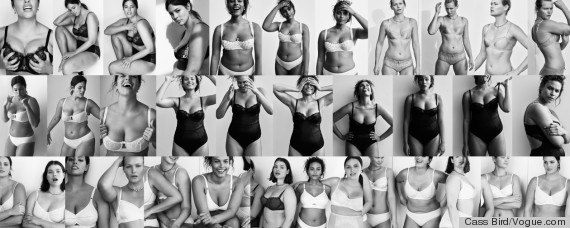 And we found out something interesting, too: Even models don't always know what bra size to wear. As Pring puts it: "I probably had boobs at the age of eleven! I was young, and it was definitely the wrong type of bra. In fact, I wore the wrong type of bra until I got into this industry and started learning about my body."
Models, they're just like us!
BEFORE YOU GO
PHOTO GALLERY
Curvy Models