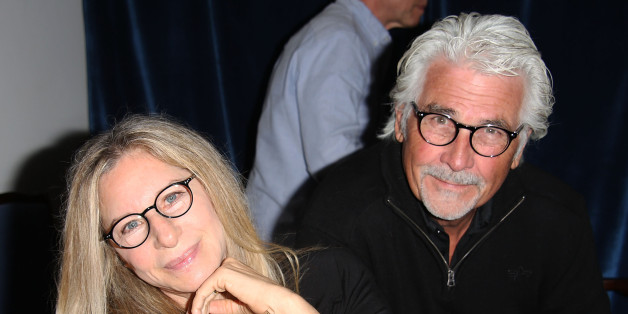 Barbra Streisand and James Brolin are not headed for a messy, multi-million-dollar divorce. Take it from Babs herself.
During a discussion on women's heart health in New York City Wednesday, Streisand said she doesn't pay much mind to the tabloid reports that her 16-year marriage is on the rocks.
"I'm not even aware of these. Nobody shows me, and I don't go to the supermarkets much, though I love to go to supermarkets," Streisand told host Gayle King, according to Page Six.
And while her trips to the supermarket may be few and far between, Streisand claimed she found out about the rumors while shopping at one with Brolin.
"I said, I need ice cream . . . So I'm in the supermarket and we're holding hands, and a guy behind us says, 'Oh, you're back together?' And I said, 'When were we apart?'"
She added: "The damage is done. They go into the supermarket, they read this crap -- excuse me, but it's absurd. We've been together 18 years."
One tabloid report late last year claimed the couple were on the verge of a $390 million divorce because Brolin had "lost it" over his wife's long work hours.
In an interview with HuffPost Live, Brolin shut down that particular rumor personally, calling the report "bullshit."
"I got over overreacting years ago," he said of the rumors.
Keep in touch! Check out HuffPost Divorce on Facebook and Twitter. Sign up for our newsletter here.
BEFORE YOU GO
PHOTO GALLERY
Barbra Streisand Over The Years