Minneapolis Mayor Betsy Hodges, who was accused of using a "gang sign" while posing for a photo with a volunteer during a get-out-the-vote event, responded to the controversy in a blog post Thursday.
ABC affiliate KSTP reported that law enforcement officers -- including John Delmonico, president of the Minneapolis Police Federation -- believed Hodges, who was pointing at the volunteer in the photo, used a "gang sign."
"Lots of people point," Hodges wrote, referring to the picture in question, which can be seen below. "The President. Bill Clinton. Stephen Colbert. Babies. It is the earliest form of human communication. I'm not going to stop pointing."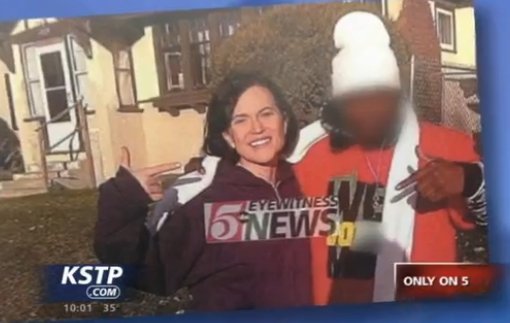 ABC affiliate KSTP accused Minneapolis Mayor Betsy Hodges of throwing up a "gang sign" while posing for a photo with a voting rights advocate during a charity event. (Image via KSTP)
In her blog post, Hodges outlined four possibilities for the criticism from law enforcement:
"First, maybe the head of the police union would like me to stop pointing altogether for the safety of the community."
"Second, maybe the head of the police union wants me to refrain from being in the presence of people whose criminal history I don't know."
"The third option may be that the head of the police union doesn't want me standing next to young African American men."
"It could be that the head of the police union wants me to stop working to raise the standards of police culture and accountability."
Hodges said she believes the fourth criticism is "the real option":
If that is the case, he has failed on two levels. First, the people of the internet have called out this story over and over with outrage and humor, shining the light of day on the ridiculous premise on which it was based.

Second, and more significantly, I am undaunted in my commitment to making sure that police–community relationships are as strong as they can be. I am undaunted in my desire to support and develop police officers who serve respectfully and collaboratively every day to keep people safe and make all our neighborhoods stronger. I am undaunted in my plans to increase accountability for consistent bad actors in the police department.

Let me be clear on this final point. There is a critical difference between our good officers who have a bad day on the job, and officers, however few, who have a standing habit of mistreatment and poor judgment when relating to the public, particularly people of color. I am as concerned with the negative effects of this conduct on the police department as a whole as I am with its effects on our community. I am convinced that we can change it, even if it takes years.
Hodges is right that KSTP's story was "called out." On Wednesday's episode of "The Daily Show," host Jon Stewart addressed the controversy by adding pointing to the already long list of "innocent things black people do that look suspicious." As HuffPost's Amanda Terkel reported last week, more than a few black people have been accused of supporting criminal activity because they made a hand gesture.
Navell Gordon, the man in the photo with Hodges, addressed "pointergate" Tuesday, saying KSTP's report "felt like something racist."
"When I saw my face blurred out, that felt like something racist. Because I'm African-American, but they got the mayor's face showing," Gordon said. "I'm pointing at the mayor. It's not a gang sign. How would I be in a gang if I've been canvassing for two years, going door to door? What kind of gang member pops up at everybody's door? I'm a known member of one of the bigger gangs in Minnesota, and I knock on everybody's door? That's just crazy."
Read Gordon's full response to pointergate here, and read Hodges' entire blog post here.
BEFORE YOU GO
PHOTO GALLERY
Racist Remarks Made By Politicians